By his own admission, Miro Westmaas's earliest encounter with the ancient, oriental healing practice of acupuncture came about on account of his own personal need for physical, psychological and spiritual healing, resulting from what he says were unwise lifestyle options.
"I was searching for solutions to some of my own problems," Westmaas told Stabroek Business, when asked to account for his encounter with acupuncture and his decision to make the pursuit of oriental medicine a longer-term goal.
From the decidedly unfussy Charlotte Street space that has been his clinic for several months, the 31-year-old talks passionately about his preoccupation with seeking to infuse acupuncture more completely into the local healing regimen in a manner that places at the disposal of patients with a range of maladies, conventional medical options as well as treatment that involves the stimulation of particular anatomical locations on or in the skin by a variety of techniques. Acupuncture, one of those, employs penetration of the skin with thin, solid, metallic needles, which can be manipulated manually or by electrical stimulation.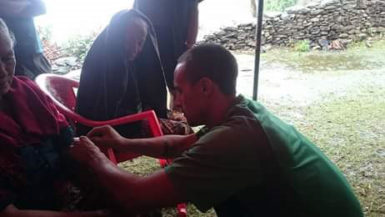 Widely travelled and of Guyanese and German parentage (his mother is the Guyanese-born writer Sharon Maas and his grandmother, the late widely-known consumer advocate Eileen Cox) Westmas has brought his talents and his commitment to Guyana after travels in India, Thailand and India and Switzerland, among other places. It was as much his belief in the power of alternative treatments as anything else that led him to pursue a Bachelor of Science Degree in Oriental Medicine at London's International College of Oriental Medicine. These days, he says, he is ready to place his skills at the disposal of persons in need of healing.
Westmaas's Charlotte Street Clinic, modest as it seems, appears to undersell the sense of mission that he seeks to bring. It is, he says, "more than just the needles." It is about creating an acceptance of access to a long-established and eminently workable treatment option for a wide range of maladies. Sometimes, he says, real results take time though he is convinced that acupuncture can be particularly successful in the treatment of illnesses that require pain management.
With treatment costs being a major consideration for long-term sufferers Westmaas says he is concerned that the services provided by his clinic perform their healing tasks without imposing further significant financial burdens on patients. A session of treatment costs $7,000.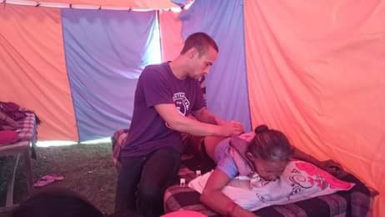 Westmaas's "more than just the needles" remark seeks to sensitize Guyanese who may wish to pursue the acupuncture treatment option to the fact that acupuncture belongs to an entire family of closely related treatment options. Research into acupuncture treatment has revealed that it had brought considerable relief to victims of long-term, pain-related illnesses including post-operative and cancer-related pain as well as routine back pain.
His travels, as much as his studies, have taken Westmaas down the path of an understanding of oriental medicine and treatments that go beyond acupuncture. He talks about the benefits of exercise, yoga and healthy eating. His longer-term goal is to invest in farming; that way, he says, he can incorporate his ambition of broadening the base of his pursuits in alternative medicine to embrace treatments that take account of the importance of the right diet through the creation of his own range of health-related products.
Westmaas understands that it could take a while before acupuncture catches on as a widely embraced curative option alongside conventional medicine. He comes across, however, as though he is in it for the long haul.
Around the Web