The local information and communication technology service provider Starr Computers is to accelerate its focus on creating a technology learning centre inside its Brickdam complex for the purpose of helping to prepare the next generation of local 'techies' for the task of meeting the requirements of serving Guyana in the "demanding technology age that lies ahead," the company's Chief Executive Officer Michael Mohan has told Stabroek Business.
On Tuesday, Mohan interacted with more than 30 students from the Government Technical Institute (GTI) on "technology disruption" and what he described as "the new world that lies ahead." Afterwards he told this newspaper that the significance of local ICT service providers reposes in much more than their entrepreneurial pursuits. "We cannot separate ourselves from our responsibility to bring Guyana firmly into the technology age."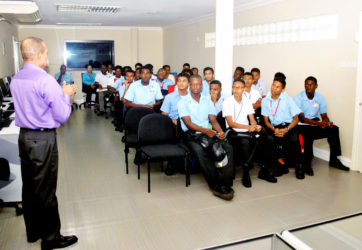 Mohan, who spends much of his time in the United States, said that his frequent interaction with companies involved in the production and marketing of contemporary technology ideally positions him to transfer knowledge to local students who are involved in technical, ICT-related courses.
He said he had sought during last Tuesday's exchange with the students from GTI to make the point that while many people continue to live comfortably in the age of computers, software and the internet technology disruption has paved the way for a new and different world in the period ahead. "We in Guyana cannot afford not to pay attention to this change and take appropriate action, otherwise, we will get left behind," he noted.
"Appropriate action," he added, essentially means institutional overhaul and curriculum change in the country's education system "so that we can ensure that we turn out graduates who are suitably trained to accept the challenge of transforming Guyana."
According to Mohan, Guyana's recent oil find and the implications for the country becoming an oil-producing nation represented a challenge to move into the technology age.
"Apart from strengthening the capacity of the University of Guyana in the ICT-related areas, there is a need to broaden the base of technical education by ensuring that we create technical institutes in all of the country's regions," Mohan said.
And according to the Starr Computers CEO, the shift to realize more cost-effective production, accuracy and to reduce manufacturers' defects by replacing men and women with robots at workplaces in the United States may well be creating a potential future crisis. "Furthermore, when you add artificial intelligence and analytic algorithm to our software, robots can now migrate to administrative and office positions."
Mohan said it was difficult not to become "more than a little concerned" over the likelihood that job displacement in the US arising out of the growing practice of introducing robots into the work force might trigger a rapid transfer of qualified migrants to developing countries where they could trigger a displacement of less qualified local workers.
He said that if countries like Guyana are to guard against that eventuality they will need to carefully study investment agreements with developed countries in order to ensure that jobs for locals are protected. "Many of those jobs will derive from the investments that we are making… so that we must ensure that we do not invest in training only to have those jobs taken away from us," the Starr Computers CEO said.
Around the Web