A Guyanese from Ross, West Coast Berbice, continues to make waves in his adopted country, the United States.
Brindley Pieters, who in 2001, was voted best Small Business Person of The Year in Florida and runner up in the entire US and was presented his award by then US President George Bush at the White House, was this month awarded as one of the top Guyanese in Business and Entrepreneurship in Florida.
The award was presented by the Caribbean American Passport Foundation at the Guyana 50/50 Banquet held at the Double Tree by Hilton Hotel in Orlando, Florida.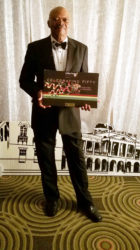 Pieters is a Civil Engineer with more than 40 years experience and is a registered professional engineer in Florida, Georgia, Maryland, Texas, Alabama, Tennessee, North Carolina, Nevada and Washington DC, all in the United States.
He migrated to the United States in the 1960s and graduated from Howard University in 1972. In 1991 he founded Brindley Pieters and Associates a successful engineering firm. Some of his awards since then include, the Martin Luther Award in 2007, Small Business Person of The Year in the state of Florida in 2001, Small Business Person of the Year for North Florida in 2000.
Pieters has also been awarded for his service to the Guyanese community in Florida and unparalleled service to his country Guyana, over the years.
Pieters is married to Patricia and is the father of three.
Around the Web