There is little if any likelihood that you would find a qualified chef, who also holds a degree in Political Science, serving as food and beverage manager in a high-profile city restaurant. Yet that is precisely the case at the Roraima Duke Lodge in Kingston, where Kevin Gouveia, the 'head honcho' in the kitchen, personifies the kind of enlightenment that can come from having spent time studying and understanding institutions and processes.
At 28, and having been brought up and trained in Canada, he concedes that he is still feeling his way, somewhat gingering around the edges of a culinary culture which he knows he has to master if he is to accomplish the goal of transforming dining at the Duke Lodge into what he wants it to be. In an earlier life, he worked in Canada as a bartender and bar manager, studied Political Science and Transnational Studies at the University of Toronto and completed Basic and Advanced Diplomas in the Culinary Arts from the Liaison College in Oakville, Ontario. Asked a CV he concedes that he has not prepared one in some time. "People have always wanted me to work for them," he says. It is the same matter-of-fact response that you get when you ask that he provide a measure of nexus between two disciplines that are as far apart as chalk and cheese.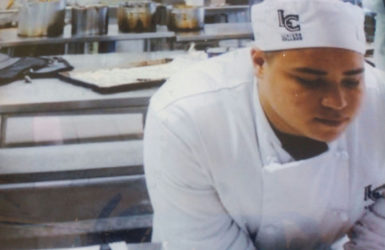 There is an unmistakable air of self-assurance about Gouveia. Sometimes, seemingly without him even being aware of it, his tone can slip into the realm of aloofness. That is when he talks about food with the passion of a man seeking to make the point that he is on top of his game. Going forward, he says, his ambition is to make the Roraima Duke Lodge the best restaurant in Guyana. It is an utterance that is made with an uncontrived air of confidence as though his ambition were already a fait accompli.
On Tuesday when we met him in his Kingston office, he appeared preoccupied with ensuring that the Roraima Duke Lodge makes its own particular statement during Restaurant Week. His concern, he says, was not just with turning out a range of gastronomic delights but in applying his own creative skills to tweaking traditional Guyanese dishes to afford his guests some Restaurant Week surprises.
The uninitiated could easily get lost when Gouveia immerses himself in his own world talking about his kitchen experiments with cassava in order to ascertain how best to treat with the starchy properties of the root crop to make it most pleasing to the consumer; or when he expresses his anxiety about his ability to secure consistent supplies of sirloin or to acquire high quality vegetables at the best prices unless he makes those late night trips to the market himself. It is easy to see that Gouveia is a man wrapped up in his job and preoccupied with what he says is his determination to have the Roraima Duke Lodge offer the best cuisine in the country.
When he elects to set food aside, momentarily, he volunteers an insightful perspective into service standards in the sector, heaping praise on the quality of Guyanese cooking and not infrequently on the talents of his own Head Chef Ramon. Conversely, he is frank and forthright in his view that service standards in the sector still have a long road to travel, entirely unafraid to state that as the Food and Beverage Manager at the Roraima Duke Lodge he has had his own personal frustrations with service standards.
Here, he comes across as a man grappling with the unease of being challenged to work outside of his customary comfort zone. In Canada where he has lived, worked and studied, things are different.
For Gouveia, Restaurant Week was about combining displaying the variety and quality of Guyanese cooking with the application of service standards that will meet the demands of guests who insist on high standards.
When you ask about the role the Carnegie School of Home Economics has played in training he gushes praise about the work that the institution has done. His own kitchen, he says, is indebted to Carnegie, though you get a sense that he believes there has been no commensurate payback for the institution in terms of adding to its facility and seeking to take it to the next level.
Gouveia wants Restaurant Week to serve as a reminder that the road ahead for the local food and beverage industry is strewn with both opportunities and challenges.
He believes that the opportunities repose in the fact that the industry is engaging not only an 'eating out' generation, but a market keen to embrace the pleasures of fine dining.
The challenges on the other hand have to do with responding to the demands that repose in matching the expectations of a more exacting market.
Around the Web