Guyana's participation in the November 16 – 19 Twenty-Second Bolivian Geological Congress in Santa Cruz de la Sierra, Bolivia has opened up possibilities for the country to secure external support for the creation of an oil and gas industry, as well as the consolidation of the goldmining industry, Minister in the Ministry of Natural Resources Simona Broomes has told Stabroek Business.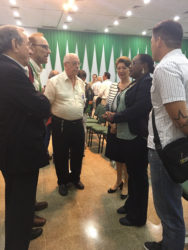 High on the list of likely outcomes from Guyana's participation in the Congress, Broomes told this newspaper, was a possible visit to Guyana by February 2017 of two internationally renowned  geologists Dr Marcondes Lima da Costa, Professor at Geosciences Institute/Federal University of Belem and Dr Richard J Goldfarb, Professor at University of Colorado and Director at Goldfarb Global Gold who, subject to the approval of the authorities here, have given commitments to conducting technical workshops with functionaries from the Guyana Geology and Mines Commission (GGMC), University of Guyana and miners. "While all of this is still left to decisions that we must make here in Guyana, these seminars that are being offered are intended to address chiefly, soil content and soil behaviour in the context of better understanding the phenomena of mining pit cave-ins," Broomes said.
The minister, who led the country's three-member delegation to the gathering of sector specialists and officials, said that having returned from Bolivia over last weekend she has already submitted a report to Natural Resources Minister Raphael Trotman setting out some of the outcomes of the forum from which the oil, gas and gold mining sectors can benefit and "making recommendations regarding specific follow-up action."
Broomes said the Bolivia forum took the form of a "geological caucus" which allowed for an international think-in on technical and intellectual considerations pertaining to the development of the extractive sector. "One thing that came out very clearly is that as far as the development of an oil and gas sector in Guyana is concerned, there is much to be gained from Guyana paying attention to what is happening right around us, here in South America. It would be a mistake to assume the support and technical cooperation that we need can only come from the developed countries," she said.
Broomes said she believed the Guyana delegation benefited particularly from its interaction with Bolivia's Fundacion Universidad Pravada de Santa Cruz de La Sierra (UPSA), one of the co-hosts of the Congress and one of the country's key geological intellectual institutions concerned with knowledge-sharing on the extractive sectors.
According to Broomes the Guyana delegation's exchange with UPSA officials provided "a great deal of valuable information on which Guyana can work with Bolivia to enable the training of Guyanese in the various disciplines relating to the extractive sectors. The UPSA specialists were open about their interest in working with us."
She said the Bolivian institution had signalled its preparedness to offer training to Guyanese in the various disciplines relating to the oil, gas and gold-mining sectors. As part of that training the Bolivian institution is prepared to provide (Spanish) language courses for students from Guyana. "Obviously nothing concrete has been worked out as yet, but what I am reporting on are the potential opportunities that are there to be followed up from our end," she added.
And according to Broomes, her meeting with Rector of UPSA Lauren Muller de Pacheco yielded an expression of interest from the Bolivian official in visiting Guyana in the near future in order to engage officials of the University of Guyana and the GGMC with a view to developing a local curriculum for training in mining related disciplines.
She said that in this regard particular possibilities exist for training in areas related to the exploitation of gas resources. Broomes said that UPSA had also expressed a keenness to collaborate with the University of Guyana in other academic areas including the sciences and business. "What is interesting about this particular offer is that it comes at a time when UG's Vice Chancellor is focusing on capacity-building at the institution," she stated.
Around the Web