On November 29 and 30 Partners of the Americas in collaboration with the Caribbean Self-Reliance International hosted an Assembly of Shadehouse Producers, an awareness/planning activity for the Regional Clusters of Shadehouse Producers created out of a  four-year project designed to provide a viable farming option for communities across the country.
For the 35 representatives who journeyed from Regions Two, Three, Four, Five, Six, Nine and Ten to gather at the Grand Coastal Hotel, Le Ressouvenir, East Coast Demerara, it was an opportunity to share experiences and discuss challenges, successes and perhaps above all else, form the nexus of a farming community that will further raise the profile of Guyana's agricultural sector. Represen-tatives of the Ministry of Agriculture and the Inter-American Development Bank (IDB) were there too, their presence symbolizing the collaborative effort between Guyana and a key multilateral partner to realize a desired result.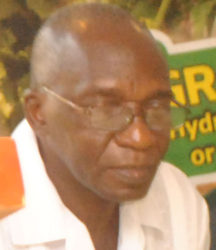 The Assembly was a critical meeting point in a four-year journey that begun in July 2012, when the IDB announced that the local chapter of Partners of the Americas was among the regional and hemispheric entities selected to benefit from its call for proposals for civil society projects designed to support low-income communities and vulnerable groups. Funding for the project, managed by the IDB, was provided by the Japan Fund for Poverty Reduction (Japanese Trust Fund).
Partners secured a grant allocation of US$1,161,000 and with counterpart funding of US$189,000, the total allocation reached US$1,350,000. The project,  Sustainable Livelihoods and Community Economic Growth through Hydroponic and Organic Vegetable Production and Marketing was to capture the attention of the farming community in Guyana.
The objective of the project was to provide sustainable livelihood opportunities for low income households in rural and coastal communities by engaging small-scale producers in the hydroponic and natural/organic cultivation of vegetables for the domestic and export markets. It was rolled out in July 2013 in the aforementioned administrative regions and its results, Project Director Kelvin Craig says, "are there for all to see." The key ones are:
The training of 4,000 persons in the areas of natural/organic or hydroponic vegetable production, compost production, natural pesticide production and integrated pest management;
Supporting the establishment of 219 shadehouses and at least 600 container gardens across 152 districts/villages and the creation of ten herb gardens;
The creation of three demonstration, support and learning centres at Sophia, Georgetown (Region Four); Canvas City, Linden (Region Ten) and Aranaputa, Rupununi (Region Nine).
The completion of 184 market promotion and/or public awareness activities. Since the project began its Facebook uploads in August 2014, there have been a total of 89 Facebook posts and 748 'likes.' Close to 17,000 persons have been reached via Facebook;
Collectively, participating farmers have sold a total of 6,563 lbs of produce valued at $1,997,200 (US$9,986) up to September 2016;
Beyond these concrete accomplishments the project has facilitated several cluster exchanges as well as an overseas (Trinidad) market orientation mission for four shadehouse producers, facilitated improved handling, packaging and branding of products and supported the establishment of five District Clusters.
These days, the total area of shadehouses throughout the eight regions stands at around 15,286 square metres, an increase in the area under shadehouse cultivation by 621% since project start-up.
The project has exposed at least 300 Amerindian farmers to the technologies, contributed to the creation of at least 250 jobs and recorded 65 women as having reported a sense of economic empowerment as a result of its activities.
Craig says that setting aside the accomplishments of the participants, one of the real achievements of the project was that in its journey across the far reaches of Guyana it was able to collaborate with various social organizations, including those targeting youth, supporting people with disabilities and cultural groups and training institutions, including schools.
Craig says the project was "particularly proud" of the fact that it was able to live up to its agreement with the IDB and the Japanese Trust Fund to work with Amerindian communities in areas like Bethany, Tapakuma, Capoey, Mainstay and Mashabo in Region Two, Kairuni in Region Four, Aranaputa, Surama, Rupertee, Annai-Bina and Rewa in Region Nine, Karanambo in the North Rupununi and Coomacka and Three Friends Mines in Region Ten.
According to a summary of the project seen by this newspaper, in addition to the Amerindian villages, training in vegetable production also took place in the mixed riverain communities in the Pomeroon River, Upper Demerara River, Upper Berbice River and Upper Essequibo River.
"Overall the project has been a major success, as in addition to having achieved most of its targets ahead of schedule, it has helped to sensitize the Guyana population to shadehouse vegetable cultivation and hydroponic vegetable production among others. These alternative production systems are now integral parts of vegetable production and a few producers have already built upon their foundation gained from the project and have adopted more sophisticated systems," the summary said.
Around the Web