In this week's edition of In Search of West Indies Cricket, Roger Seymour retraces some of the destinations around the world where Garry Sobers has played.   
Today's Cricket Superstars have become part of the jet-set crowd, as they shuttle from international test tours, commemorative and charity events, triangular one-day tournaments and from one T20 League to another: Indian Premier League, Australia Big Bash League, England Natwest T20 Blast League, South Africa Ram Slam T20 League, Pakistan Super League, Bangladesh Premier League and the Caribbean Premier League. Long before the advent of limited overs cricket, Garry Sobers, cricket's ambassador, was traversing the world as a globetrotting cricketer.
In 1959, Australian country singer Geoff Mack penned the lyrics for "I've Been Everywhere". In 1962, Canadian country singer Hank Snow replaced the original Australian toponyms with North American ones—mainly American—and the song hit number one on the USA country charts. There are several different country versions of this popular classic, but I can't find one that tracks the places where Garry Sobers has played cricket. The skipper has been 'everywhere'.
     I've Been Everywhere
  (Chorus)     I've been everywhere, man
                        I've been everywhere, man
                        I've crossed the deserts bare, man
                         I've breathed the mountain air, man
                       Of travel, I've had my share, man
                       I've been everywhere
One of the first places young Sobers began bowling at nets on a regular basis was quite appropriately, Wanderers Cricket Club. It had been founded in 1877 and was the oldest one on the island of Barbados. Inspector Wilfred Farmer of the Barbados Police Force soon spotted the talented teenager who, too young to join the force was placed in the band as a bugler. In 1953, at the age of 16, he made his first class debut when he was selected as a bowler in the Barbados side, to play against India at Kensington Oval. His bowling figures were 22 overs 5 maidens, 50 runs 4 wickets (22-5-50-4) and 67-35-92-3.
March 30 – April 3, 1954, Sabina Park, Jamaica – West Indies vs England, 5th Test Match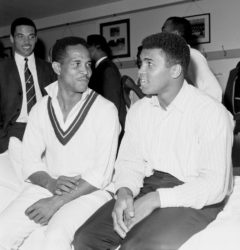 Sobers made his Test debut in his third first-class game, replacing the injured Alf Valentine. England won by 9 wickets to level the series as WI lost at Sabina Park for the first time. Sobers batted ninth and had scores of 14 not out and 26, and bowling returns of 28.5-9-75-4. The fifth bowler in the attack, he broke the opening partnership between Len Hutton and Trevor Bailey, when he had the latter caught for 23 by the wicketkeeper Clifford McWatt of British Guiana.
Garfield St Auburn Sobers was on his way to becoming a trailblazing, globetrotting cricketer. As he developed into the leading all-rounder in the game, the demand for his services increased, and the world became his playground. Like most seasoned travellers, he probably has his favourite places, as well as those he prefers not to remember or visit again. Spectators around the world have had their memories indelibly stamped with magnificent performances with both bat and ball, and are still relating them to their grandchildren or anyone who cares to listen, as though they were there yesterday.
Let us take a glimpse at a few ports of call in this fascinating journey.
April 11 – 16, 1955, Queen's Park Oval, Trinidad – West Indies vs Australia, 2nd Test Match
Garry was not selected for the First Test at Sabina Park, batted at six, and scored 47 in the first innings of the drawn game. It's the start of his 85 consecutive Test Matches streak. The 1st Test versus Australia in Jamaica, February 16 – 21, 1973 would be the next test without G S Sobers on the scorecard.
May 14 – 20, 1955, Kensington Oval, Barbados – West Indies vs Australia, 4th Test Match
First Test in front of his home crowd. Australia compiled 668 as they batted into the third day. Garry opened the innings with J K Holt, and proceeded to send the crowd into a frenzy as he rattled off ten 4s in his 43. The match was drawn as Atkinson and Clairmonte Depeiza set the world record for the seventh wicket with a stand of 348.
West Indies Tour of Fiji and New Zealand, 1955-1956
The West Indies team departed Port-of-Spain at midnight on December 22, 1955, on the Southern Cross. After a game against Fiji, the tourists arrived in Wellington on January 16, 1956. No doubt the long journey at sea must have evoked thoughts of his father, Shamont Sobers, a seaman, who was lost at sea when Garry was five years old.
January 12, 1956, Albert Park, Suva, Fiji – Fiji vs West Indies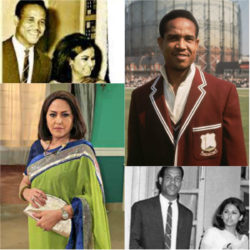 Fiji won the toss and elected to bat first in the one day game. The West Indies are dismissed for 63 in reply to Fiji's 91, losing by 28 runs. Garry batting at three contributed 6. His teammates include Sonny Ramadhin, Alf Valentine, John Goddard, Denis Atkinson and O G 'Collie' Smith.
January 31 – February 1, 1956, Queen's Park, Invercargill, South Island, New Zealand – Southland vs West Indians
Second stop on the Kiwi leg of the tour. It's the southernmost and westernmost city in New Zealand and one of the southernmost cities in the world. Sobers got 33 and a duck, as WI won by 5 wickets.
March 14 – 15, 1956, Whangarei High School Ground, Whangarei, North Island, New Zealand – Northland vs West Indians Penultimate match of a forgettable tour for Sobers. His 76 in the first innings is the top score in the match, as WI won by 8 wickets in the most northern city in New Zealand.
In five innings in the four Tests on the green top pitches, his aggregate was 81. He batted at first wicket down, except for the Third Test, at Basin Reserve, Wellington, where he opened the innings with Bruce Pairaudeau of British Guiana. (Wellington on the North Island is the world's southernmost capital city.) WI won the series 3-1, with New Zealand winning its first Test in the fourth and final game at Eden Park, Auckland, by 190 runs
April 14, 1957, Southhampton, England
The Golfito docked at Southampton, twelve days after leaving Port Antonio, Jamaica. Sobers' first trip to England had begun.
May 25, 27 & 28, 1957, Trent Bridge, Nottinghamshire – Nottinghamshire vs West Indies
Sobers opened the batting and hammered 219 not out, as WI declared at 489 for 3. Clyde Walcott 115, Everton Weekes 68 and Collie Smith 67 not out also had good scores.
Notts replied with 420 as the game was drawn.
June 27, 1957, Sportpark, Koninklijke, Haarlem, Netherlands – Netherlands vs West Indies
Garry cracked 101 with thirteen 4s and four 6s, as WI raced to 308 in 57.4 overs and went on to win by 185 runs.
July 12, 1957, College Park, Dublin, Ireland – Ireland vs West Indies
WI won by 79 runs, as Garry contributed 18 to a score of 140 and grabbed 5 wickets for 43 runs.
West Indies lost the Test series 3-0. Here is an excerpt from the 1958 Wisden Report on the Tour: "To Sobers, a tall left-handed all-rounder fell the distinction of hitting the highest score of the tour – 219 not out against Nottinghamshire at Trent Bridge. Sobers is a very fine stroke player who should go far."
February 26 – March 4, 1958, Sabina Park, Jamaica – West Indies vs Pakistan, Third Test
Sobers breaks the world record for the highest score in Test cricket with 365 not out, his maiden Test century. At 21 years, he became the youngest player to score a triple century in Tests. WI won by an innings and 174 runs.
March 13 – 19, 1958, Bourda, British Guiana – West Indies vs Pakistan, Fourth Test
Sobers had scores of 125 and 109 not out, as WI won by 8 wickets.
Summer of 1958: Sobers became the professional for Radcliffe Cricket Club in the Central Lancashire League, England. Radcliffe placed no restrictions on Garry, so when they had no matches, he quite often appeared as a guest player in other leagues in Lancashire or Yorkshire.
November 2, 1958, Bombay, India
The second West Indies team to visit India, arrived from London by plane.
December 31, 1958 – January 1, 1959, Eden Gardens, Calcutta – India versus West Indies, Third Test
Sobers hit 106 not out on New Year's Day, as WI accumulated 614 for 5 declared. Rohan Kanhai 256, Basil Butcher 103 and Joe Solomon 69 not out are the main scorers.
India lost by an innings and 336 runs.
February 7, 1959
After defeating North Zone by 73 runs in the ancient city of Amritsar, the first West Indies team to visit Pakistan, travelled by road across the Wagah border into Pakistan. From Lahore airport they flew to Karachi.
March 26 – 31, 1959, Bagh-i-Jinnah, Lahore – Pakistan vs West Indies, Third Test
Kanhai 217, and Sobers 72, in one of their famous partnerships add 162 for the third wicket, as WI, trailing 2-0 in the series compiled 469. WI won by an innings and 156 runs.
October 11, 1960, RMS Strathaird docked at Fremantle, Australia after sailing through the Suez Canal. On board are West Indies League cricketers, Tom Dewdney, Wes Hall, Conrad Hunte, Kanhai, Ramadhin and Sobers.
December 9 – 14, 1960, Woolloongabba, Brisbane, Queensland – Australia vs West Indies, First Test
The first tied Test in history. The scores were even, one ball remained, as Joe Solomon threw down the stumps to run out Ian Meckiff. Forgotten in all the folklore associated with the dramatic last over and the final result, is Sobers' magnificent 132 in the first innings, considered as one of the great post war innings.
February 20, 1961 – Conrad Hunte, Sobers, Kanhai, Seymour Nurse, Wes Hall and Chester Watson boarded RMS Stratheden at Fremantle, Australia, bound for England.
February 28, 1961, Colombo Oval, Colombo, Ceylon – Ceylon vs Ceylon Daily Mirror XI
Ceylon Daily Mirror XI led by Hunte included Kanhai, Nurse, Hall and Sobers. The Mirror XI pummeled 305 for 6 off 57 overs. Hunte (50), Kanhai (60), Sobers (58) and Hall (44) were the principal scorers. Ceylon replied with 180 for 7 in 39 overs, with Michael Issera 102 not out.
Following the match in Ceylon, the RMS Stratheden made stops in Bombay, Aden (at the time one of the busiest ship-bunkering and trading posts in the world) and Athens, Greece before docking at Tilbury, Essex.
Summer of 1961: Garry led Radcliffe to the League's Championship Title and its supplementary Wood Cup Competition.
February 9 – 13, 1962 Adelaide Oval, South Australia – South Australia vs New South Wales (NSW)
In his first season in Australia, Sobers blasted 251 and took 9 for 123, as South Australia defeated the NSW by 130 runs. NSW was on the way to its 9th consecutive Sheffield Shield Title, and the line-up was almost an Australian side, with the likes of Simpson, O'Neill, Booth, Harvey, Davidson, Benaud and Misson.
February 8 – 12 1963 Adelaide Oval, South Australia – South Australia vs Queensland
In the drawn match, Garry had scores of 18 and 8, as he completed the season with 1,006 runs. He had become the first cricketer to achieve 1,000 runs in a season on four continents.
1957 – England – 1,644
1958 – West Indies – 1,007
1958/59 – India – 1,162
February 21 – 24, 1964, Adelaide Oval, South Australia – South Australia vs Victoria
South Australia won by an inning and 46 runs, as Sobers led the way with 124 and 9 for 102. It was his final appearance in Sheffield Shield cricket. He completed the season with 1,124 runs and 51 wickets. His 3 seasons had led to massive increases in crowd attendance. In the previous 7 years, before Sobers' arrival, South Australia had finished last, in the Sheffield Shield competition. In 61/62 they finished 3rd and were runner-up in 62/63. Now, they were champions for the first time in 11 years.
March 30, 1964, The Padang, Kuala Lumpur, Malaysia – Malaysia Cricket Association President's XI vs E W Swanton's XI
In a marvellous exhibition of batting, Sobers reached a century (102) in 68 minutes, with seven 4s and two 6s, as E W Swanton's XI made 282 for 6 in 62 overs. Nurse contributed 50. The Malaysians were dismissed for 196 in 55 overs.
April 4 – 5, 1964, Hong Kong Cricket Club Ground, Hong Kong – Hong Kong vs E W Swanton's XI
Swanton's XI won by 6 wickets, as Garry notched 106 and had match returns of 9 for 70.
Summer of 1964: Garry joined Norton Cricket Club in the North Staffordshire and South Cheshire League and played alongside his older brother, Gerry. They led Norton to league titles in 64, 65 and 67.
October 1, 1964, Wellington Oval, St George's, Bermuda – St George's Cricket Club vs Yorkshire
Sobers was invited to join Yorkshire County for the final leg of their three-week North American Tour which included matches in New York, Washington DC, Toronto, Calgary, Vancouver, Los Angeles and Bermuda. Geoffrey Boycott (108) and Sobers (117) enabled Yorkshire to post 322 for 8, from 62 overs, after losing the first five wickets for less than 40. Roderick Symonds (25) was the only batsman to reach double figures, as the home collapsed to 48 all out. Fred Trueman and Sobers with four wickets each, were responsible for the paltry score. Other members of that strong Yorkshire side included Brian Close (Captain), Ray Illingworth, Phil Sharpe, Jimmy Binks, John Hampshire, and Richard Hutton.
June 16 – 21, 1966, Lord's, England – England vs West Indies, 2nd Test
On the 4th day, after trailing in 1st innings, by 86 runs, WI were 95 for 5, when Sobers was joined at the wicket by his cousin, David Holford. Sobers (163) and Holford (105) shared an unbroken partnership of 274 as WI rallied to draw the match. He rates it as one of his best innings ever.
November 28, 1966, Bombay, India – The 3rd WI team to India, landed at the Santa Cruz airport at 2.30 am, after stops in Moscow, USSR and Delhi, sixteen hours behind schedule. Take-off from Heathrow had been delayed because London was fogbound.
January 31, 1967
When the WI team departed India, Sobers remained. During the tour he had become engaged to rising, Indian film star, Anju Mahendru.
August 31 to September 2, 1968, St Helen's, Swansea, Wales – Glamorgan vs Nottinghamshire
In 1967, the rules were changed to allow counties to sign one overseas player with immediate effect. Sobers was the prized recruit and 7 counties expressed interest. Nottinghamshire, one of the weaker counties, was his choice. On signing, Sobers had made a wager of a case of champagne that Notts would finish at least 4th in the 1968 season. Notts had to beat 2nd place Glenmorgan to finish 4th. On the 1st day, pushing for a result, Notts went after quick runs.  Sobers smashed 6 sixes off of an over from Malcolm Nash. It was the first time that this feat had been accomplished in first-class Cricket. Notts duly won by 166 runs and Sobers collected on the bet.
January, 1969, North Tasmania, CA Ground, Launceston, Tasmania Tasmania Combined vs West Indies
Sobers 121 n.o. as WI declared at 351 for 5. Lloyd – 73 and Butcher – 57, were the other main contributors. W.I. won by 10 wickets.
September 12, 1970, Salisbury, Rhodesia
South African Ali Bacher and Sobers were partners in a double-wicket competition, which they did not win. Later that evening, he had dinner with Ian Smith, the then Rhodesian Prime Minister. In 1965, Rhodesia had become the first country to have United Nations sanctions imposed on it, after its minority white government to dad declared itself independent.
Sobers had spent less than 48 hours in Rhodesia and was greeted with a firestorm upon his return to Barbados. On October 10, Guyana's prime minister Forbes Burnham announced that Sobers would not be welcome in his country, unless he apologised for going to Rhodesia. India's Prime Minister Indira Gandhi indicated that the 1971 tour by India to the West Indies might be cancelled if Sobers was included in the side. The pressure on him to apologise kept increasing and the furore would not subside.
Dr Eric Williams, then prime minister of Trinidad and Tobago, noted historian and statesman, took matters into his own hands and drafted a letter for Sobers to sign. Hall, a long-standing friend of Sobers, flew from England to deliver it to him. After talking to the prime minister of Barbados, Errol Barrow, to the relief of the entire Caribbean, Sobers signed the letter.
"When I was invited to play cricket in Rhodesia, I thought of only two things – my love of cricket and my hope that I would be able to contribute to greater West Indian dignity. I had not realised the deep feelings of the West Indian people in this issue of Rhodesia. I have since learned of the wider international issues involved on the question of Rhodesia. If I had known or thought of these matters before going, I would never have gone to Rhodesia. If another opportunity came my way to go to Rhodesia, I would not now accept it."
Jamaican prime minister and cricket enthusiast, Michael Manley summed up the controversy in these words, "A grateful Caribbean grabbed the apology with both hands. He was, after all, the first complete Caribbean folk hero, after George Headley. The thought that he might be lost as a consequence of a political gaffe was intolerable. For the great majority, the incident was forgiven and promptly forgotten."
February 9 – 11, 1967, Warner Park, Basseterre, St Kitts – Leeward Islands vs Barbados, Shell Shield Tournament
Sobers declared Barbados innings closed at 406 for 6, with himself, 97 n.o.  P Lashley, 96 and W Phillips, 92, were the other main scorers. Barbados won by an inning and 76 runs.
January 22 – 24, 1971, Victoria Park, Castries, St Lucia – Combined Islands vs Barbados, Shell Shield Tournament
Barbados won by 9 wickets with Sobers taking 5 for 44 in the second innings.
January 1 – 6, 1972, Melbourne, Australia – Australia vs Rest of the World XI, 3rd 'Test' Match
Sobers followed up his 1st inning duck with a magnificent innings of 254. The great Australian, Donald Bradman, was prompted to say, "[It was] probably the greatest exhibition of batting, ever seen in Australia."
August 3 – 6 1974, Rutland Recreation Ground, Ilkeston, Derbyshire, England – Derbyshire vs Nottinghamshire
Sobers (130) cracked a century in 83 minutes, to win the Walter Lawrence Trophy, for the fastest 100 of the season. It was his final season in professional cricket.
September 2, 1978, Shea Stadium (Home of New York Mets Baseball Team), Queens, New York, USA – American All Stars vs World All Stars
Sobers and Tony Greig 'Co-Captain' the World XI that included Barry Richards, Roy Fredericks, Sunil Gavaskar, Greg Chappell, Majid Khan, Mustaq Mohammed, Alan Knott and Andy Roberts. At 42, Garry is the only retired player on the team.
The Americans comprise ten players of West Indian origin and one New Zealander, Dr John Millener. Four players, Trinidadian Oscar Durity and Guyanese Vincent Mayers, Rex Ramnarace and Winston English had played in the Shell Shield Tournament.
Despite the unfamiliarity of the coconut matting wicket, the World XI reached 79 for 1, before their innings unravelled. The Kiwi fast bowler grabbed 4 for 13 in 7 overs. The World XI managed only 124 in their 36 allotted overs. Despite appearances by substitute John Snow and Bishen Singh Bedi, the 'Americans' knocked off the required runs for the loss of 3 wickets with 9 overs to spare. It was the 2nd victory, for the 'Americans', who had beaten a Caribbean team led by Sobers, at Giant's Stadium in New Jersey, the previous summer.
To date, Sir Garfield Sobers is still highly sought after in the cricketing world. One can only wonder how many miles this globetrotter has travelled!
Trivia Question: How many times did Garry Sobers represent Barbados at cricket?
Around the Web