If you are looking for something special to make for breakfast on this Mother's Day morning or for afternoon tea, these cheddar-scallion biscuits would be ideal.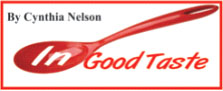 The recipe suggests cutting them into wedges of 3-inch rounds but you can cut them smaller and use them as the bread or rolls bread for your special meal.
Yield: 10 – 12
INGREDIENTS
2 cups all purpose flour
1 tablespoon baking powder
1 teaspoon table salt
2 oz. (1/4 cup) cold unsalted butter, cut into small pieces
¼ cup thinly sliced green onions/scallions (white and green parts)
1 ½ cups grated cheddar cheese
¾ cup very cold whole milk, plus extra for brushing (2 – 3 tablespoons)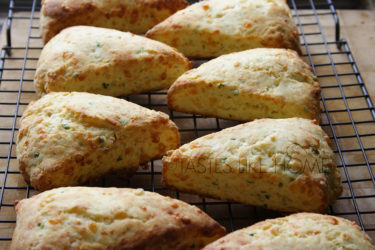 DIRECTIONS
Preheat the oven to 425 degrees F.
Line a baking sheet with parchment paper.
Add the following ingredients to a large bowl and mix well: flour, baking powder and salt.
Cut in the butter to the flour until the mixture resembles a coarse meal.
Mix in cheese.
Add half cup of milk to the flour mixture and gradually add the rest until everything is just combined. Do not over mix and don't be too worried if the mixture is a little crumbly. However if it is not holding together as it should, add a little more milk but do not make a wet mixture.
Flour a work surface and pat the dough into a 1-inch round.
Cut into wedges or use a 3-inch cookie cutter or a glass of the same size of roundness, dip the cutter/glass into flour and cut out biscuits, do not twist after cutting as this will seal the edges and prevent the biscuits from rising high while baking. Place biscuits on baking sheet about 2 – 3 inches apart. If making rounds with cookie cutter, gather up dough after the first set is cut, quickly pat into a round and cut again.
Brush biscuits with milk and transfer to oven.
Bake for 15 – 18 minutes or until golden. Remove from oven and transfer biscuits to a wire rack to cool. Serve warm or at room temperature as is or with a pat of butter.
NOTES
The ingredients should be very cold for this type of biscuit. Once the ingredients are measured and prepped, I usually add them to the freezer for 5 – 10 minutes before mixing everything together.
If you want the edges of biscuits to be soft, place them close together on the baking sheet, almost touching. For a more crusty edge, place them apart as indicated in the recipe.
Use sharp cheddar cheese
Scones and biscuits are best when consumed within 24 – 48 hours.