In this week's edition of In Search of West Indies Cricket, Roger Seymour takes an initial look at the controversial subject of apartheid and cricket.
On the January 15, 1981, the eighth English Test tour party to the West Indies and the first not under the auspices of the Marylebone Cricket Club (MCC), departed  London for St John's, Antigua. Ian Botham, the 24-year-old Captain and dashing all-rounder from Somerset, would be on his first assignment abroad, exactly four months to the day since the announcement of the team. Under the chairmanship of Alec Bedser, the selection panel of Ken Barrington, Brian Close, Charlie Elliot, Peter May, Alan Smith, Charles Palmer (Chairman of the Test Cricket and County Board -TCCB) and Botham, had had the unenviable task of assembling a side to stymie the West Indian juggernaut, unbeaten at home since 1973.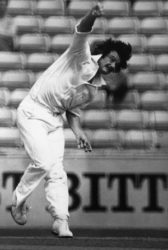 England's grand hopes rested on: Botham, Geoff Boycott, Bob Willis (Vice Captain), Chris Old, Graham Gooch, Geoff Miller, David Gower, Peter Willey, John Emburey, Brian Rose, Mike Gatting, Graham Dilley, David Bairstow, Graham Stevenson, Roland Butcher and Paul Downtown. The first seven players had an average of 42 Test caps. Botham, Miller, Old, Willis and Willey had undergone fitness tests prior to departure, under the diligent eyes of Manager Alan Smith and his Assistant Ken Barrington, who also fulfilled the role of coach. Barbados-born Butcher, who had opted for England in the previous summer, was returning to the Caribbean for the first time since his family immigrated to the UK in 1967.
The visitors spent a week acclimatising in Antigua, before flying to Trinidad and Tobago (T&T) for the opening match against the West Indies Board President's XI at Guaracara Park, Pointe-a-Pierre, scheduled for January 23 – 26. England, invited to bat by the President's XI Skipper Timur Mohamed, enjoyed a run feast before declaring at 483 for 6. Gower (187), Gatting (94), and Boycott (87), were the principal scorers, as Roger Harper took 5 for 142. Jeffrey Dujon's unbeaten 105 led the hosts' reply of 320. Boycott, the lone member from the '68 side and one of three from the '74 squad, continued to savour the West Indian wickets, reaching 87 again, as England declared at 208 for 5. Miller, then took centre stage with 6 for 70, as the President's XI succumbed for 181; the tourists celebrated a victory by 190 runs.
Everton Mattis had followed his first innings 43, with a top score of 46. The rest of the home side were Richard Austin, Richard Gabriel, Hartley Alleyne, Malcolm Marshall, Alston Daniel, Thelston Payne, and Shirlon Williams, who kept wicket despite of the presence of Payne and Dujon.
Heavy rain in Kingstown, St Vincent, led to the abandonment—without a ball being bowled—of the four-day fixture against the Windward Islands slated for January 30 – February 2. Two one-day games were hastily arranged to compensate for the loss. On February 1, in a 40-over contest, the Windward Islands fell 16 runs short of England's total of 166, and the following day, they lost again, this time by 6 wickets in a 55-over encounter, as Boycott (85 not out), and Gooch (50), took valuable batting practice.
On February 4, the first One Day International in the West Indies was held at the Arnos Vale Ground, Kingstown, St Vincent. In a thrilling contest, the West Indies won by two runs with ten balls remaining. Desmond Haynes (34) and Mattis (62), were the only players in double figures, in a total of 127 runs off of 47.2 overs. England were quickly in trouble at 15 for 4, but with Gower and Botham scampering between the wickets, appeared to be cruising to victory. Alvin Kallicharran, the fifth bowler that day, broke the 65-run partnership by dismissing Gower. Man of the Match, Colin Croft, 6 for 15, and Michael Holding, shattering the stumps of the 9th and 11th batsmen, Emburey and Old, respectively, finished the job. Excellent captaincy by Clive LLoyd and disciplined bowling, supported by superb ground fielding, had led to the most improbable of victories.
The rains pursued Botham's side to the Queen's Park Oval, Port-of-Spain, for the territorial game versus T&T. It was February 9, the penultimate day of the four-day fixture before England completed its first innings of 355. Gooch (117), Gower (77) and Boycott (70), continued to display good form with the bat. The locals accumulated 392 for 8, as the match petered out in a draw. Larry Gomes and Deryck Murray, both with 75, Theo Cuffy (61) and Ranjie Nanan (66 not out), were the main run scorers.
First Test Match, February 13 – 18, 1981 – Queen's Park Oval, Port of Spain, Trinidad
England: Gooch, Boycott, Rose, Gower, Miller, Botham, Willey, Downtown, Emburey, Dilley, Old.
West Indies: Greenidge, Haynes, Richards, Mattis, Gomes, Lloyd, David Murray, Roberts, Holding, Garner, Croft.
Botham invited the home team to bat first in another rain affected match, during which, over one day's play was lost. Three hours were lost at the start, as rain had seeped onto the pitch. Greenidge (84), and Haynes (96), batted into the second day, with an opening stand of 168. Lloyd (64), Murray (46) and Roberts (50 not out) added useful scores. Roberts' belligerent innings included 4 sixes and 3 fours, as he took a then world record 22 runs off a Botham over. The West Indies innings closed on the third morning at 426, with Emburey taking 5 for 142. England were struggling to save the match by the end of the day, with their first innings in tatters at 159 for 7, with Gower (47 not out) and only the tail-enders to bat. Gooch (41), Boycott (30) and Gower (48), were the only batsmen to withstand the four-pronged pace attack, as England were dismissed for 178, 248 in arrears. Croft, 5 for 40, had been the thorn in England's side. Despite several stoppages for rain and dogged resistance by Boycott (70), and Gower (27), on the fourth afternoon, and Willey and Downtown on the final day, the West Indies duly completed victory by an innings and 79 runs with an hour to spare. The small crowds could be attributed to the inclement weather and the omission of local hero, Deryck Murray.
Willis had only played in the first one day game against the Windwards, where he had had bowling figures of one wicket for 30 runs from 7 overs. Following surgery on both knees in 1975, Willis would play in constant pain throughout his career, and had again ruptured ligaments in one knee. As the team flew to Guyana for the next leg of the tour, Willis returned to England on February 20, for further knee surgery.
Thirty-five-year-old, uncapped, 5' 9 ½" Jackman of Surrey, who had been the twelfth man for the Centenary Test versus Australia in August, 1980, at Lord's, had been voted the Cricketers' Cricketer by his peers shortly afterwards, for making the greatest contribution to his team's success, in hard work and dedication. He had been the leading wicket-taker with 121 first class victims (157 in all competitions) that season. "Put it down to [West Indian] Sylvester Clarke," he was quoted as saying by the Wisden, which had selected him as one of its five Cricketers of the Year," … It's made a tremendous difference to a bowler of my type, fast-medium length-and-line, to have a genuine quick one at the other end." A professional cricketer, Jackman spent the winters playing for Rhodesia in the Currie Cup, in South Africa.
The English side touched down at Timehri International Airport, at 2.47 pm on Friday, February 20, aboard BWIA's 'Maracas Bay' aircraft in the midst of another downpour. Manager Alan Smith had been very skeptical about the quality of provisions available for his team and had sought guidance from the British High Commission in Georgetown. Excerpts of a cable (obviously produced by a manual typewriter) sent from the British High Commission, 44 Main Street, Georgetown, Guyana, dated January 5, 1981, and addressed to S S Calder Esq, M & C Dept, includes:
"ENGLAND CRICKET TEAM: WEST INDIAN TOUR
Thank you for your letter of 12 December about the forthcoming England cricket team tour of the West Indies.
Alan Smith is of course correct to be concerned to see that the English players are provided with the sort of food to which they are accustomed, including high protein dinners, such as steak, for he must ensure that the English players are well-fed and at the peak of their
fitness so that they can concentrate on beating the West Indies team. It is true that there are still shortages of basic food stuffs from time to time, but Harry Flack the Manager of the Pegasus Hotel where both teams will be staying, has ensured me that there should be little difficulty for his hotel in providing them with bacon and egg and sausage breakfasts and filet steak dinners. He told me that it is his policy to ensure that the hotel has adequate stocks of chicken, steak and fish in its deep freezes, so I don't think the team needs to bring canned foods.
As for liquor, you were of course quite right to explain that it is not the practice for diplomatic missions to provide drink for the use of visiting parties. The team, however, will find that locally produced rum, gin and vodka, all quite palatable, are usually readily available, but the locally produced whisky is not to be recommended and they should bring with them their full quota of duty-free scotch. Each visitor to Guyana is entitled to bring in with him free of duty four standard size bottles of alcohol. This generous provision should enable the team to have adequate supplies for their stay here.
We are of course looking forward to some good cricket, and to meeting the England team.
G R Johnston"
Heavy rain continued to trail the English team, whose match against Guyana at Bourda, scheduled for February 21 – 24, was abandoned without a ball being bowled.
The team arrived at Timehri International Airport at 3 am on February 23, 1981; it was Republic Day, a national holiday. Later that night, Jackman was the life of a party hosted by the Guyana Cricket Board, and Minister of Youth and Sport Roy Fredericks.
On February 25, a radio broadcast emanating from Jamaica, alerted the Caribbean to Jackman's South African connections. Later that day, Botham's XI opposed Miller's XI in a 40-over match at the Police Sports Club, Eve Leary; the English managing to play some cricket. Four members of the Police Sports Club assisted with the fielding, as Botham's XI reached the target of 128 runs for the loss of 4 wickets. Gooch (56), and Botham (41), of the winning side, and Gower (77), made the most of the occasion. A 7 am newscast on the local airwaves next day, announced that Jackman was not welcome in Guyana. As the teams flew to Berbice for the 2nd ODI, at the Albion Sports Complex, Smith scrambled to meet British High Commissioner Phillip Mallet to discuss the brewing firestorm, fearing another Basil D'Oliveira Affair was in the works. Mallet reported to his superiors that "a squall has blown up over Jackman."
Commonwealth Secretary General Sir Shridath Ramphal, a former Foreign Affairs Minister of Guyana, tried to pacify the situation, as rumours of the possible jeopardy of the tour began to spread.
The matter was raised at Prime Minister's Questions (weekly press conference of UK's PM), on February 26. Here's a copy of the Briefing Paper prepared for then PM Margaret Thatcher.
"ENGLAND CRICKET TOUR TO THE WEST INDIES
POINTS TO MAKE
HMG's attitude
The government [is] naturally very concerned that there should be any unpleasantness over the English Cricket tour of the West Indies. We support most strongly the right of the English selectors, or any other of our governing bodies of sport, to select their own teams without interference. We believe there must be some misunderstanding in the West Indies over the terms of the Commonwealth Statement as it relates to cases like that of Robin Jackman. I understand that ministers there may be having second thoughts and we must hope that diplomacy and good sense prevail.
Around the Web