When Beverley Ann Munesar found out last year that she had breast cancer, she accepted it as a challenge that she was prepared to fight and win.
"I stood outside the hospital and I cried for five minutes. But then I raised both hands to heaven and I said, 'Jesus you are my healer and by your stripes I shall be healed. Please let your presence go before me and help me to fight these battles that I am facing now,'" she recalled in a recent interview with Stabroek News.
That was on September 10 last year. While most people would have been depressed or sad about the diagnosis, Munesar was not.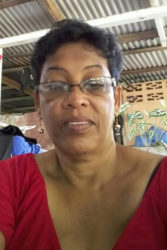 "Being a cancer patient… I told myself when I started treatment that I will have to fight through some bad days to gain the best days of my life and being so positive, I said I am going to be grounded," she said.
According to Munesar, she was diagnosed with Stage 2 cancer in her right breast and has since been receiving chemotherapy and radiation treatment at the Cancer Institute of Guyana. "Eight cycles of chemotherapy were recommended and I also had to do 25 sessions of radiation. The radiation treatment began in March and finished in April and I am left with the final cycle of chemotherapy which should be completed on the 27th of this month," she said.
Munesar recalled that she was in Canada when she first noticed something was amiss. "I went to Canada on holiday and that is when I told my in-laws that something is not right with me," she recounted…..