In this week's edition of In Search of West Indies Cricket, Roger Seymour concludes his examination of Sir Vivian Richards,
the  dragon.
Fourth Test Match, Sabina Park, Jamaica, April, 21 to 25
Michael Holding, in his first Test in front of his home crowd, was lethal on a fast Sabina pitch, taking seven wickets and hitting an aggressive 55, in posting 107, for the seventh wicket with Murray (71). India's memories of the match are rather unpleasant; first innings: 306 for 6 declared, two batsmen retired hurt; second innings, 97 for 5 declared, five batsmen absent, injured. All 17 members of the Indian touring party fielded at some stage of the match. WI: 391 and 13 without loss. WI won by 10 wickets, to win the series, 2-1. Viv's only innings of 64 took his series-leading aggregate to 556 runs, at an average of 92.66.
Canada opened their 1976 Tour of the Leeward and Windward islands with a 30-over match against Antigua at the Antigua Recreation Ground on April 29. Antigua, invited to bat, were all out for 96 in 28 overs, with Viv contributing 11. Canada could only muster 66 in 25.3 overs, as they fell to the spin of Viv, who had the surreal figures of 5.3 overs (O), 5 maidens (M), 0 runs (R), 4 wickets (W).
The hottest summer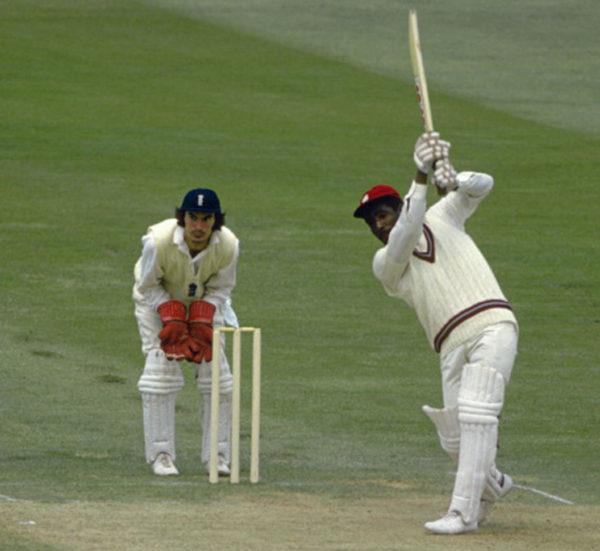 On May 6, the Tenth West Indies Test Team to tour England arrived at Heathrow Airport, London. Two days later, the traditional Tour opener against the Duchess of Norfolk's XI took place at Arundel Castle, with the visitors winning by seven wickets. It was the start of an incredible tour, which, in hindsight, became one of the cornerstones for the building of the dynasty of the 1980s and early 1990s. The harsh lessons absorbed the previous winter were applied, and like a negative being developed into a photograph in a darkroom, the blueprint for the West Indies' success started to evolve during that summer.
The sunshine of the Caribbean must have accompanied the team, as England enjoyed one of the hottest summers in living memory. The sun blazed, a drought ensued, water rations were imposed, the grass withered, and the West Indies savoured every moment. The solidity of a regular opening duo, Fredericks and Greenidge, was finally established, the middle order's thirst for hundreds developed, and the wrath of genuine fast bowling was unleashed on the English.
And the Dragon, myth or legend?
Viv had played the two previous seasons with Somerset and was very familiar with the softer English wickets and the perfect atmosphere for seam bowling. Viv opened with Fredericks in the second first-class match versus Hampshire at Southampton in mid-May, and plundered 176, in the innings victory. The MCC suffered a second innings hundred (113) from Viv's bat a week later, as WI won by 219 runs.
Tony Greig, the English and Sussex Captain, conducted an interview with the BBC Sportsnight Programme, previewing the Test Series, as the West Indies match with Sussex, the last one before the First Test, petered out into a draw at Hove. Greig, who had spent the previous winter playing grade cricket in Sydney, had followed the Australia/West Indies encounter closely, formulating a tactical approach for their English visit. He stated that if you let them get on top they are magnificent cricketers, and then he added, "But if they are down, they grovel, and I intend, with the help of Closey [Somerset Captain, Brian Close] and a few others to make them grovel." The South African-born Greig's brag would have dire consequences. In his autobiography, Sir Vivian, Viv wrote that this was the greatest motivational speech Greig could have given for firing up the West Indian side.
First Test Match, Trent Bridge, Nottingham, June 3 to 8, Drawn
The Dragon unleashed his wrath on the English attack. Viv was the first West Indian to mark his debut Test against England with a double century of 232 (sixth with a century). His innings lasted seven hours and 18 minutes, and included 4 sixes and 31 fours. The Dragon plundered the ball with a vengeance, in an array of fabulous drives, pulls, hooks and flicks. His score progressed from 196 to 232 with eight strokes. When he holed out to Greig on the long-off boundary, his partnership with Kalli (97) had produced 303 runs in six hours and 25 minutes.
Second Test Match, Lord's, London, June 17 to 22, Drawn
Ill and confined to bed, Viv could only watch as rain robbed the game of a possible result. Fredericks' second-innings hundred (138) was the highlight of the Test.
Third Test Match, Old Trafford, Manchester, July 8 to 13, West Indies won by 425 runs
Scores. West Indies: 211, Greenidge (134); 411 for 5 declared, Greenidge (101), Viv (135), Fredericks (50); England: 71, and 126. 71 was their lowest against the West Indies.
Roberts, Holding and Daniel appeared together for the first time. Their returns were (O, M, R,W).
Roberts (12-4-22-3, 20.5-8-37-6), Holding (14.5-7-17-5, 23-15-24-2), Daniel (6-2-13-2, 17-8-39-2). Genuine fast bowling!
Whilst Greenidge emulated George Headley with two centuries in a Test against England, Viv notched his sixth Test century of the year. Eighteen fours were noted in the scorebook alongside his name, in the four and three quarter innings.
Fourth Test Match, Leeds, July 22 to 27, West Indies won by 55 runs
Scores: West Indies: 450, and 196; England: 387, and 204.
In a match full of swings, WI won to clinch the Wisden Trophy. At Tea, on the first day, West Indies were 330 for 2, off of 57 overs. Fredericks (109), Greenidge (115), having posted 192 for the first wicket; 147 runs at lunch, were followed by 183 in the second session. At Tea, Viv was on 66, and was exactly equal with Bobby Simpson's 1381, the record for most runs scored in Tests in a calendar year, set in 1964. He edged Willis to Knott, immediately after the interval, and had to wait until the second innings, to claim the record, with 38.
Fifth Test Match, Kennington Oval, London, August, 12 to 17, West Indies won by 231 runs
The huge West Indian crowd on hand were entertained by a marvellous West Indian performance. The crowd whistled, cheered, drummed and bashed cans to their hearts' delight as their heroes accumulated a staggering 687 in the first innings. The Dragon saved his best for last, bludgeoning the English attack, as he reached 200 not out by the close of the first day. When he was bowled by Greig for 291, WI were 529 for 4. His epic performance had lasted seven hours and 52 minutes, and included 38 fours. His total runs for the series were 829, two more than Clyde Walcott's sum against the Australians in the Caribbean, the record for a West Indian in a Test Series. Holding took 14 wickets on a lifeless pitch, in a memorable performance.
In the three One Day Internationals that followed Viv had scores of 119 not out, 97 and 0, as WI swept the series. In 26 first-class matches, WI won 18, lost 2 and drew 6. The first loss wasn't until early August against the eventual county champions, Middlesex, and the second, in the last first-class match versus T N Pearce's XI in the first week of September, with Mike Brearley captaining both teams. As expected, Viv headed the batting averages with 118.42 in the Tests. In the first-class matches, he scored 1,734 runs at an average of 71.83.
Viv had scored 1,710 runs, in 19 innings, in 11 Test Matches, at an average of 90.00, with 7 hundreds and 5 fifties.
Three series, three continents
Beginning in November 1975, with the first Test in Australia, Viv had scored 1,811 runs in nine months.
The record would stand for 30 years, in spite of the increase in Test series and the additions of Sri Lanka, Bangladesh and Zimbabwe to Test-playing nations.
Pakistan's Mohammad Yousuf surpassed Viv's record in 2006, with 1,788, with matching numbers in innings and Tests, at an average of 99.33, with 9 hundreds and 3 fifties. In the last three Tests in November/December, against the West Indies in Pakistan, he scored 665 runs in five innings, with 4 hundreds and 1 fifty.
Viv is still second on the All Time List for runs in a calendar year.
Here's an extract from The Wisden Report on the West Indies Tour of England:
"But mere figures cannot convey his perfect style and strokeplay. His cover driving was superb and with his feet always in the right position the way he flicked the ball on his leg stump to square leg had to be seen to be believed."
Viv could silence a partisan crowd and send chills down the spines of the opposition by just stepping on the field; cap, never a helmet, at a jaunty angle, chewing the omnipresent gum, bold strides.
In 1976, the myth and legend of the Dragon Viv Richards was revealed.
Trivia question: How many Test centuries did Viv Richards score at the Antigua Recreation Ground?
Around the Web