I had never known a Guyanese had won a medal at the Olympics until I learned that Michael Parris did it in 1980, when he won a bronze for Boxing. This year, I cheered for our contingent and was hopeful that we would bring home a medal or two. Even though that did not happen, I am still proud of them. Troy Davis reaching the finals in the men's triple jump and placing 7th is to be celebrated and so are all the other athletes, for their efforts. After all, qualifying for the Olympics is in itself quite an achievement.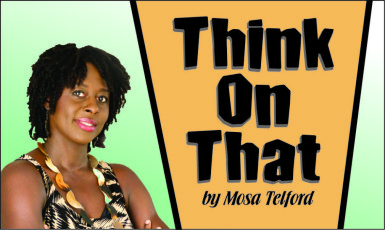 Every Olympic Games, I find myself cheering for and celebrating with Jamaica because they excel, especially in track and field. Many Guyanese who want to be caught up in the euphoria of the Olympics cheer for them. But we must ask ourselves: why can't Guyana, excel in same fashion as Jamaica? Do we not have skilled sportsmen and women who not only have the ability to not qualify for the Olympics, but bring home medals as well? We certainly do because Guyana is not a country that lacks talent or skills.
Within sports as well as the literary, performing and visual arts, there are many gifted people. But there seems to be a common thread when looking at sports and the arts, which is that the support that is needed to help those involved reach their maximum potential is lacking. Of course, there are exceptions in areas of sports, such as cricket and football. And I have also learned that there were times when the arts and sports were given the prominence they deserve.
I knew by the age of fourteen that writing was what I wanted to do with my life. Brother Eusi Kwayana, an elder and teacher, saw my work and noted that I had a gift. There was no greater compliment I could have received at that point in my life. I believed it and I was going to do whatever I had to do from that point on to make my dreams come true.
But even at that young age, with the certainty in my heart about what I wanted to do, I did not think I could accomplish my dreams in Guyana. I saw myself being an author, being a playwright, making films, and working in television, but in my head I constantly questioned whether I could make it here.
In my late teens, I went to England and while there I did some studies in the performing arts. After returning to Guyana, I still felt that I would not achieve my goals here. I did not see rich writers or actors or filmmakers. And most of the people involved in the areas I was interested in had to find other work in order to survive.
In 2006, I was invited to attend a workshop with other creative people. I was one of four writers selected from that workshop to work on a project, which became known as Merundoi. My dream to work as a writer in Guyana had come through and at that point I did not need to do anything else to earn.
My experience is a unique one. Most people involved in sports and the arts cannot say that they are living off their gifts and what has happened is that many have learned to accept the situation as the norm, frustrated though they may be. Over time, the light in many of them dims or simply dies.
I can speak on theatre, for example. As a child and teen, I recall going to see many plays at the National Cultural Centre. Now, plays are hardly being staged. The National Drama Festival sees a number of new and good plays from year to year, but most times those plays are only staged during that festival and never again. The reason the plays are not staged again is not because the writers, directors and actors do not want to, but the cost of doing so is more than they can afford.
Also, a large portion of the theatre-loving populace seems to have lost interest in dramatic plays and are more drawn to comedy and satire. For years, dramatic plays have been suffering very low attendance at the National Cultural Centre. Many of the plays deal with social issues and maybe folks have gotten to a point where they just want a night out to have a laugh. They do not want to be reminded about the ugliness of the problems they encounter daily.
When it comes to music, we have seen the emergence of many artistes over the years. But again, most of them cannot say that they are living off their music. And many Guyanese would faster support a foreign singer than they would a local one. Many say that the music produced here is not on par with that produced overseas. The debate on that could go on forever because many times I hear music from foreigners that says absolutely nothing, yet it is accepted here and is seen as superior to what we produce.
Many people involved in sports and the arts whisper in their circles about the environment not being encouraging and nurturing enough. Many have resolved to practice their skills as a hobby. Many moan about the folks who are supposed to be representing them. The complaints are many, but that is as far as it goes. Many of these people do not publicly air their disappointments, maybe because they believe nothing will change.
But nothing comes without a fight. You can also hold your leaders accountable so that they can put measures in place to create a more nurturing environment so that sports and the arts could thrive. No one is going to give you handouts simply because you are talented and every person who is talented cannot live on talent alone. Whether talented or not, whatever you want to achieve in this life requires hard work.
For me, I have been able to realise some of my dreams in Guyana. I have been able to work on a radio serial drama, I am a Guyana Prize for Literature-winning playwright and have had a few of my plays staged, I have worked on a couple of films and I am always working on my writing. But even with all this, I am getting by like the average Guyanese; working hard to make ends meet.
The potential to do great things is here. There is no reason why the arts cannot thrive here and why people cannot live off their craft. There is no reason our sportsmen and women cannot bring home medals from the Olympics and other international sporting events. Hopefully, with the creation of the national cultural policy, we will see changes for the better where the arts are concerned. And, hopefully, the areas of sports that need development will get the attention needed. For now, the struggle, the dreams and the wishes continue.
Around the Web