The intriguing Sinquefield Cup, the elite grandmaster chess tournament which featured seven of the world's top 10 players has been completed, with a resounding victory for the US's Wesley So. The most fascinating competitions remaining for 2016 are the biennial Chess Olympiad and the World Championship Chess Match.

The Chess Olympiad begins in Baku, Azerbaijan, on September 1, while the Championship Match will be contested in Manhattan in November.
Guyana is attending the Chess Olympiad, not as a contestant, but as a participant. It takes a while to be able to compete for medals at the Olympic level in chess. This sport works with the mind. It is necessary, therefore, to prepare your lines and systems theoretically beforehand for the Olympiad, than to depend on someone else at the final moment. The Olympiad is a tight, intense two-week competition. There is no time to familiarize oneself with new lines or alternate systems.
This columnist is yet to learn of an Olympic chess coach who is set to begin familiarization sessions during an Olympiad. Wendell Meusa has been appointed coach of the Guyana Olympic chess team for its sojourn to Baku; just as he was for the 2014 Tromso Olympiad in Norway. At the 2014 FIDE Umada Cup which was held here, Meusa played under the Barbadian flag. According to FIDE rules, one cannot be enlisted in an association/federation of a particular nation and represent another as it befits one's fancy. Meusa, therefore, cannot represent Guyana at the Chess Olympiad as a player since he is a certified member of the Barbados Chess Association.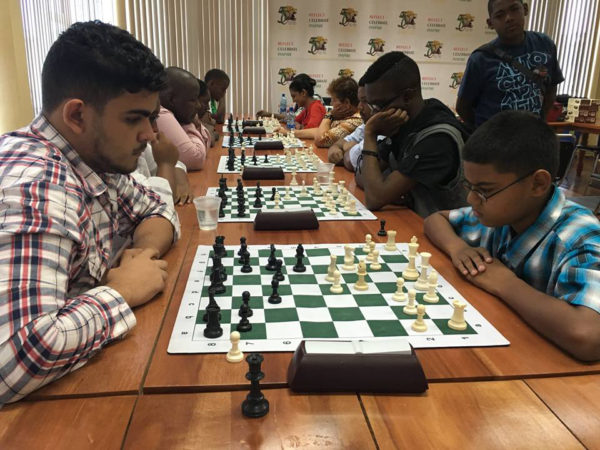 There was the recent case of Fabiano Caruana who is now ranked No 4 in the world. He was born in the US but migrated to Italy. He subsequently joined the Italian Chess Federation. Caruana expressed a desire to play for the US, but before he could do so, he had to obtain a transfer from the Italian Chess Federation and FIDE which he has since accomplished.
The 42nd Chess Olympiad takes place in Azerbaijan from September 1 to 14, and promises to be an elaborate affair. In the 2014 Olympiad, 177 teams representing 172 nations and a total number of 1570 men and women participated. The Chess Olympiad is the most important event on the chess calendar next to the World Championship. The current Olympiad gold medal champion is China, followed by Hungary and India in the men's category. Cuba finished in 7th place in Tromso ahead of a number of recognized chess nations. It is certainly the finest chess-playing nation in the Western hemisphere next to the USA. Russia took gold in the women's category, followed by China and the Ukraine.
Guyana will gain valuable experience through participation. The team, assuredly, will play an improved brand of chess upon its return from Baku. It is unlikely that the world champion or his challenger will play in Baku, but there are still a lot of stars who can inspire the team to produce better chess. The primary aim of the Guyana team is to increase its rating points, and if possible its FIDE ranking.
Chess games
The 2016 Sinquefield Cup ended last week, and represented the third leg of the Grand Chess Tour. US grandmaster Wesley So finished in clear first place with 5.5/9 points. Here are three games from the tournament.
White: Fabiano Caruana
Black: Anish Giri
e4 e5 2. Nf3 Nc6 3. Bb5 a6 4. Ba4 Nf6 5. O-O Nxe4 6. d4 b57. Bb3 d5 8. dxe5 Be6 9. Qe2 Nc5 10. Rd1 Nxb3 11. cxb3 Be712. Nc3 O-O 13. Be3 Qd7 14. h3 Rad8 15. Rd2 f6 16. Rad1 Nxe517. Nxe5 fxe5 18. Nxd5 Bxd5 19. Rxd5 Qxd5 20. Rxd5 Rxd521. Qc2 c5 22. g3 Kh8 23. h4 Rfd8 24. Qe4 h6 25. Kg2 Bf626. Kh3 h5 27. a4 Rd3 28. axb5 axb5 29. Qg6 e4 30. Qxh5+ Kg831. Qf5 Bxb2 32. Qxe4 c4 33. bxc4 bxc4 34. Qxc4+ R3d5 35. g4Kh8 36. g5 Bd4 37. Bxd4 Rxd4 38. Qf7 R8d7 39. Qe8+ Kh740. Qh5+ Kg8 41. g6 Re4 42. Qh7+ Kf8 43. Qh8+ Ke7 44. Qxg7+Ke6 45. Qh8 Rd3+ 46. Kh2 1-0.
White: Hikaru Nakamura
Black: Ding Liren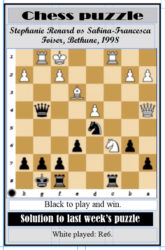 d4 d5 2. c4 c6 3. Nf3 Nf6 4. Nc3 e6 5. Bg5 h6 6. Bh4 dxc47. e4 g5 8. Bg3 b5 9. Be2 Bb7 10. h4 g4 11. Ne5 Nbd7 12. Nxd7Qxd7 13. Be5 Qe7 14. b3 cxb3 15. axb3 a6 16. Qc1 Rg8 17. O-ONh5 18. d5 Qxh4 19. g3 Qg5 20. dxc6 Qxe5 21. cxb7 Rb8 22. Nd5exd5 23. Qc8+ Ke7 24. Rxa6 Nxg3 25. Bxb5 Ne2+ 26. Bxe2 f627. Re6+ Qxe6 28. Qxb8 1-0.
White: Levon Aronian
Black: Hikaru Nakamura
d4 Nf6 2. c4 e6 3. Nf3 d5 4. Nc3 Be7 5. Bf4 O-O 6. e3 c5 7. dxc5 Bxc5 8. Bd3 dxc4 9. Bxc4 a6 10. Bd3 Nc6 11. O-O Nb4 12. Bb1 Qxd1 13. Rxd1 Nbd5 14. Nxd5 Nxd5 15. Be4 Nf6 16. Nd2 Re8 17. Bf3 e5 18. Bg3 Ra7 19. Rac1 b6 20. a3 Bd7 21. Nc4 e4 22. Be2 a5 23. Nd6 Re7 24. Nb5 Bxb5 25. Bxb5 Ra8 26. Kf1 Re6 27. Ke2 g5 28. Bc4 Ree8 29. h4 h6 30. hxg5 hxg5 31. Bd6 Kg7 32. Bb5 Bxd6 33. Rxd6 Re5 34. Rxb6 Rh8 35. Rb7 Rf5 36. Rf1 Rh2 37. Bc4 Ne8 38. Rb5 Rxb5 39. Bxb5 Nd6 40. Bd7 Kf6 41. Rc1 Rh8 42. b3 Ke7 43. Rc7 Rh1 44. Ra7 Ra1 45. g4 Rxa3 46. Ba4+ Kf8 47. Rxa5 Ra2+ 48. Kf1 f6 49. Ra8+ Ke7 50. Bc6 Rb2 51. Ra7+ Ke6 52. Bd7+ Ke7 53. Bf5+ Ke8 54. Be6 Rb1+ 55. Kg2 Rb2 56. Bd5 Rb1 57. Bc6+ Kf8 58. Rd7 Nf7 59. Bxe4 Rb2 60. Rb7 Nd6 61. Rb8+ Kg7 62. Bd5 Rd2 63. e4 f5 64. gxf5 Nxf5 65. Rb7+ Kh6 66. Rb6+ Kh7 67. Rb7+ Kh6 68. exf5 Rxd5 69. f6 Rd4 70. Kg3 Kg6 71. f7 Kg7 72. b4 Kf8 73. b5 Rb4 74. b6 Kg7 75. f3 Kf8 76. Kf2 Rb3 77. Ke2 Kg7 78. Kd2 Kf8 79. Kc2 Rb5 80. Kc3 Kg7 81. Kc4 Rb1 82. Kc5 Rc1+ 83. Kd6 Rb1 84. Ke7 Re1+ 85. Kd8 Re6 86. Kc7 Re3 87. Ra7 1-0.
Around the Web