Have you ever noticed how good okra, saijan and mangoes taste when dropped into a bubbling pot of curry? Especially fish curry? There never seems to be enough of the okra, saijan and mangoes to share for the family meal. By enough I mean each person may end up getting only 2 pieces of each. In our home there used to be serious negotiations about who would get the mango seed. The okras were evenly divided, and sometimes I would trade my saijan for okra.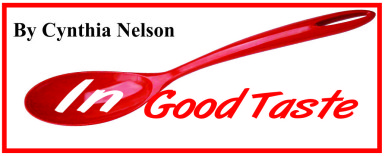 Just in case it has not been clear to you after all this time you've been reading me, I LOVE okra, any which way!
The cooking of this curry with coconut milk makes it thick and creamy. The addition of toasted sesame seeds and tamarind pulp to the masala paste turns this dish into a vegetarian entrée and not merely a side dish.
Leaving the okra whole and choosing smaller ones is preferable; you can certainly use whatever size okra you can find but do leave them whole. Here's why. You want the okra and curry to cook without the okra leaching its silkiness into the sauce and ultimately affecting the texture of the gravy/sauce, especially if serving to guests. Some people prefer the silkiness to remain in the okra itself.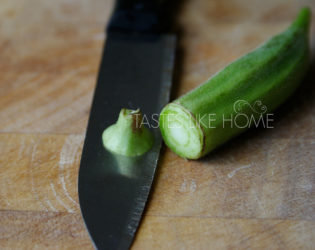 When cutting the okra, remove the bottom tip or leave it intact if the okra is very fresh and there is no darkness on the tips. Remove the stem by cutting from the base of the stem (as shown in the photograph). If you cut beyond this area, then you will expose the insides of the okra and the sliminess will seep out into the gravy/sauce.
INGREDIENTS
1/3 cup masala paste (recipe below)
2 tablespoons oil
1 pound fresh okra (stems removed and tips if necessary)
2 cups fresh coconut milk
Salt to taste
For masala paste:
1 tablespoon chopped ginger
1 tablespoon chopped garlic
Chopped hot pepper to taste
3 tablespoons chopped fresh cilantro/coriander OR celery
¼ cup chopped onions
1 heaped tablespoon toasted sesame seeds
Tamarind pulp to taste
2 tablespoons garam masala
1 ½ – 2 teaspoons ground turmeric
DIRECTIONS
Grind the following ingredients to make a paste – ginger, garlic, pepper, cilantro or celery, onions and sesame seeds.
Add the following ingredients to the paste – tamarind pulp, garam masala and turmeric as well as salt to taste. Mix well to incorporate and taste the paste; adjust the salt and tamarind to suit your taste – there should be enough salt to taste and a hint of tang from tamarind.
Measure out 1/3 cup. If there is any remaining, store it in an airtight container to use on another occasion. Keeps well for weeks.
Add oil to a pan and place of medium heat until hot (but not smoking hot). Add masala paste and immediately reduce the heat to very low. Stir the paste and cook for 3 – 5 minutes until fragrant and the masala has deepened in colour. Turn it a couple of times.
Raise heat to medium, pour in coconut milk, mix well with the cooked curry paste and bring to a boil then reduce heat to low and simmer partially covered for 10 minutes.
Remove cover from pan, raise heat to medium and bring back to a boil.
Add okra, toss with the sauce/gravy and arrange in a single layer. Cook until a knife inserts easily into the okra (this could be from 8 – 10 minutes). If you find the liquid drying out faster than the okra being cooked, reduce the heat to low. Do not add more liquid.
The finished dish should have a thick creamy sauce that clings to the okra.
NOTES
If you like your okra with a little bite to it, insert a knife into a couple of the okra and if you get a slight resistance, shut off the heat and remove the pan from the stove.
If you have untoasted sesame seeds – add them to a pan over low heat and toast until they get light brown, shaking the pan every now and then.
To get the tamarind pulp, place ¼ cup ripe shelled tamarind in a small bowl and pour a little more than ¼ cup boiling water over the tamarind. Let sit for 10 – 15 minutes then using a clean hand, rub the tamarind to remove the pulp and discard the seeds. Measure the amount needed for the recipe.
Around the Web