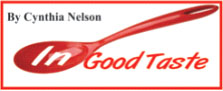 Are you enjoying the bounty of in-season avocado? I hope so. You can make shakes, salads, dressings and more with this buttery, creamy fruit that has an inherent note of sweetness.
One of the simplest and tastiest ways to eat an avocado (pear) is simply to serve it sliced accompanying your meal. A light sprinkling of salt and freshly ground black pepper is all you need to perk it up. Of course you can switch out the butter with your morning toast and spread it instead with mashed avocado.
It's easy to entertain with avocados (apart from chips and dip). Serve bread and pears bruschetta-style. However, to make it really outstanding you need to do a few things. First, start with a good crusty, artisan-style loaf of read. Your everyday sandwich loaf would not do – it is too soft and lacks the structure to stand up to the process. It is best to use a loaf of bread that you can slice yourself.

Here's what you need: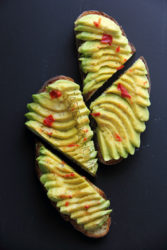 SPECIAL EQUIPMENT
•    1 (13 x 18) baking sheet
•    2 cooling/wire racks
INGREDIENTS
•    Slices of bread cut into ½-inch thickness
•    2 large cloves of garlic, peeled
•    Ripe pears/avocados
•    Sea salt or fine table salt
•    Freshly ground black pepper
•    Hot pepper sauce or cured hot peppers
DIRECTIONS
1.    Preheat oven to 400 degrees F.
2.    Arrange toast on baking sheet and toast until lightly brown and the surface of the bread is crisp, about 10 – 15 minutes.
3.    Cut the cloves of garlic in half and set aside.
4.    Remove the bread from the oven and use the pieces of garlic (cut side) and rub it against the toast applying a little pressure. Repeat until all the toast have been rubbed with garlic. Transfer to wire racks to cool.
5.    Halve the pears and remove the seed. Slice the pears while still in their casings or remove the outer skin and slice the pears into ¼-inch thickness. Fan out the slices across the slices of toast; season with salt, black pepper and hot pepper.
6.    Cut the bread topped with the avocado in half (cut diagonally or crossway). Serve immediately.
NOTE
• It is best to make the bruschetta just before serving. If you want to prep the avocados ahead of time, drizzle some fresh lime or lemon juice over the cut fruit to avoid discoloration.
• It is important that the toast rest on wire racks to cool so that air can easily circulate evenly around the bread, instead of being on a solid surface and subsequently creating steam at the bottom making one side of the bread soft.
Around the Web