By: Naicelis Rozema
Naicelis Rozema is an independent researcher and former teacher at Queen's College, Guyana. She was born in Venezuela and spent a considerable amount of time living near the Soesdyke/Linden Highway. She is a women's and Indigenous rights advocate and currently resides in the United States. In 2017 she will be commencing her post graduate studies in trauma psychology at the University of Colorado (UCCS).
(An extended version of this article was presented as part of Guyana's 50th Independence Golden Jubilee Symposia Series)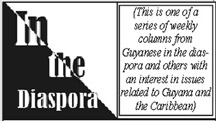 The growing severities of climate change have propelled global concerns regarding Food Security. The risks associated with the shortages, limitations or modifications of such a critical commodity not only threaten the future stability of nations worldwide, but already threaten the livelihoods of our most vulnerable, our poor and our ethnic and indigenous minorities.
The United States is considered one of the world's most developed nations (a concept that most developing countries aspire to, but which should actually be re-examined), however, the connections between industrialized farming and its adverse effects on the environment and human health should be seriously investigated. In fact, the catalyst for my research originated from the onslaught of illnesses me and my children experience continuously while living in the United States. In comparing the rate of illnesses that affects the U.S population to that of Guyana and Venezuela, I cannot help but conclude that something is wrong with our food system. And I am not the only woman concerned.
Last year, New York congresswoman, Louise Slaughter, investigated the use of antibiotics in meat factories. The results showed that the overuse of antibiotics formed anti-resistant bacteria that in turn created 'superbugs' which "adversely affected human health"; in other words, the human consumption of antibiotic saturated meat is making it increasingly harder for humans to fight off diseases.
Additionally, in 1998, Professor Arpad Pusztai, released the results of an experiment where rats were fed a particular genetically modified potato diet, and after 110 days (10 human years) the results showed that the rats suffered "a slight growth retardation" and a weakened immune system. Unfortunately, the backlash for publicizing the results of the experiment diminished the credibility of the report. Experiments such as Pusztai's contributes to the growing body of research regarding the long-term effects of growing and consuming foods that contain Genetically Modified Organisms (GMO's).
Last year, the U.S passed the Safe and Accurate Food Labeling bill that requires companies to label GMO products. This was a small step towards respecting consumers' right to choose what they consume. But this is not enough, the U.S should be piloting efforts and funding for controlled experiments and empirical research into Genetically Modified Organisms and its effect on our ecosystems. If this is not done, I believe the United States' food security would be seriously at risk.
There is, however, a country that the U.S could learn from, The Bolivarian Republic of Venezuela. Paradoxically, Venezuela is a 'live' illustration of national instability caused by food insecurity. In order to understand Venezuela's current food crisis, it is important to understand the political history of the country. Condensed; it is the perpetual political power struggle coupled with an inconsistent system of governance, and compounded by a good dose of corruption that has destabilized a potentially great country.
I was born under the Caldera regime and can still recall the political power struggle we experienced as young children. We used to loudly proclaim, << ¡Amarillo, azul y rojo, la bandera de Caldera!>> / "The yellow, blue and red flag belongs to Caldera!" But then we would get mocking retorts from other children, most of whom did not live in Barakas, saying, << ¡Amarillo, azul y rojo, la bandera de los Piojos!>>/ "The Yellow, Blue and Red flag belongs to lice!" During that time, children like me were looked down upon as lice — parasites, because we were poor; we lived in Barakas in the barrios and relied on government subsidized foods, which we stood in 'colas' for. It was actually part of the morning greeting to say, <<!Buenos dias, vesina! !Voy pa' la cola!>> " Good morning neighbour! I'm going in line!" Yes, Venezuelans were accustomed to standing in lines long before President Hugo Chavez came to power in 1999.
With Venezuela's current economic state it is hard to believe that it was among the first countries in the world to adopt food sovereignty as part of our national policy. In fact, the same year Chavez came to power, Venezuela's Constitution was reformed to protect seeds as a living entity. And this was done with the specific participation of its indigenous peoples. Venezuela's constitution now contains La Ley de Semillas or Seed law, which goes as follows, "The law recognizes the seed as a living being and an integral part of Mother Earth, and therefore should be object and subject to the law and…the rules on the preservation of life on the planet …" This is an incredible piece of legislation, and this is what the United States and Guyana could learn from Venezuela. Though adopting similar legislation could be easily dismissed as the fallacy of grandiose socialism, it is critical that the U.S government implement policies that secures our food systems.
In relation to Guyana, it would also be wise for our own government to enact constitutional legislation like Venezuela in order to protect the natural identity of our foods. Why is this important at such a critical time and occasion in our history? Because our independence is intrinsically political and its strength is dependent on our national sufficiency and self-sustainability. More importantly, the recent hostilities between Guyana and Venezuela should serve as an impetus to learn more about our neighboring country. And why are the U.S food policies important to Guyana? According to the Massachusetts Institute of Technology (MIT) Media Lab, food imports into Guyana from the United States are estimated at USD$430M annually. I know that former Minister of Agriculture, Dr. Leslie Ramsammy's credibility is questionable on certain national issues, but he was right in 2012 when he said that Guyana's food importation was "unsustainable" and could be detrimental to local farmers and producers if action was not taken.
Guyana has a notable food strategy. In its 2011 manifesto, Food and Nutrition Security Strategy for Guyana, its goals are to:
Facilitate sustainable and stable employment-generating opportunities that would increase availability of and accessibility to food, especially among vulnerable groups.
To promote Information, Education and Communication/Dissemination systems for use and consumption of healthy foods for improved nutrition of all Guyanese.
Promote increased institutional coordination and functioning for improved food and nutrition security.
In addition to these goals, we are all aware of some of the programmes already in place which are supposed to decrease negative environmental effects, promote sustainable agricultural projects and improve the well-being of all Guyanese. Some of these efforts are: The Grow More Food campaign, The Agriculture Export Diversification Project, The IFAD-funded Rural Enterprise Project, and the popular Low Carbon Development Strategy. With all of these policies in place, the question is, where are the results? Where are the employment-generating opportunities that would increase availability and accessibility to food, especially among vulnerable groups like my people, the indigenous population? Or is the Umana Yana burning down the only opportunity to utilize our skills?
Where is the 'enhanced accessibility to information and education for use and consumption of healthy foods' in villages like Parika or Buxton? And where are the offshoot sensitization programmes that should teach us that all cultures are equal? I remember that apart from not having shoes to walk the 4 miles to school, the biggest reason for not attending was that we didn't have enough of the 'respectable' food to take to school. Eat Cassava bread in school? I preferred to be hungry all day than to be laughed at all day. Now, I am ashamed that I was ashamed. However, it is my hope that these programmes and strategies are strengthened so that all Guyanese can reap its rewards and truly celebrate our Independence.
Here is my vision for Guyana, one that I am officially calling the government to act on; to make Guyana a world destination of natural foods. There is no need to start from scratch; we already have local farmers and communities leading the way. The government could start by offering them additional support and expanding those initiatives.
It is evident that all three of the countries explored, the United States, Venezuela and Guyana, have grand food security strategies, but work certainly needs to be done to bridge the gap between what is written and what is implemented. Thus, it is our collective responsibility as citizens; farmers, agriculturists, anthropologists, doctors, lawyers, teachers, students and mothers and fathers to seek answers concerning our foods. We are all interdependent and responsible for the wellbeing of our ecosystem. By holding ourselves accountable, we will not only be safeguarding our independence, but perfecting it to a state where all Guyanese are guaranteed the right to life and liberty.
Around the Web