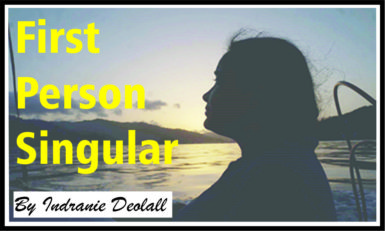 Every Christmas season my money-minded maternal grandmother would travel down to the city by taxi, wearing her traditional starched white embroidered cotton headdress, with a fat duck or two in tow and baskets of freshly picked produce from her organic riverside farm to sell to my hopelessly outwitted father. Usually dashing drakes, the vividly iridescent, black and white feathered creatures with reddish carbuncles like over-sized ornaments on their long faces, would sit calmly tethered by a leg outside our back door, not far from our two dogs, their flamboyant eyes bright as rare jewels and we young ones would sorrowfully feed them boiled rice grains and vegetarian scraps from the kitchen, until the inevitable slaughter and Boxing Day or New Year feast.
I ended up feeling so guilty about the poor birds, I soon stopped eating duck as a youngster and still cannot stomach it. My family then, like my husband today, would tease me mercilessly about missing out on the delicious dry "bhunjal" curry. The fruits, vegetables and poultry my shrewd hunchback, wiry "nani" bought us, came from a remote, fertile area far down the muddy Mahaica Creek, called Regentbach where she and my grandfather Deo Lall lived with their seven children during the early colonial upheavals of the 1950s.
In 1962, as the worst unrest fanned along the East Coast and a great uncle lay shot and murdered in one of the burning, looted homes, they and equally terrified, newly-arrived relatives hid out in the heavily forested backdams and miserable mosquito-infested swamps for days at a time, as the violence and word quickly spread like the fires, prompting widespread panic.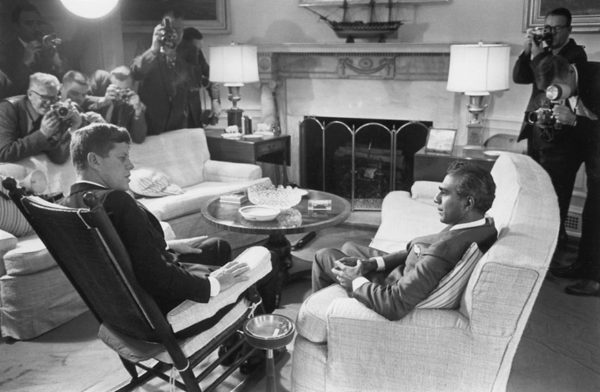 What they did know but may not have understood was that the problems which tore apart British Guiana had to do with the country's Premier, Dr. Cheddi Jagan (CJ) and his wife, Janet Jagan, blue-eyed "Bhowgee" being viewed as rabid Communists by the Americans and British.
"If an animal looks like a duck, walks like a duck and lives habitually with ducks, I believe that every rational person would be prepared to agree that the animal in question is a duck," declared the powerful United States (US) Senator Thomas Dodd, in scornful reference to Marxist Jagan, one of the tainted "Reds."  A former special agent for the Federal Bureau of Investigation (FBI) and a successful prosecutor at the trials of Nazi war criminals, Senator Dodd was an interesting mix of a man being awarded for his service at Nuremberg, but also creating a civil rights division at the Justice Department, going after the Ku Klux Klan, supporting gun control and the Vietnam War, yet campaigning for a fellow Connecticut Senator, Brien McMahon, as the infamous Joe McCarthy tried to uproot him.
A fervent anti-Communist, Dodd so opposed the 1959 visit to the US by Soviet Premier Nikita Khrushchev on the grounds it would be seen as an acceptance of USSR domination of the Warsaw Pact countries that he raged, "What would the Senate and the country have thought if in 1939 President (Franklin) Roosevelt had invited (German Fuhrer) Adolf Hitler to a barnstorming tour of the US fresh from the conquest of Czechoslovakia, Austria and Poland and in the midst of his extermination of millions of Jews?"
He roundly criticized the John F. Kennedy (JFK) administration for not doing enough to remove Cuban Leader Fidel Castro, especially with the failure of the April 1961 Bay of Pigs invasion. So when Premier Jagan came calling on President Kennedy months later seeking American aid and making avid assurances, to no one's surprise, Dodd was having none of it.
I thought of Dodd and the deductive duck test, when a priceless photograph of that October 25, 1961 meeting at the White House was released by the US Embassy in Georgetown recently, to mark 50 years of "diplomatic relations" with Guyana. Writing on my blog, I cited the English idiom "a picture is worth a thousand words" adding that an entire book and extra could be done on the important black and white image of the two leaders. Dr. Jagan looked like he was not too keen on whatever JFK was telling him, judging from the body language and expressions. One pal joked the doctor seemed as if he was receiving a stern lecture and being read the riot act, for on studying the shot, CJ is huddled in the far left corner of the large, comfy sofa, cushion askew behind his back, legs close, hands and fingers in a circle, his face tense, while the Commander in Chief sits in what appeared to be a wooden rocking chair, leaning away but carefully watching the British Guiana Premier.  Cameramen are everywhere.
My friend described it as "sobering" given "the isms and schisms" that followed. I termed it "terrifying and tragic" – a true turning point of history given the horror and nasty fallout which followed in BG.
"I went to see President Kennedy to seek the help of the United States, and to seek his support for our independence from the British," Dr. Jagan explained in a 1994 interview. "He was very charming and jovial. Now, the United States feared that I would give Guyana (British Guiana) to the Russians. I said if this is your fear, fear not. We will not have a Soviet base. I raised the question of aid. They did not give a positive response. The meeting ended on that note," he told the New York Times.
For it was this decisive encounter that prompted President Kennedy to directly order the Central Intelligence Agency (CIA) to destabilize BG and subvert Jagan with a disruptive campaign that would last years, until the Premier lost in the December 1964 elections to the preferred candidate Forbes Burnham, following the riots and violence, crippling strikes on which the Agency reportedly spent a million dollars, and general chaos. Earlier in May, the Governor had declared another state of emergency assumed full power and rushed in the usual British troops to restore order.
With the partial declassification of key US documents, we finally know that a year before, on June 30, 1963, JFK and his British counterpart, Harold Macmillan and a high-powered coterie secretly agreed to a covert scheme to remove contentious CJ. Their conference convened at the beautiful Birch Grove, England family home of the United Kingdom's Prime Minister. It has extensive gardens, a lovely pond and ducks.
ID is puzzled that Thomas Dodd was censured by the US Senate Office in 1967 for converting campaign funds to his personal accounts and spending the money, since he maintained, "My conscience is clear" and "I do not believe anybody can look me in the eye and say I did wrong."
Around the Web