Hardly anyone expected Guyana to qualify for a major international chess title. It had never happened previously for a woman chess player. Maria Varona-Thomas's magnificent performance, therefore, at the 42nd Chess Olympiad at Baku, Azerbaijan, the biennial team competition that players consider the biggest international tournament, was unlikely. For the game of chess, the victory of capturing an unprecedented title, is like capturing an Olympic medal. Guyana should be ebullient about it, especially the proponents of gender parity for women in chess.


Guyana's women team was not a formidable lineup. Teams at the Chess Olympiad comprise five players, four of whom play each match. With the exception of Varona-Thomas, the team could accurately and politely be described as chess starters. Varona-Thomas possessed a respectable FIDE rank (1775), while Jessica Clementson and Yolander Persaud were modestly quoted at 1233 and 1151, respectively. The remaining two members of our team, Sheriffa Ali and Julia Clementson, had no existing rating points, according to the circulated official FIDE points table. However, something good and unbelievable occurred. Varona-Thomas and Ali, being the most active players on a contracted local chess circuit, dominated the results of the Olympiad for Guyana. Between the two, they contributed 13.5 of Guyana's 16 points. It means, therefore, there is not much alternative to organizing regular classical chess competitions, and participating consistently. Varona-Thomas and Ali, in addition to St Stanislaus' student Jessica Callendar, are the most vibrant, consistent and promising chess talent in evidence. Callendar was not chosen to attend the Olympiad. Since we have no structured development programme in place, regular tournaments would serve as an alternative, and present solutions to such difficulties.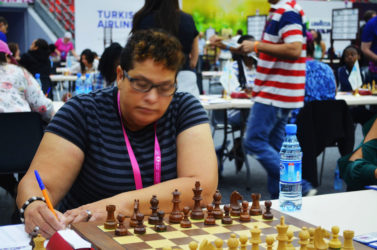 It is unfortunate that women do not generally play competitive chess in Guyana. The few who do can be counted, literally, on the fingers of one hand. It is not a Guyana indictment only, it is a universal problem. It is a vexing issue in chess. Why, in a sport where physical differences do not matter, are boys and men so much more prominent than girls and women, despite efforts to counter this? It is puzzling. A debate on the subject was mounted on social media. Last year, British grandmaster Nigel Short inflamed the debate by writing that men's brains were simply better wired for chess, and instead of fretting about inequality, perhaps we should gracefully accept it as a fact. In response, several women players wrote of being belittled, harassed, stalked and propositioned at tournaments. The strongest response came from retired grandmaster Judit Polgar, who beat Short eight times, with only three losses and five draws. We can only attract more girls to chess by having the involvement of the schools to act as receptacles for and perennial guardians of the game.
Paradoxically, Guyana's overall dismal performance at the Olympiad, actually boosted Varona-Thomas's cause for a title. But we are not complaining. In a team competition, as your country wins, you are paired for the next round with a team that also won its last round. That is the noted and popular Swiss system formula. When your country's team loses, you are paired with one that lost. Guyana won two rounds from a total of 11 in the women's category. However, we have to acknowledge the fact that Varona-Thomas contested the perplexing top board, which could accurately be described as a labour of Sisyphus. Two women players only, from Trinidad and Tobago and the Bahamas within the Caribbean, were able to emulate Guyana's compelling performance for the title of Woman FIDE Master.
Under similar circumstances, in the men's category, as Guyana limped along round after round, with Anthony Drayton on Board One, we were unable to hit the mark for securing a title of FIDE Master. So, naturally, Varona-Thomas should be commended for her masterful, exemplary performance. Taffin Khan and Haifeng Su accumulated 90% of Guyana's total points in the men's category.
We have to face the fact that there are no women among the world's top 100 players. Perhaps there are explanations for the imbalance. Perhaps there is little encouragement from parents and teachers. If chess helps students to learn how to solve problems, improve their concentration, and socialize with their peers, then what is the existing difficulty with learning to play the brilliant mind game? The President recently remarked that sport should naturally be broad-based. Getting chess into our schools, in however limited a fashion, in a structured manner, would represent a start to accessing international recognition in the game. Learning to play chess has its advantages. A 12-year-old girl was quoted in the press as saying: "It's much better to be a girl. In chess if you're 2200 and you're a guy, that's not really important," referring to a competitive rating that qualifies the holder as a master. "But if you're 2200 and you're a girl, that's pretty good. You get more publicity if you're a girl and you're the same strength."
Chess games
The following games were played at the 42nd Chess Olympiad in Baku, Azerbaijan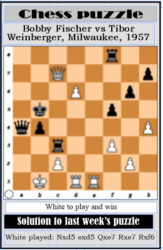 White: Thabang Maepe (Lesotho) Elo: 1668
Black: Roberto Neto (Guyana) Elo: 1561
1. e4 e6 2. d4 d5 3. exd5 exd5 4. Nf3 Nf6 5. c4 dxc4 6. Bxc4 Be7 7. O-O O-O 8. Nc3 Bg4 9. h3 Bh5 10. Be2 Nc6 11. Be3 Nd5 12. Nxd5 Qxd5 13. Qc2 Bg6 14. Qd2 Rad8 15. a3 a6 16. Rac1 Qd7 17. Rfd1 Be4 18. Qc3 Bd5 19. Nd2 Bd6 20. Bf3 Bxf3 21. Nxf3 f6 22. Qb3+ Qf7 23. Qxb7 Nb8 24. Qe4 Nd7 25. Qg4 Nb6 26. Bf4 Nd5 27. Bxd6 Rxd6 1-0.
White: Anthony Drayton (Guyana) Elo: 1923
Black: John Kojo Hasford (Ghana) Elo: 1970
1. d4 d5 2. Nf3 Nf6 3. c3 g6 4. Bf4 Bg7 5. e3 O-O 6. Bd3 Nbd7 7. O-O c5 8. Nbd2 Qb6 9. Qc2 Re8 10. e4 dxe4 11. Nxe4 Nxe4 12. Bxe4 Nf6 13. Bd3 Nd5 14. Be3 Nxe3 15. fxe3 Bd7 16. Bc4 Rf8 17. Kh1 cxd4 18. exd4 Rac8 19. Qb3 Qxb3 20. Bxb3 Bc6 21. Rae1 e6 22. Ng5 Rce8 23. Kg1 h6 24. Ne4 Rd8 25. a3 b6 26. Nf6+ Kh8 27. Ng4 Bb5 28. Rf2 Rc8 29. Ne5 Rc7 30. h3 Kh7 31. d5 exd5 32. Bxd5 Re7 33. Nf3 Rxe1+ 34. Nxe1 Re8 35. Nc2 f5 36. c4 Ba4 37. b4 Bb2 38. b5 Re5 39. Kf1 Kg7 40. Nb4 Bc3 41. Re2 Rxe2 42. Kxe2 Bxb4 43. axb4 Kf6 44. Kd3 Ke5 45. Bb7 g5 46. Ba6 Bb3 47. Bb7 h5 48. c5 Ba2 49. c6 Bb1+ 50. Ke2 Kd6 51. Ke3 Kc7 52. g3 Bc2 53. Ba8 Ba4 54. h4 gxh4 55. gxh4 Bxb5 56. Kf4 a5 57. bxa5 bxa5 0-1.
White: Seng Tou Ip (Macau) Elo: 1675
Black: Ronuel Greenidge (Guyana) Elo: 1723
1. e4 c6 2. d4 d5 3. Nc3 dxe4 4. Nxe4 Nd7 5. Ng5 Ngf6 6. N1f3 e6 7. Bd3 Be7 8. O-O O-O 9. Qe2 h6 10. Ne4 Nxe4 11. Qxe4 Nf6 12. Qe2 Re8 13. Bf4 Qb6 14. c3 Bd7 15. Ne5 c5 16. dxc5 Bxc5 17. Rad1 Rad8 18. Rd2 a6 19. Rfd1 Bc6 20. Nc4 Qa7 21. Bh7+ Kxh7 22. Rxd8 Rxd8 23. Rxd8 b5 24. Ne3 Qe7 25. Rd1 Be4 26. Qd2 e5 27. Bg3 Qe6 28. b4 Be7 29. Re1 Bg6 30. Rd1 Bf8 31. Nd5 Ne4 32. Qe3 f6 33. f3 Nd6 34. Qb6 Qc8 35. Qc7 Qf5 36. Ne3 Qe6 37. Qc6 f5 38. Qd5 Qxd5 39. Nxd5 f4 40. Bf2 Nc4 41. Nb6 Bf7
42. Nxc4 Bxc4 43. Bc5 1-0.
White: Shayanna Sivarajasingam (Wales) Elo: 1687
Black: Yolander Persaud (Guyana) Elo: 1151
1. e4 c6 2. d4 d5 3. Nc3 dxe4 4. Nxe4 Bf5 5. Ng3 Bg6 6. h4 h6 7. Nf3 Nd7 8. h5 Bh7 9. Bd3 Bxd3 10. Qxd3 e6 11. Bf4 Qa5+ 12. Bd2 Bb4 13. Ne4 Ngf6 14. Nd6+ Ke7 15. Nc4 Bxd2+ 16. Nfxd2 Qc7 17. Qa3+ c5 18. O-O-O Rhc8 19. Kb1 Kf8 20. f3 b5 21. dxc5 Nxc5 22. Ne3 Rab8 23. b3 b4 24. Qb2 a5 25. Ndc4 a4 26. g4 axb3 27. cxb3 Rd8 28. Qe5 Qxe5 29. Nxe5 Rbc8 30. Rhf1 Ke7 31. Rxd8 Kxd8 32. Nxf7+ Ke7 33. Ne5 Ncd7 34. Nxd7 Nxd7 35. Nc4 Rf8 36. Kc2 e5 37. Nd2 Nc5 38. Re1 Kd6 39. Nc4+ Kd5 40. Rxe5+ Kd4 41. Re3 g5 42. hxg6 Rg8 43. Re1 Kd5 44. Rd1+ 1-0
Around the Web