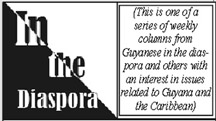 By D Alissa Trotz
Alissa Trotz is Editor of the In the Diaspora Column
I was up at 12.34 am on Sunday morning when I received word that Fidel Castro, 90 years old, had died in Havana. I found a breaking news announcement on the BBC website, and kept reading. The obituaries came out so swiftly you knew they had been written long ago and occasionally updated so they could be published without pause. The official responses. I looked at photos appearing online. I read about the Cubans on the streets of Miami celebrating what they described as the death of the dictator.
About the nine days of mourning following Raul Castro's official announcement that the revolutionary leader, his older brother, was gone. About whether there were generational shifts on the island in how Castro's life and death would be received. The commentaries, the arguments from all sides. It was a lot. I found myself unable to process the quickly proliferating complex analyses of his legacy, less than 24 hours after his passing.
It just seemed too soon.
Closer to home, I found comfort in the words of feminist activists in and from the Caribbean.
Gabrielle Hosein, Director of the Institute of Gender and Development Studies at the University of the West Indies in Trinidad and Tobago, wrote: "History weighing heavy on my heart this morning. I mourning the end of a defining era of fierce collective Caribbean hope. I know the work is in our hands. But right now we've lost the strength in our stride and it feels as if every gain in the region is under threat. There must be commitment, courage and struggle, but first there is loss. My generation of activists stays away from the state instead of seizing it for our national sovereignty. We stay the course, but must risk more to go further and build movements that press our mandate forward. We must create the Bishops and the Fidels of our future. We must make ourselves new symbols of autonomy and self-determination. But first, before we rise as giants, this is a time for remembering and tears."
And Honor Ford-Smith, who was the co-founder and artistic director of the Jamaican theatre group Sistren, and who now teaches in Canada, put it beautifully: "Walk Good Fidel. Landmark of my generation. So falls a brave human whose opposition to eternal American empire in the world inspired an entire generation, helped South Africa free itself from Apartheid, supported Angola against colonialism, gave generously to countries that were struggling to serve their peoples more equally and created a society that was less a display of bling and brutality than he found. It was hard work, never easy, always human and so imperfect. But for a moment his work allowed us to feel that yes, another world is possible. His legacy to a new generation is to continue that work in new ways, with new ideas and for new visions. To keep courage and commitment. More than any other Caribbean leader he led a struggle to find alternatives to the acceptance of hierarchy, greed and dependency. To cease being an outpost on the margins of history, to find alternatives to being used as a clearing house and small resource for the powers that be. Now that 1% of the world controls 45% of the world's wealth and the gap between rich and poor is wider than ever, now that we face a world of Trump and trial, we in our America, as Marti called it, will remember your espiritu de lucha, your testarudez and strength."
I note how he is simply Fidel to people, and what that first name familiarity gestures to.
And then I found myself remembering how Fidel Castro and Cuba had first appeared to me, as a child growing up in Guyana.
I was in primary school on October 6, 1976, when CU-455 exploded off the coast of Barbados, taking its 73 passengers and crew (11 Guyanese among them) to a fiery, watery death. I know that what I think is my memory of receiving the news of the Air Cubana tragedy some forty years ago has been shaped by what I have read and heard in the years since. But I am sure of one vivid memory – learning that day that young people had died, the youngest just a year older than me at the time, Sabrina Harrypaul. As I wrote in a column four years ago on the 36th anniversary of the disaster, "For some reason one image stuck in my head then – of a young woman, wearing what I think was a school uniform shirt, bespectacled, staring solemnly out from the pages. I cannot tell you why she has stayed with me all these years…I went in search of that image, to see if it was my childhood imagination that had conjured that face. I found her in a Kaieteur News report, which included a photo of a display mounted by the Cuban embassy some years ago. I don't know whether it was the same bank of pictures that the Chronicle carried 36 years ago but I recognized her immediately, second in the top row."
For so many of us, Cuba was a household word precisely because of Cuba's presence in the fabric of our everyday lives, through student and cultural and professional exchanges. I attended the National School of Dance in the National Park (I was a terrible student), and remember being taught by the Cuban choreographer Gerardo Lastra, who came in 1977 to direct the school, training teachers and students alike. The amazing Cuban born artist Josefa Tamayo has made Guyana her adopted home.
So many young people left to study medicine and other subjects in Cuba, the beneficiary of the close to 10,000 scholarships offered by the Cuban government to students from Africa, the Caribbean and Latin America and even the United States. Others – young and old – went to Cuba for free medical treatment. And Cuban doctors came to Guyana, to work in hospitals and medical centres up and down the country. Seven years ago I brought a group of students from the University of Toronto to spend part of a day with the Cuban doctors and nurses who operated the Mahaicony cottage hospital. And six years ago this little country with the biggest heart treated about 1,000 Haitians in the first 24 hours after the devastating earthquake in which hundreds of thousands perished. Cubans could do this because hundreds of doctors and medical personnel were already on the ground. They could do this because there had been a much longer history of medical cooperation – training Haitians in Cuba, sending Cubans to Haiti – that had started following Hurricane Georges in 1998.
Between my primary and high school years the struggle against apartheid was at its height. An ocean away high school students, refusing the introduction of Afrikaans as the language of instruction, took to the streets in what would become known as the Soweto uprising of 1976. This was the same period when Fidel Castro announced that he would be sending troops to help defeat the apartheid South African regime's attempts to topple the government of Angola. I have an older Cuban friend who went to the frontlines in Southern Africa in 1976. He went by boat, and remembers Fidel Castro coming to the docks to see the troops off.
He once told me a story of airplanes carrying Cubans to Angola stopping in Guyana to refuel before the long flight eastward, and of soldiers smoking on the flight, surrounded by fuel tanks! The significance of Cuba's contribution has never been lost on the people of Africa. Visiting Cuba in 1991, Nelson Mandela described Cuba's contribution as a "milestone in the history of the struggle for southern African liberation," and pointedly responded to the criticisms that he was supporting a communist dictatorship: "We are now being advised about Cuba by people who have supported the apartheid regime these last 40 years…No honorable man or woman could ever accept advice from people who never cared for us at the most difficult times."
Reading Mandela's words reminded me of my first year as an undergraduate at the University of Guyana. The Cuban Revolution was a big part of our history class, and my first classroom exposure to the subject. Our lecturer, Dr James Rose, had assigned us an essay question, something along the lines of whether the Cuban revolution was due to the individual or to historical circumstance. I remember getting a copy of Castro's famous defence when he was put on trial for the attack on the Moncada barracks. I believe I obtained it from the bookstore run by the PPP headquarters on Robb Street, a handsome slim volume with a white hardback cover, the title written delicately in gold cursive letters in Spanish: La Historia Me Absolvera. Castro had given this speech from the docks in October 1953, the very same month and year that the British government would suspend the constitution of British Guiana following the success of Cheddi Jagan and Forbes Burnham's PPP in the first elections under universal suffrage. Years later, in a Toronto classroom, I would assign this historical document to my students, ask them what it shared with Nelson Mandela's defence at his Rivonia trial in 1964, and get them to consider how both men used their speeches to make a case for transformation and put an oppressive system on trial.
Mandela closed with the words: "I have cherished the ideal of a democratic and free society in which all persons live together in harmony and with equal opportunities. It is an ideal which I hope to live for and to achieve. But if needs be, it is an ideal for which I am prepared to die." And for Castro, "Condemn me. It does not matter. History will absolve me."
These memories tell their own stories. The ongoing efforts at imperialist destabilisation – from the terrorists who masterminded the downing of the Cubana flight and who have been allowed to walk freely in the United States, to the embargo, to the literally hundreds of assassination attempts Castro survived (he also outlasted 11 US presidents). The work of solidarity with movements for national liberation. The generosity of the Cuban government and its people. Sympathetic scholars refer to this as medical and humanitarian diplomacy. For me, for so many of us, it remains the best evidence that it is the movement and giving relations of people that make the Caribbean. We would do well to learn this in the current moment when our regional dream is a crumbling mess, 44 years after the December 8, 1972 announcement that Guyana, Barbados, Jamaica and Trinidad and Tobago would defy US pressure and establish diplomatic relations with a sister island.
In 1963, the Caribbean intellectual CLR James added an appendix to the reprinted volume of The Black Jacobins, his 1938 monumental publication on the Haitian Revolution. Simply titled "From Toussaint L'Ouverture to Fidel Castro," James writes that "The slave revolution in French Saint Domingue marks the beginning of the Caribbean quest for national identity…Whatever its ultimate fate, the Cuban revolution marks the ultimate stage…In a scattered series of disparate islands, the process consists of a series of un-coordinated periods of drift, punctuated by spurts, leaps and catastrophes. But the inherent movement is clear and strong."
At their respective trials, Nelson Mandela and Fidel Castro both talked about transformation. Transformation is change, and the change they both had faith in was non-negotiable in its commitment to freedom and justice for all. This change requires sacrifice. It involves attending to future generations (Cuba was perhaps the only country that, in the aftermath of the Haitian earthquake, sent stilt walkers and face painters in addition to doctors and nurses). It demands work on the self. It calls for work in relation to what and who is around us. It moves in ripples, from a household to a community to a country to a region and to a world. The first constitution of independent Haiti offered citizenship to all freedom loving peoples.
As I reflect on my childhood memories, two days after Fidel Castro's passing and on the second day of national mourning in his beloved country, I can only think that in my own lifetime, the Cuban revolution, warts and all, comes closest to that promise.
Thank you, Fidel.
Hasta La Victoria Siempre.
Around the Web