2016 Facts
Growth in Real GDP of 2.6% compared with initial and revised targets of 4.4% and 4% respectively. Growth was 3.0% in 2015.
Inflation is projected at a rate of 1.3% compared with an initial target of 2.0%. Negative inflation of 1.8% was recorded in 2015.
Overall balance of payments deficit of US$29.2 million compared with US$107.7 million in 2015, improving by 72.9%.
The 91-day Treasury bill rate decreased marginally from 1.92% in 2015 to 1.89%.
The Central Bank rate of the Guyana dollar to the US dollar remained stable at $206.5 while the average market commercial bank mid-rates for the US dollar and the Euro depreciated by 0.2% to $208.21 and 2.0% to $226.17 respectively. The market mid-rates for the Pound Sterling and Canadian Dollar appreciated by 12.3% to $273.93 and 0.3% to $158.82 respectively to September 2016.
Current Revenue of $174.8 billion compared with $161.7 billion in 2015, an increase of 8.1% and a shortfall of $1.5 billion or 0.9% from that budgeted. Current Expenditure of $179.0 billion, an increase of 10.9%.
Merchandise exports and imports are projected to increase by 19% to US$1.4 billion and by 4.4% to US$1.6 billion respectively.
Current account deficit of US$100.8 million (2015: US$181.5 million); and net inflows on the capital account of US$71.6 million (2015: US$71.4 million).
Overall fiscal deficit of $38.4 billion compared with $9.3 billion in 2015 and budgeted amount of $33.2 billion.
`Gross external reserves at September 30, 2016 for Bank of Guyana of US$610.4 million, an increase from US$598.5 million in 2015, or 2.0%.
Size of the Budget: $250Bn, 8.7% increase
2017 Targets
Growth in Real GDP of 3.8%.
The inflation rate projected is 2.5%.
Balance of payments is expected to reverse from an overall deficit of US$29.2 million to an overall surplus of US$20.0 million.
Current revenue of $186.02 billion, an increase of 6.4%. Current expenditure of $193.36 million, an increase of 8.0%.
Current account to register a deficit of US$45.3 million. Capital account to register a surplus of US$65.2 million compared with the revised and budgeted 2016 of US$71.6 million and US$163.1 million respectively.
Overall fiscal deficit of $42.4 billion, an increase of 10%.
Ram & McRae's Comments
2016 showed the second lowest growth rate in the last decade, with a 2.3% in 2009. Average over the last five years of 3.92% down from a high of 5.2% in 2013.
Despite the low growth rate, current revenues increased by 8.1%, which will partly be on account of Government agencies now being required to pay VAT on several inputs.
New Consumer Price Index targeted for the end of 2017
In health care, extremely troubling declines in the socio-economic indicators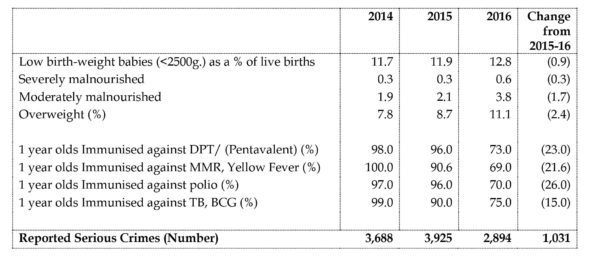 The crime numbers may be correct however, the perception is of a different reality with a spike in robberies, some of which may not be included in the serious crimes statistics.
Around the Web