The current balance projects a surplus of $1,631 million, a decrease of $976 million or 37.4% over revised 2016. After capital receipts of $186,022 million and expenditure of $177,529 million, the plan projects an overall deficit of $50,949 million compared to a deficit of $44,993 million in 2016, 35.8% of which is expected to be financed by borrowings from external sources and 64.2% from domestic sources.
The main elements of the 2017 Plan are:
Total current revenues are projected to increase by $11,219 million to $186,022 million or by 6.4%. Of this, the Guyana Revenue Authority is expected to account for revenues of $162,592 million or 87.4% of total revenue, an increase of $13,311 million or 8.9% when compared to 2016.

Source: National Estimates (G$ millions)
Of the GRA's collections, the Internal Revenue is projected to bring in $67,055 million compared with $67,797 million in 2016, a 1.1% increase, while Value-Added and Excise Taxes are expected to earn $79,700 million compared to $65,972 million in 2016, an increase of 20.8%. Collections by the Customs and Trade Administration are anticipated to be $15,837 million, an increase of $326 million or 2.1%.
Guyana's experience with VAT shows how excessive taxes became a feature of the system. VAT was over estimated by more than $12.6 billion or 49% on its introduction but was never adjusted despite the commitment to revenue neutrality. VAT now accounts for 24% of GRA's revenue. For a broader discussion on VAT see commentary and analysis section.
Total Current non-interest expenditure is projected to increase by $10,877 million from $166,652 million to $177,529 million for 2017. Personal emoluments of $54,845 million represents an increase of 11.9% or $5,835 million over the revised figures for 2016.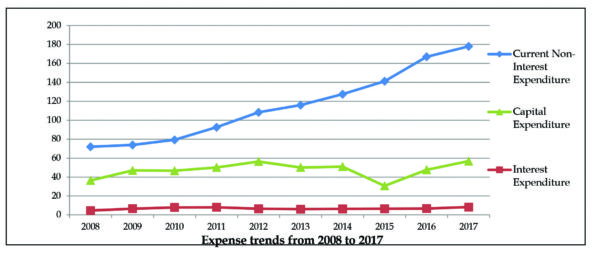 Source: Estimates of the Public Sector, Volume 1. All amounts shown as actual except 2016 and 2017 being revised and budgeted respectively (G$ millions)
Capital revenue and grants in 2017 are projected to increase by 94.2% or $6,379 million to $13,152 million of which HIPC and MDRI will contribute $1,485 million while Project and Programme funds are also projected to increase by $6,389 million or 121%. China, IDB and CDB were the major providers of loans while the EU, Norway, IDB and CDB provided grant funds. China did not provide any grants.
Capital expenditure of $56,758 million represents a projected increase of $9,152 million or 19.2% over revised 2016 of $47,607 million. The top five ministries in terms of capital expenditure are:
1 Ministry of Public Infrastructure;
2 Ministry of Finance;
3 Ministry of Agriculture;
4 Ministry of Indigenous Affairs;
5 Ministry of Public Security
The big ticket items of capital expenditure include:
$15,185 million on the Ministry of Public Infrastructure programmes of which $607 million represents provision for highway lighting, sidewalks, $295 million for provision for barge and docking of vessels, $220 million for completion and rehabilitation of bridges, $1,115 million for the completion and construction and rehabilitation of roads and drains in various communities, $1,053 million for roads and drains in urban areas, $1,400 million for upgrading of highway, and $1,175 million for the provision of studies and rehabilitation, etc.;
$9,028 million has been allocated to the modernisation and upgrade of the Cheddi Jagan International Airport;
$3,195 million for upgrades to the Ministry of Finance;
$2,335 million for the upgrading of the West Demerara Highway from Vreed-en-Hoop to Parika;
$2,303 million for the completion and rehabilitation of Hinterland roads and payment of retention;
$2,106 million to the Ministry of Agriculture of which $1,260 million represents completion, construction and rehabilitation of drainage and irrigation canals, pump stations, other structures and payment of retention, etc.;
$1,471 million was allocated to the Ministry of Indigenous Affairs of which $1,342 million represents a provision for Amerindian development programme and projects, etc.;
$1,346.5 million on Crops and Livestock Support Services of which $635 million represents provision for agricultural infrastructure, $100 million for the provision of agriculture census, centres and processing facilities, etc.;
$537 million for the provision for prisons, quarters, kitchen, headquarters and payment of retention;
$430 million for completion, construction and rehabilitation of police stations, buildings, quarters and payment of retention.
Interest expenditure is projected to increase by 23.8% or $1,318 million to $6,862 million. Domestic interest is projected to increase by $236 million or 12.5%, while interest on external debt is projected to increase by $1,083 million or 30%.
The principal element of debt repayments is projected at $8,974 million (2016: $6,766 million), made up of domestic debt repayments of a projected $280 million (2016: $36 million), while external debt repayments are projected to increase to $8,694 million (2016: $6,731 million). During 2017, domestic and external debt service as a percentage of current revenue increased to 4.8% in comparison with 3.9% in 2016 revised.
The projected overall deficit of $50,949 million is expected to be financed by external borrowings of $18,244 million and from domestic sources of $32,706 million.
Ram & McRae's Comments
1.  The deficit projected is one of the highest in recent years and will have to be financed by both external and domestic borrowings.
2.   Personal emoluments have increased from $31,345 million in 2011 to a projected $54,845 million in 2017, an increase of 43%. As a percentage of current expenditure, personal emoluments has shown an upward trend in comparison with total current expenditure and is displayed in the graph below.

  Source: National Estimates 2011 to 2017
3.  Using the breakdown of expenditure in table 9 Abstract of Current Expenditure by Chart of Accounts, we draw attention to wages and salaries of contract employees as a percentage of total wages and salaries:

4.  There is a loan of $100 million to the Guyana National Printers Limited by the Ministry of Finance. We believe that the Government has to consider the viability of this company and the likelihood of repayment of the loan. There is an allocation of $285.5 million for the provision of buildings, facilities and alternative energy for the Office Residence of the President. This means that over the years 2015 – 2017 a total of $468 million would have been spent thereon. Is there proper procurement and real value for money?
Financial Operations of Central Government (Accounting Classification)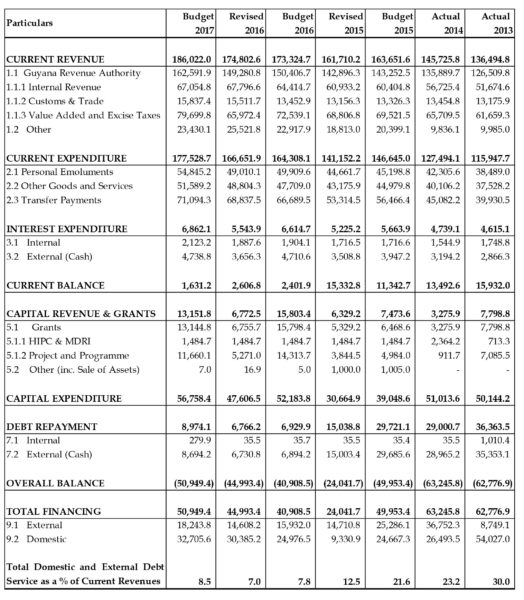 Source: Estimates of the Public Sector 2012 to 2017 (G$ millions)
Around the Web