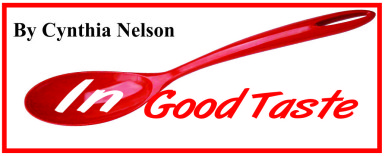 Crispy okra salad
If they are open minded, your family and friends who do not like okra might find they grudgingly liking this salad.
This salad is to be made and served immediately to ensure the crispness of the okra. I have to tell you though, eat this the next day with some dhal and rice and you will be calling for more! Or, add it on top of the left over roast that you have turned into a sandwich. So very good!
INGREDIENTS
1 pound fresh okra/ochroes
1 ¼ teaspoons garam masala
1 teaspoon fine table salt, plus extra
Fresh lime or lemon juice to taste
Vegetable or Canola oil for deep frying
¼ cup thinly sliced red onions
1 medium-sized tomato, cored, seeded, and cut into thin strips
¼ cup roughly chopped cilantro/coriander leaves (substitute with 1 tablespoon finely minced chadon beni/culantro)
DIRECTIONS
Remove the stems of the okra and cut lengthways into long thin strips. For regular sized okra, cut into 4 pieces, for larger ones cut into 6 – 8 strips. Spread the sliced okra on to a baking sheet or large platter and leave to air-dry for about 30 – 45 minutes. This will help the okra to crisp easily and dry out any excess moisture.
While the okra is air-drying, mix together the garam masala and salt. Set aside.
Mix together the lime/lemon juice with salt to taste and set aside.
Preheat a deep frying pan with oil for deep-frying. Let the oil become very hot, just before it reaches smoking point. Working in batches, fry the okra until golden and crisp. They should take from 2 – 4 minutes. The oil will bubble and be noisy when the okra is first added, when the noise subsides and the bubbles are fewer, the okra is done. Spread and drain on paper towels. Immediately season with garam masala and salt mixture; you must do this as soon as you remove the okra from the frying pan so that the seasoning can stick to the okra. Repeat this process until all the okra is fried and seasoned.
In a large bowl, toss together the onions, tomatoes and cilantro. Add lemon/lime juice and toss to mix. Add okra and toss with the other ingredients. Taste and adjust if necessary to suit your taste – add a little more spice mixture, salt, or lime/lemon juice.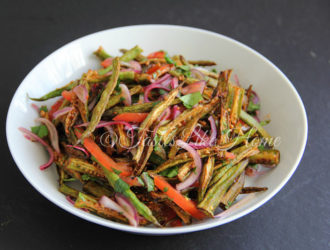 NOTE
In between each batch of frying the okra, let the oil heat up properly. In other words, after the first batch is cooked, let the oil reheat for about 3 minutes before adding the second batch and so on.
Tuna-Pasta Bake
There are bound to be people at the holiday table that do not eat meat but do eat fish and dairy products. This is a perfect entrée for pescatarians and works well as a side dish for meat eaters too.
For this dish, choose smaller shaped pastas, the ones that you would put into soups. For this recipe I used a type called ditalini rigati. Make this side dish in one pan or as individual pies. Makes great mini pies if you make it in regular-sized muffin pans; this recipe would give you 14 – 16 such pies. If making 1 dish, use an 8" x 8" pan.
INGREDIENTS
1 x 250 grams packet of dried pasta
Salt to taste
2 tablespoons butter
2 tablespoons flour
Finely minced hot pepper to taste
2 teaspoons finely minced fresh thyme
1 clove garlic, finely minced
1 tablespoon spicy mustard
2 ½ cups whole milk
2 heaped cups grated cheddar cheese
4 cans chunk tuna in oil, drained, and broken into bite-size pieces
2 cups fresh corn (substitute with canned, drained)
DIRECTIONS
Bring a pot of water to a boil. When the water comes to a boil, season with salt to taste, add pasta and cook until 2 minutes short of the recommended time on the package. The pasta will finish cooking in the oven. Drain well.
While the pasta is boiling, preheat the oven to 350 degrees F; butter the dish, dishes or pan you will be using.
Add the butter to a saucepan and melt over medium heat; as soon as the butter melts, add the flour and stir to mix, reduce heat to low so that the mixture does not develop a colour. Cook for 2 minutes, then add the pepper, thyme and garlic and cook for 1 minute.
Raise heat to medium and add mustard and milk, stir thoroughly to mix and break up any lumps, let the mixture come to a simmer then reduce heat to low and cook, stirring a few times until the sauce has thickened and coats the back of a spoon. If you run your finger down the middle of the back of the spoon, the sauce should separate and not rejoin.
Shut off the heat and add in half of the cheese and stir to melt the cheese. Taste sauce and add salt if necessary.
Add the tuna and corn to the pasta and toss to mix.
Pour the cream-cheese sauce over the pasta mixture and gently mix together, coating all the ingredients with the sauce.
Transfer the mixture to the dish, dishes or pan; sprinkle with remaining cheese and bake 20 minutes or until the top is bubbly and starting to brown.
Remove from oven and let stand for 10 – 15 minutes before serving.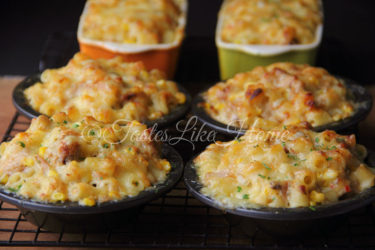 NOTE
Line a baking sheet or baking sheets with foil then place baking dish or pan on top of it so that it catches any spills.
Ground Beef  Dirty Rice
If you do not eat beef, ground lamb, ground chicken, ground pork, or ground turkey can be used. Of course if you eat offal – chicken liver and gizzards – the original dirty rice ingredients, then by all means, go ahead and make the dish.
INGREDIENTS
5 tablespoons oil, plus extra
1 ½ pounds ground beef (preferably 80/20 – 80% meat 20% fat)
1 cup diced onions
¾ cup diced green bell/sweet peppers
¾ cup diced stalk celery (1/3 cup Guyanese/ Chinese celery)
2 tablespoons minced fresh thyme
Minced hot pepper to taste
2 cloves garlic, finely minced
Salt and black pepper to taste
3 cups long grain white rice, washed and drained well
4 ½ cups beef or vegetable stock, heated
½ cup thinly sliced green onions/scallions, white/purple and green parts
DIRECTIONS
Add oil to a large pot and heat until smoking hot. Brown beef; remove from pot and set aside. You want at least 3 tablespoons of oil or more remaining in the pot; if there isn't, add oil and heat.
Add onions, sweet peppers, celery, thyme, hot pepper and garlic along with salt and black pepper to taste. Reduce heat and cook until the vegetables are softened and the pot is fragrant. This could take from 10 – 15 minutes.
Add back the mince to the pot along with any drippings. Raise heat to medium high and toss to mix. Cook for 2 – 3 minutes.
Add rice and toss with meat mixture. Cook for 2 – 3 minutes.
Pour in heated stock. Taste for seasoning (salt and pepper and adjust if necessary). Stir well, cover, and bring to a boil. When the pot comes to a boil, remove the cover, cook for 5 minutes then reduce heat to low and cook covered for 25 minutes. Shut off heat and let stand for 10 minutes.
Open pot, sprinkle with green onions/scallions, fluff with fork folding in scallions, cover partially, and let rice sit for 10 minutes before serving.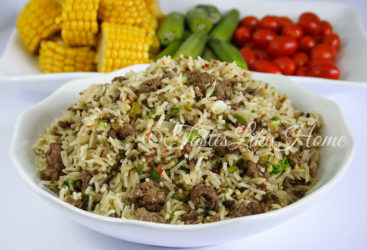 NOTE
If you do not have homemade beef or vegetable stock, use beef or vegetable bouillon cubes along with the suggested water recommendation on the package to make the quantity of stock needed.