Introduction
Under Section 31 of the Petroleum Act, official notification was given last month, by ExxonMobil and its partners (Nexen Energy and Hess Corporation), to the Government of Guyana confirming the find (discovery) of commercial quantities of oil and gas in the Stabroek Block. A few weeks later, in today's column I conclude my commentary on the four dynamic attributes of this discovery, which I had singled out for initial attention in this ongoing series of columns, namely: 1) its geophysical features, 2) the ownership and entrepreneurial responsibility for its commercialization, 3) the likely operational cost-price relation and 4) today's focus: the geo-strategic challenges.
These challenges mainly arise from Venezuela's aggression in support of its unworthy claim that the Guyana oil and gas find is located in its territorial waters. This geo-strategic aspect, is potentially, the most impactful of all the attributes I have listed for consideration. The basis for this claim is captured in the following quotation derived from Michael Klare's celebrated work entitled Blood and Oil (2004):
"Conflict over control of oil supplies has been a persistent feature of international affairs since the beginning of the 20th century. Such conflict varies … ranging from territorial disputes over the possession of oil-laden border areas … to major interstate wars over the control of vital oil zones".
The close historical connection between oil, border conflicts, and war is widely accepted by specialists/analysts in the fields of international affairs and the political economy of oil.
Venezuela aggression
I shall not delve into the details concerning the historiography of Guyana-Venezuela border relations. I have no skills in this field.
My starting point, however, is, given the fact that Guyana has alleged and identified several forms of aggression by Venezuela is itself sufficient to establish that geo-strategic concerns have already inserted themselves in the transition from discovery to its effective development into oil and gas production and export. In this sense therefore, it is wise to be guided by the historical evidence indicating the close connection between oil, located in border areas, conflicts, and inter-state wars.
The Government of Guyana has published several forms of aggression which Venezuela has directed against it. Their scope is wide, thereby suggesting great complexity. Among the more important forms are Venezuela's 1) deliberate exercise of an effective veto over Guyana's general development and specific projects through invoking spurious territorial claims on Guyana; 2) active discouragement of investors, (as particularly evident in the energy sectors, oil and hydropower); and 3) challenges to Guyana's sovereignty in claiming about three-fifths of its territory.
Because of the vast disparity in territorial size, economic capacity, and military capability between Venezuela and Guyana such actions have disproportionately impacted negatively on Guyana, as it has to carry the additional burden of guarding its sovereignty in an asymmetric environment. Basically, Venezuela is the fifth largest nation in South America, while Guyana is one of the smallest.
When examining the historical lessons of oil and conflict, it further emerges that domestic economic circumstances in the aggressor country (or the one claiming the other's territory), plays crucial roles in framing outcomes. For readers' benefit I offer in the next section a brief synopsis of the current disturbing economic situation in Venezuela.
Venezuela situation
Traditionally, Venezuela has been a major player in the global oil market. It is a leading member of OPEC. And, irrespective of how oil reserves are estimated ('recoverable reserves' or 'probable reserves in existing fields'); and also, irrespective of whether such estimates are provided by the Venezuela authorities or others, the published data (2016) show Venezuela's reserves, ranging from 22 to 95 billion barrels of oil for the two classifications. Both estimates rank Venezuela among the top four holders of oil reserves, along with the USA, Russia and Saudi Arabia. This compares with estimates of Guyana's discovery of only 600 million to 1.4 billion barrels.
Sadly, despite its much vaunted oil reserves, Venezuela is in the grip of a deep crisis facing both oil and its wider economy. Consider the following: First, oil accounts for over 95 per cent of its export revenue but so far for 2016 oil export, at a projected 1.7 million barrels per day by the end of this year, is about two-thirds of the level in the late 2000's.  Second, Petroleos de Venezuela SA (PDVSA) is presently in arrears to its services providers, for more than US$1 billion. PDVSA also has outstanding bonds of over US$5 billion. Third, back in 2003 the country introduced currency controls at an exchange rate of US$1: 1.6 bolivars. Since then it has had several devaluations. Currently, it operates a multiple exchange rate system consisting of four rates, including a black-market. The black-market rate at the end of November 2016 stood at US$1: 2,753 bolivars.
Fourth, key macroeconomic indicators reveal that Venezuela's money supply has increased this year by 127 per cent up to the end of November 2016. Inflation is projected to reach 400 per cent by the end of the year. Further, the currency has depreciated by 45 per cent during last month (November 2016).
Conclusion
This complex oil and economic crisis indicates grave concern for the outcomes of Venezuela's territorial claim. Although the matter has been reported to the United Nations, as I write this column, its potential impact on Guyana's coming time of oil and gas production and export can override all the analysis which has been provided so far.
It is therefore incumbent on readers to be constantly aware of this, as the analysis continues.
The next topic I shall discuss is one central to contemporary economic discussion of the extractive industry. It is the movement from commodity discovery to production. On this topic, there is a fair-to-rich amount of empirical data to inform the discussion, going forward.
Comments
CARACAS/HOUSTON (Reuters) – Venezuela's unraveling socialist government is increasingly turning to ally Russia for the cash and credit it needs to survive – and offering prized state-owned oil assets in return, sources familiar with the negotiations told Reuters.
By Carl Bildt CHICAGO – We are now in the final days of the industrial age.

During Men's Health Week, the man/woman in the street were asked to speak on their lifestyles and what they do to maintain their health or to encourage their significant others to lead healthy lifestyles.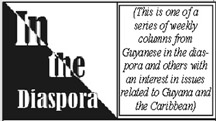 By The Caribbean Voice There are no reliable statistics on the amount of persons engaging in the use of illegal drugs or those described as addicts.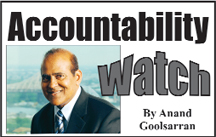 In last week's article, we referred to the two recognized methods of accounting for costs relating to the exploration, development and production of crude oil and natural gas: the "successful efforts" (SE) method and the "full cost" (FC) method.