Malla Mohabir is on a mission to gain legal guardianship of her grandson who lost his mother earlier this year allegedly at the hands of his father.
Forty-three-year-old Mohabir and her husband Gerald Hackett have been parenting three-year-old Cleavaughn Hamilton since his mother, Simone Hackett, was murdered in April.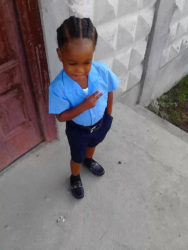 Hours before her son's third birthday and before she would have stood as the maid of honour at her sister's wedding Hackett disappeared after she received a telephone call. Days later, her body was discovered and her former partner Cleavaughn Hamilton and taxi driver Ranachal Singh have since been charged with her murder.
"Cleavaughn is the light of our lives… He and my other grandson…. There is so much we want to do for him but because we are not his legal guardians we not getting some things done," Mohabir told the Sunday Stabroek in a recent interview.
While Mohabir was not Simone's biological mother she has been her father's partner for 25 years and had taken care of her and two other siblings.
"I don't say I have stepchildren. They father had three children and then we get two others, so I have five daughters. They are all my own and I love all of them. Simone use to live with me from a child and when she died she was still living with me," Mohabir said of her now dead daughter.
She believes that the best gift she can give her daughter is to take good care of her son and if given the opportunity she would regale a willing listener with the intelligence and handsomeness of her grandson.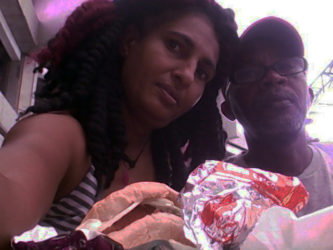 She disclosed that they attempted to open a bank account in the child's name and were prevented from doing so because they are not his legal guardians. Asked to speak about Simone, Mohabir, with a smile that lit up her face, recalled that she was a loving child who grew up to become a young woman to be proud of and one who was very dedicated to her son.
"It is sad…very rough that she is no longer here but we just have to accept reality and all we want to do now is give her son the best."
Mohabir said she was with Simone throughout her pregnancy and took her to the hospital when she was in labour. "He has been with us since he was born and he even call me grandmother and he call his grandfather daddy. It is like if God bless us with a son…."
Mohabir and her husband have been doing all they can to have the legal guardianship of the child rectified but said it has been difficult.
They have since been receiving some assistance from the Caribbean American Domestic Violence Awareness (CADVA) and according to the organisation's local coordinator Tiffany Jackson, the couple is the third family CADVA has been assisting in this process in recent times. She explained that they have now approached Legal Aid and after a small processing fee it is hoped that the process would be completed.
Jackson explained that her organisation have been looking into the welfare of victims of domestic homicide because many times they are forgotten.
"CADVA has taken this course because we believe that such children need help because they have to live with not having their parents and knowing that one parent killed another. And many times they would see the act… we believe that more work needs to be done to help them," Jackson said recently.
'Frustrating'p
Little Cleavaughn is not forgotten but his grandmother said it is frustrating that the legal paperwork is not completed yet. She is also frustrated by what she believes is the slow movement of the court process as she wants justice for Simone.
"Many times I go to court the matter just getting push back and it is frustrating…," she said.
The many court days have proven even more difficult for Mohabir since she is forced to take time away from her work.
She and her husband work together; he is an electrician and she is his assistant.
"Everything I know is what I learn from him and I does be there with him installing switch, running wires everything," Mohabir boasted when asked about working along with her husband.
She has also climbed a few ladders as when her husband is away and a job comes in she arms herself with the necessary tools and executes same.
"But sometimes when it is more technical things, he has to do it himself because you know I don't know the technical things," she said almost grudgingly.
On any given day she wakes early, prepares her children and grandson for school—her two youngest daughters are still in school—and then she is off with her husband whom she described as a very dedicated father and grandfather.
And as Christmas approaches, Mohabir said there would be little cheer in their home because it will be the first Christmas without Simone.
"Usually by now I would done clean and getting things prepare, but to tell you the truth we ain't do nothing yet and I don't have the strengthen to do it right now," she said sadly.
Simone, she said, loved Christmas and would always lead the way in preparation making it more difficult for the family. "She was like the Christmas Santa in our house and with she gone we would be getting a blue Christmas," she added.
If Simone could have returned to their lives for Christmas that would have been her wish but being realistic Mohabir said she hopes come next year the family would celebrate Cleavaughn legally being a part of the household.
For now, Mohabir said, they are taking it one day at a time.
Mohabir did not want to end the interview without heaping praise on members of the Guyana Police Force, whom she said were not only supportive to the family but were also sensitive to their feelings. She singled out Crime Chief Wendell Blanhum and Corporal Farley from the Sparendaam Police Station for special mention.
"They were very good with us. They understood the pain we were going through and all the police really work to help us. It is a pain I would not wish on anyone else," she said.
Around the Web