ON the east side of Main Street, sandwiched between State House and what was once the Cambridge Hotel, stands one of Georgetown's most handsome buildings.
It is the Walter Roth Museum, which houses a remarkable col­lection of Amerindian artefacts, many of which date-back to earlier this century.
The core of this collection was donated to the National Museum many years ago by the man whose name the Main Street building now carries – Walter Edmund Roth.
AUSTRALIAN LINK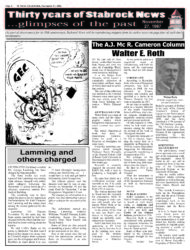 Walter Roth was a man of many parts, and the ethnographic studies which brought him international re­nown covered two continents.
His initial ethnological work was done in Queensland, Australia, where he acted as a Protector of Aborigines for some years.
It was this Australian connection which brought Professor Barrie Rey­nolds of the Material Culture Unit of James Cook University in Queens­land to this country a few weeks ago.
Reynolds is currently engaged on research into Roth's life, with a view to producing a biography of him.
He came here firstly on a verifica­tion exercise, and secondly to see if he could learn any new details about Roth's life in Guyana.
The written material that he found here far exceeded his expectation, while he also managed to make contact with people who had known Walter Roth or his son Vin­cent personally.
In the course of his visit he also saw Roth's residences in Guyana, all of which are probably quite unknown to Guyanese.
Roth's last home here was ap­parently at 69 Croal Street, but he had also lived in the building now occupied by the British-American Insurance Company in Waterloo Street.
At one point he acted as a magis­trate based at Christianburg, and both his house and the court-room that he used are still standing.
VARIED LIFE
According to Reynolds, Roth, who was of Hungarian extraction, was bom in London in 1861. He was educated in France, Germany and London, and qualified as a doctor at St Thomas' Hospital. He first went to Australia in 1887.
At one time or another he acted as a teacher, Director of the South Australian School of Mines, ship's doctor, surgeon, administrator, magistrate, museum curator and gov­ernment archivist.
He left Australia in 1906, where he had made many enemies among the whites on account of his work as Aboriginal Protector.
He spent the remainder of his life in Guyana, beginning his career here as a magistrate in Pomeroon. In 1916 he became Stipendiary Magistrate for Demerara, subsequently transferring to Georgetown in 1921.
His writings on the Guyana Am­erindians came out of three long field expeditions into the interior.
He died in 1933 at the Georgetown Public Hospital.
After his retirement in 1928, he was made Curator of the George­town Museum as well as Government Archivist.
MANY PUBLICATIONS
Roth's reputation in the field of American ethnology is based on such major works as Animism and Folk Lore, which appeared in 1915, and Arts and Crafts of the Guiana Indians, published in 1924.
However, Roth is also remember­ed with gratitude by Guyanese historians for his translations of writings from the Dutch period.
Some of these were published by the Chronicle newspaper through his son Vincent.
They include Van Berkel's account of Berbice in the early 1670s, Gen­eral Netscher's history of Guyana in the Dutch period, which had first appeared in 1888, and Jan Jacob Hartsinck's 1770 account of the 1763 Berbice Uprising.
The Chronicle also published his translations from German of the explorations undertaken by the Schomburgk brothers in the 19th century.
SURVIVING MANUSCRIPTS
The publications noted above repre­sent only a small part of his trans­lation work. The remainder — about 20 works in all – are still in manu­script form in the custody of the Caribbean Research Library at the University of Guyana.
They are mostly anthropological studies covering Suriname as well as Guyana, and were translated by Roth from Dutch, French and German.
They include Condreau's work on the Pianoghotto tribe and the great German anthropologist Koch-Gruenberg's book on the Amerindian tribes between Roraima and the River Orinoco.
It is to be hoped that at some fu­ture point the University will arrange for these manuscripts to be pub­lished too, thereby making acces­sible to English-speaking scholars a wealth of material hitherto un­available.
The country must surely look forward to the publication of Barrie Reynolds's biography of Walter Roth.
Lamming and others charged
CELEBRATED Caribbean novelist Mr. George Lamming has been charged by Guy­ana police.
The State media last week reported that Lamming was among eight persons charged with public order of­fences following the November 11 police break-up of a religious ceremony outside Par­liament Building.
The ceremony was to have ended the protest fast by opposition Par­liamentarian Mr. Eusi Kwayana and Lamming and the others were among the crowd gathered for the oc­casion.
Lamming left Guyana November 19, the same day the State media reported he had been charged with the others but the novelist said he knew nothing about the reports.
He told CANA Radio on his return to Bar­bados "the first time I heard of the charge was on my way to (Timehri) airport when someone gave me the newspaper and I know therefore as much about it as you do.
"I went (through) im­migration without any interference…so      I would have to wait and get further infor­mation from George­town."
The official reports said the charges were laid by way of sum­monses on November 18 and the cases fix­ed for December 3 at the Georgetown Magistrate's Court.
The charges are obstruction to a public way and obstructing a peace officer acting in the execution of his duty.
The defendants named are George Lamming, Andaiye Williams, Wendell Persaud, Lindie Fredericks, Karen De Souza, Jocelyn Dow, Ilene Radzik and Vanda Radzik.
Some of them are also accused of as­saulting a peace officer acting in the execution of his duty
Part of the group also did not have the sum­monses served on them on November 8 as was  reported.
Around the Web