THE state information agency GPCA yester­day reported the lightn­ing electricity strike had shut down the Kingston power plant and output had dropped from about 27 to around 12 megawatts.
The Garden of Eden power station was generating eight megawatts with the Guymine/Linden link chipping in with a fluc­tuating 2-4 megawatts, the agency reported.
According to GPCA, the electricity corporation expects to maintain power to essential services but customers will "ex­perience extensive load­shedding".
The agency reported power company boss Steve Bovell as saying there was sufficient power for essential services and the leftover will be equitably shared among cus­tomers.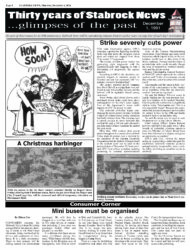 Water Works chief David Dewar said a prolonged power strike could have grave conse­quences for the city's water supply. Five of the department's seven wells depend on GEC for power, he said.
City residents yester­day began complaining the severe power cut since workers walked off without notice Friday afternoon had badly af­fected them. The company says it cannot concede to union demands that workers be paid a 100 per cent retroactive pay hike until Cabinet considers the matter late next week.
More than 1000 workers from power plants throughout the country downed tools Friday night in protest over a decision by the managers of the Guyana Electricity Corporation that the Britton Tribunal award to the workers could not be paid on the promised date of Novem­ber 29. Some picketed GEC head offices yesterday morning promising to continue demonstrations tomorrow morning.
Head of the Guyana Manufacturing Association, Yesu Pcrsaud, said many small businesses which depend solely on the corporation would have to shut down if the strike continues. Persaud said the effect of an in­definite strike could severely disrupt the lives of housewives, workers countrywide and the private sector.
Kaisree Takechandra, General Secretary of NAACIE, which repre­sents the striking workers said "in the circumstances, we see this as the only ac­tion to achieve the desired result".
Takechandra said the union is fully conscious of the consequences to the country of an indefinite strike but the electricity workers "are just as impor­tant".
He said the Britton Tribunal award is legally binding and the non-pay­ment decision is a viola­tion of the workers' benefits. Claiming that the workers have a legitimate right to strike, Takechandra said "this is a non-negotiable matter" because the corporation had promised payment on November 26, pushed it back to the 29th and final­ly pushed it back to an in­definite date.
He said the union saw no need to seek the inter­vention of the Labour Ministry.
Chief Labour Officer Marva Bascom however told GPCA the strike was a "clear breach of in­dustrial relations practices since the Minister of Labour should have been first informed of a dispute and given an opportunity to mediate."
GPCA said GEC viewed the union action as 'representing a total disregard for established industrial relations practices and particularly irresponsible, since a public utility, providing an essential service is involved.
Consumer Corner
Mini buses must be organised
By Eileen Cox
CONSUMERS entering the Stabroek Market from Brickdam are ap­palled to see persons, desiring to travel to the West Coast Demerara, being manhandled by drivers and conductors of mini-buses. It is a daily occurrence. Three or four persons will be milling around the embarrassed passenger. He will then be dragged to a mini-bus with one or two other drivers or conductors protesting. I have seen one passenger bodily lifted and placed in a mini-bus.
It is obvious that there are too many mini-buses plying this route. While buses wait idly here, workers in the Kingston area of Georgetown, who wish to travel to Kitty and Campbellville, have to first journey, to Croal Street. At one time buses were routed through Lamaha Street to Kitty. This is no longer the ease. Persons wishing to travel from Broad Street to Camp Street have no transportation along the length of Camp Street.
There is a case for facilitating housewives and others who live in the suburbs, places like Lamaha Gardens, Bel Air Park, Prashad Nagar, Meadow Brook Gardens, by having mini-buses serving these areas at least four times a day at regular hours. School children at­tending schools in Thomas Lands now have no buses travelling in that direction with vacant seats. They must first come to the City Centre for transportation home.
The Hospital mini­buses arc no longer prac­tising discipline. Each conductor is hustling for passengers and the rule of First Come, First Leave does not seem to apply any more.
For the Christmas Season we do hope that these problems can be cleared and that we will have some order prevail­ing.
Around the Web