Mr. Adam Harris,
Editor-in-Chief,
Daily Chronicle.
Dear Adam,

I note that you have reacted strongly to our attack on your report of the suicide of Mr. Clement Rohee's wife. I write in an effort to clarify the issues as I think it is important for both our newspapers and for the state of journalism in Guyana.
What we objected to was not your report of the suicide, which is clearly a legitimate news topic, but your selective quotation from what appears to have been a suicide note which suggested to every reader that she was suffering from a contagious fatal disease. No effort was made to contact her husband and discuss the matter with him.
On the face of it, we believe, this is a reckless, malicious and unjustified smearing of Mr. Rohee and his deceased wife. The slur will also affect their children. We believe this is the issue you should address. Why was this done?
We have certainly argued that in keeping with the decision of the US Supreme Court in Sullivan v New York Times the press should be entitled to comment freely on persons in public office and should only be guilty of libel if the facts are wrong and there is malice (the courts here have refused to apply this case). We mean by this that the press should be entitled openly to criticise the performance of such persons in carrying out their duties if they are incompetent, discriminatory or corrupt. That is the price you pay for holding public office. We do not treat it as licence to enter the bedroom and believe the American press goes much too far in its invasion of privacy, as we have also said before.
From time to time, your newspaper republishes, verbatim, detailed GPCA releases attacking our newspaper. We have no problem with that. Some of the criticism is merited, some trivial and carping. We should both, I believe, be ultimately concerned not with our personal pride but with our improvement of the standards of journalism. I am sure you will agree there is considerable scope for this in both newspapers.
Yours in journalism,
David de Caires
Editor-in-Chief
Stabroek News.
Ramphal aims UG for  average Guyanese
by Sharief Khan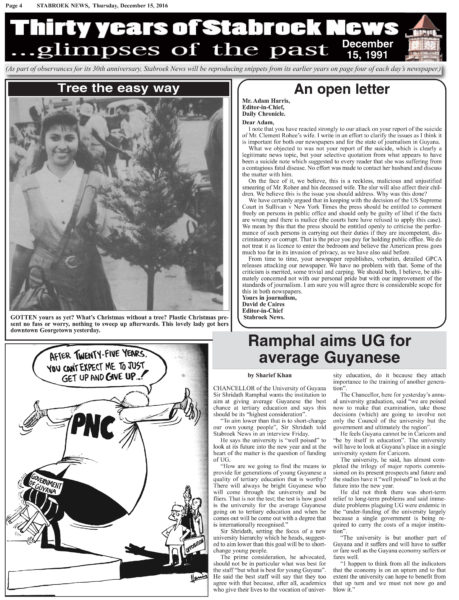 CHANCELLOR of the University of Guyana Sir Shridath Ramphal wants the institution to aim at giving average Guyanese the best chance at tertiary education and says this should be its "highest consideration".
"To aim lower than that is to short-change our own young people", Sir Shridath told Stabroek News in an interview Friday.
He says the university is "well poised" to look at its future into the new year and at the heart of the mat­ter is the question of fund­ing of UG.
"How are we going to find the means to provide for generations of young Guyanese a quality of tertiary education that is wor­thy? There will always be bright Guyanese who will come through the univer­sity and be fliers. That is not the test; the test is how good is the university for the average Guyanese going on to tertiary educa­tion and when he comes out will he come out with a degree that is internationally recognised."
Sir Shridath, setting the focus of a new univer­sity hierarchy which he heads, suggested to aim lower than this goal will be to short-change young people.
The prime considera­tion, he advocated, should not be in particular what was best for the staff "but what is best for young Guyana". He said the best staff will say that they too agree with that be­cause, after all, academics who give their lives to the vocation of university education, do it because they attach importance to the training of another generation".
The Chancellor, here for yesterday's annual university graduation, said "we are poised now to make that examination, take those decisions (which) are going to in­volve not only the Council of the university but the government and ultimately the region".
He feels Guyana can­not be in Caricom and "be by itself in education". The university will have to look at Guyana's place in a single university system for Caricom.
The university, he said, has almost completed the trilogy of major reports commissioned on its present prospects and fu­ture and the studies have it "well poised" to look at the future into the new year.
He did not think there was short-term relief to long-term problems and said immediate problems plaguing UG were en­demic in the "under-funding of the university large­ly because a single government is being re­quired to carry the costs of a major institution".
"The university is but another part of Guyana and it suffers and will have to suffer or fare well as the Guyana economy suffers or fares well.
"1 happen to think from all the indicators that the economy is on an upturn and to that extent the university can hope to benefit from that up turn and we must not now go and blow it."
Around the Web