By Lear Matthews
Lear Matthews is professor, State University of New York, Empire State College. A former lecturer at the University of Guyana, his recently published book is "English Speaking Caribbean Immigrants: Transnational Identities". He writes on Diaspora issues.
Much has been written about the increase in volume and value of remittances, rendering unprecedented the economic impact on developing countries. Guyana, which reportedly accepted US$417 million in remittances in 2015, is a prominent recipient of cash, goods and services from the Diaspora.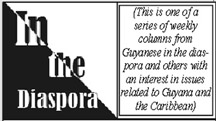 Remittances are viewed as financial support that typically goes to households and increasingly to help develop and sustain communities. However, what is not widely discussed is a dimension of the transnational experience referred to as social remittances.  In her book The Transnational Village, Peggy Levitt reported that when people migrate they take with them ideas, know-how, practices, and skills that shape their encounters with and integration into the host society (e.g. USA, Canada or the UK). They also send or take back to their country of origin norms, practices, identities and social capital that both promote and impede development. How social remittances function and the extent to which they are welcomed or rejected in Guyana, is the focus of this article.
The positive outcomes of helping families, local institutions and communities generated by remittances since Guyana's independence are clearly evident.  However, the norms and attitudes exhibited by returning immigrants often conflict with traditional hometown ways of doing things, sometimes causing resentment and frustration among locals and re-migrants respectively. What immigrants remit back to their country of origin (in kind or in person) is inevitably influenced by the habits, tastes, technology and practices learned and inculcated in their adopted home.
Examples of social remittances impacting the immigrant/non-immigrant relationship include the practices related to organizational behaviour, childrearing, and consumer habits. Often the social remittances that returning immigrants try to emulate and implement challenge local beliefs, customs and practices, causing tension. The perceived motive of the government in soliciting help from the Diaspora is also a factor in determining how well social remittances work in shaping the relationship between the Diaspora and the home country. It is important to note that immigrants who re-migrate are again seeking opportunities, but at a different phase of their transnational migration journey.
Social Remittances in Guyana:
Harmonizing or Discouraging?
Recently comments on the topic in various letters published in the Stabroek News put into perspective the feelings and thoughts about social remittances, some of which expose the tensions between the home country and the Diaspora. The following quotes bring home the point:
*The government, with rhetorical overtures, wants remittances, political donations and money for projects. …they don't want the Diaspora's skills, knowledge, experience or expertise.
* Some locals believe that the Diaspora abandoned them, they're not to be trusted, are more like foreigners.
*Locals fail to realize that they need the Diaspora because an insufficient number of them have the skills, expertise or knowledge to bring the country into the 21st century.
*After proposing changes in one sector of the administration, a frustrated returnee stated: If I, who am here, with all my professional expertise, find it so difficult breaking into the inner circles of the bureaucracy, how much more the newly returning Guyanese?
* Another stated, I don't mind them coming back, but to demand certain jobs!
*Yet another reported: I know several (returning) professional Guyanese enthusiastically desiring to use their training and experience to assist their country, but they cannot get past political gridlock. Some have packed up and returned from whence they came. It is difficult for overseas Guyanese offering skills to break the inner circle of bureaucracy.
Comments tend to be critical of efforts at reciprocal accommodation.
Clash of cultures: Affecting
Social Remittances
Everything that immigrants send back or take back to the home country is by no means positive. While some 'overseas' values and introductions may enhance progressive change, others are perceived as undermining the traditions of the home country. Individuals and community leaders have expressed concerns about migrants importing values and habits that 'go against the grain' of local customs, defy consumerism and weaken families. In the Diaspora, individuality and innovation are generally valued over patronage, obedience and deference. It is not unusual to hear complaints from returning Guyanese about the lack of business acumen, cavalier attitude and extensive delays in 'follow up' services. It would be interesting to compare the experience in other Caribbean countries.
Possible Solutions:
There may be as much talent and skills outside the nation as there are within. Several attempts have been made to 'attract' Guyanese to return home, but perhaps not enough has been done to 'encourage' them to stay. A more stringently administered programme to 'register skills' in the Diaspora is needed.  Many apparently prefer to 'give back' through Hometown Associations as evidenced by a recent increase in the number of these overseas organizations.
Compromise, collaboration, mutual respect for, and acknowledgement of needs, capacities, assets and liabilities on both sides are essential. Effective Diaspora engagement must include assessment of factors that promote and impede development. There is a need to recalibrate the effects of social remittances, realizing that social and cultural dimensions of engagement and not just economic considerations are vital. We are not dealing with a homogeneous immigrant community, thus expectations and experiences of those who return do vary.  Observing variation by ethnic group, political affiliation or whether social remittances are tolerated with deference toward non-Guyanese may be quite revealing.
Research on the topic is needed, including the narratives of returning Guyanese who have been successful. Perhaps the participation of the Diaspora in the 50th independence anniversary commemoration will provide an opportunity to reexamine the impact of social remittances and ways of fortifying Diaspora engagement.