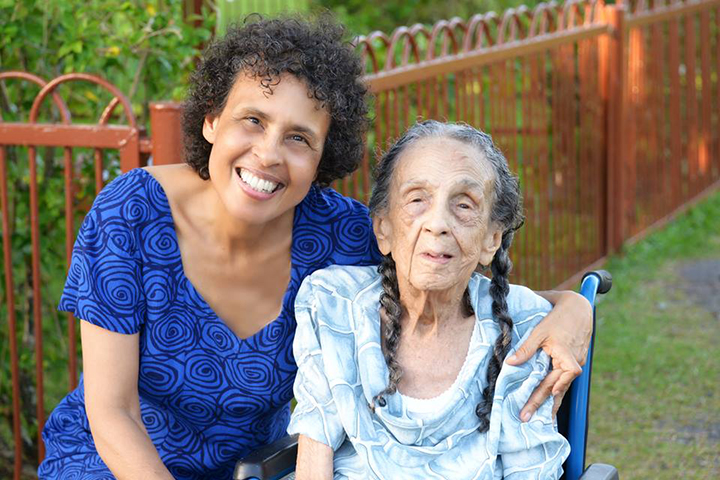 (Some of) The Sharon Maas story
In a sense I had met her by accident. I had gone to a place in Charlotte street to conduct an interview with a man who had opened an acupuncture facility – that is another story – and had met her there. The man was her son.
She had sat through the interview, patiently, attentively, intervening once or twice; at least that is my recommendation. Afterwards, she had come across to me with a copy of her latest novel, The Sugar Planter's Daughter (Bookuture, 2016) in her hand and asked whether the newspaper might like to write about it. She said that it was on sale at Austin's Bookstore and much later, during our subsequent interview, she had said to me that there was a possibility that her publishers might enter the book for the 2016 Guyana Prize for Literature.
After she had introduced herself and told me that The Sugar Planter's Daughter was her sixth novel, I felt somewhat embarrassed over the fact that I had not ever heard of her or her work before. Up until then I had prided myself on being reasonably familiar with the writings of most of the prominent Guyanese novelists mostly on account of a love affair with reading which had grown up with me from the time I was about ten years old. How could I never have heard of a Guyanese writer who had written half a dozen novels? The penny dropped only after she had told me her whole story.
Not too many days elapsed between my first encounter with Sharon Maas and my having to write this piece so that I have had to do so without getting anywhere near to completing my reading of The Sugar Planter's Daughter.  I read enough, however, to discern that she is an entertaining story-teller. She reminds me of another Guyanese novelist, Grace Nicolls, whose story-telling has also captured my imagination.
I had begun to fashion the outline of an extended conversation with Sharon about her literary career when she told me that she was the daughter of the well-known and now deceased Consumer Advocate Eileen Cox. For a while the revelation took our discourse in an entirely different direction. Over time, I had become increasingly aware of Ms. Cox, particularly in her later years. I had admired her energy and her consistency as an advocate for consumers' rights. With the passage of time I had to watch her being helped from a vehicle during her periodic visits to the Stabroek News presumably to conduct business linked to the columns she used to do for the newspaper.
In the course of our discourse I discerned that Sharon was aware of her Guyanese heritage without being altogether immersed in it. That, perhaps, was not altogether surprising.
Sharon Maas was born in Georgetown, Guyana, in 1951 but had been educated in England. She had worked at both the Guyana Graphic and the Sunday Chronicle before yielding to her thirst for adventure and setting off on a year-long trek through South America in 1971. Two years later she was travelling overland, passing through Europe and parts of Asia. Perhaps not surprisingly, her first novel, Of Marriageable Age, (Harper/Collins 1999) is set in both India and Guyana.
Her protracted exile notwithstanding, The Sugar Planter's Daughter bares refreshing and intimate insights into aspects of Guyanese culture. In a sense, the book is a sort of credential, literary evidence of a strong Guyanese credential.
In September she was on holiday, in Guyana, comfortable and seemingly 'at home,' though home is Germany, a society which she regards as 'many moons' removed from the land of her birth.
At present she works as a Social Worker in a hospital in South Germany.
Around the Web