Several persons are now being treated at the Georgetown Public Hospital after a Route 40 (Kitty-Campbellville) minibus driver lost control of his vehicle and crashed into a lantern post on Regent Street this evening.
Witnesses say the driver, identified as Timothy Andrews, was drinking at the time of the accident and had been speeding west along Regent Street after challenging another driver to a race. However, he is reported to have lost control of the bus, which flipped several times and crashed into a lantern post in the vicinity of Albert Street.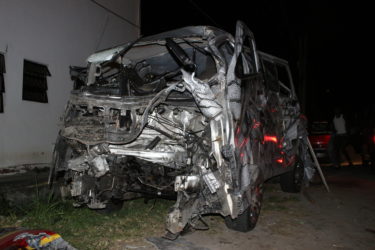 While up to press time there were no reported causalities, at least two individuals were undergoing surgery, while Andrews was reportedly being treated for minor injuries.
The bus was damaged beyond repair, with parts of the engine being left at the scene and all the seats having been dislodged. Among the debris at the scene and in the damaged vehicle were the shoes and clothing of passengers, including a pair of ladies underwear. Also visible were several broken Guinness bottles.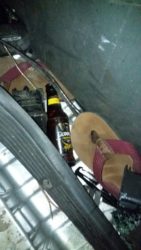 The aunt of one of the passengers told Stabroek News that thankfully her nephew suffered minor injuries and is presently conscious and speaking. She said the driver was also conscious. "He's [the driver] awake and talking saying he don't know what happen," she said.
Around the Web