Life for 44-year-old Sandra Sookdass has been tough but her wish for the New Year is to finally find happiness and to own a home so she can be together with her children.
One year ago she lost her home where she had been squatting at Parika, East Bank Essequibo. It was blown down by heavy winds and she cannot afford to rebuild it.
Sandra started living with a relative nearby but was forced to move because she did not like the conditions.
She is currently staying at the home of a friend with her family at Cornelia Ida, West Coast Demerara but even though the situation is not much better there, she has no other options.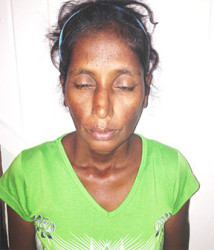 What is even more heartbreaking, she said, is that her children are not with her. The state had taken her four younger children away and placed them in a home after a serious problem emerged.
Her dream is to have her children back but the Child Care officers told her this could only happen if she has her own home.
Sandra who works as a domestic help a few days per week, said, "I wish if I can get some help to build back my house so me and my children can live happy."
Her son, who is 19-years-old and already living with a girl, has promised to help with the children financially. He has also acquired a small house on his own.
The woman's bitter life did not start there but recalled being sexually abused herself as a child, by a male guardian.
She started living at the home of the man and his family at Parika at the age of six and the abuse began two years later when she was alone at home.
She told neighbours what had happened and they advised her to go to the police. But she could not go alone and the neighbours were afraid to get involved.
She had also told the man's wife but she accused Sandra of wanting to cause problems in the home. What was even more surprising was that the man was a pastor.
Sandra had initially been placed in the care of a woman when she was three months old after her mother walked out of an abusive marriage, leaving her father to care for her and three other siblings.
She and her siblings were separated, having been placed into different homes. Her 'foster mother' migrated to the USA when she was six-years-old and left her in the care of the family.
Terrible punishment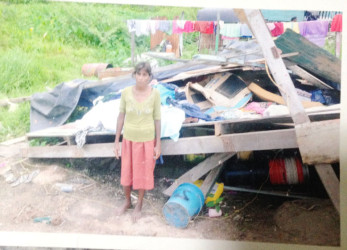 It was at this stage that her nightmare actually began. "Me meet terrible punishment when me go there. The people never send me to school although dem two children used to go."
She also recalled that she had to "sleep on rice bag and used to wake up at 4 o'clock in the morning to do work otherwise dem a beat you out yuh sleep."
There were also times when her 'foster mother' would wake her at 3 am to accompany the man to catch fish to sell. "If me don't wake up they would beat me bad."
She used to escape and run to the home of residents but her foster parents would go and "curse them up and the people tell me don't come because dem don't like the cursing."
The abuse, both physical and sexual continued until the age of 15 when Sandra's foster parents made a match for her with a man who was in his 40s.
After she left the home to live with the man, her foster father ended up committing suicide by hanging because "people used to molest him about what he do to me."
Sandra's dream of having a happy life was far from reality when her partner, with whom she shared three sons [including twins], started abusing her as well.
"Me really punish with him; he used to beat me bad and me used to have to work and mind he and the children," she related.
The man worked as a labourer but never kept a steady job because he would steal from the employers and get fired. There would be constant problems in the home over money.
When the twins were 11-months-old, he pretended he was taking one of them for a walk and left him in a rice field.
Residents heard the baby crying because "red ants were biting him" and informed Sandra. She went and rescued him and decided that was the last straw.
The following day she walked out of the house with the twins but the man refused to give her the other boy who was two-years-old at the time.
Struggling to care for the boys, Sandra met another man three years later and moved in with him.
She got a son and a daughter from that union and although the man was not abusive he used to "drink and smoke a lot." He died a few years later.
The following year she met another man and got three more children with him. This man who was nice at first, turned out to be a monster.
He was even more abusive than her first partner and had caused her to be hospitalized at the Georgetown Public Hospital for 21 days.
"He used to drink rum and beat me and force me to go and beg to mind he and the children," she recalled. It was while she was away from the house that there was a serious problem with one of the children.
Sandra is sad that she cannot enjoy her children by her side in spite of "all the punishment me bin through fuh mind dem when dem small."
Her wish is that her life would change and she would one day find true happiness.
Around the Web