Over 400 farmers and other residents on the Essequibo coast are expected to benefit from the installation of the Lima Pump Station which was yesterday morning inaugurated by Prime Minister Moses Nagamootoo and Agriculture Minister Noel Holder, GINA said.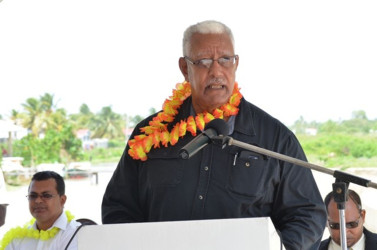 During the official commissioning ceremony which took place on site, the Prime Minister told the gathering that farmers will no longer have to suffer from excessive flooding. It is expected that the drainage pump will drain water from approximately 15,000 acres of land.
This project, GINA said is expected to benefit farmers in the communities of La Belle Alliance, Lima, Coffee Grove, Ankuku, Sparta, Windsor Castle, Hampton Court, Anna Regina, Richmond and Henrietta. Those areas are said to have vast expanses of agriculture with rice cultivation as the main activity.
Nagamootoo appealed to those who will be responsible for the day-to-day operations of the facility to ensure that it's run efficiently.
The overall cost of the project is $289M, and it was executed by Samaroo Investments. GINA said that it is the last of eight pumps commissioned under a Line of Credit from the Indian government.
In his presentation, Holder advised the gathering that building the pump station at Lima was strategic, as that area has the largest watershed acreage.
"This government will continue to carry out all necessary works to be done in Region Two especially in agriculture and particularly in drainage and irrigation," GINA reported Holder as saying.
The pump station has the capacity to extrude 200 cubic feet of water per second. This represents a 150% jump in pumping capacity at that location.
Holder said that the investment will directly benefit 435 farmers and indirectly benefit 700 linked to the network.
"Today, farmers can be assured that the fear of flooding would now be minimal. I urge you to ensure your drains and channels are cleaned of weeds to ensure you can realise the benefit of this increase pumping capacity," Holder urged.
"We will continue to work with the Water Users Association to improve on the cost effectiveness of proper water management while extending and rehabilitating the network capacity of Drainage and Irrigation in Guyana," he added, according to GINA.
One farmer, Heralall Mohan, described the pump as a blessing to Essequibians adding that, "it's a very good new year's gift, everybody appreciates what's going on here. I would like to thank the Government for this very important and necessary gesture."
The pump station had suffered setbacks in construction last year April due to the heavy amount of clay in the area.
Around the Web