The Customs Anti-Narcotics Unit (CANU) yesterday denied that its ranks seized jewellery estimated to be valued over US$10,000 from a Better Hope goldsmith, who has since filed a multi-million dollar lawsuit.
The jewellery – gold and silver neckwear and a gold and silver wristband together valued at approximately $4M ‒ was taken from Richard Ramjit as he was preparing to board a plane to the United States.
Ramjit said he was accused of smuggling gold out of Guyana. The estimated $4M cost, which Ramjit made mention of in a Constitutional Motion filed on his behalf last Thursday, is double the US$10,000 ($2M) threshold at which seizures can be made under amended anti-money laundering laws if there is no declaration to customs.
CANU, in a statement issued yesterday, said that on January 19, the businessman, who was an outgoing passenger on a Dynamic Airways New York bound flight, alleged that he was approached, detained and had his jewellery seized by a CANU officer at the Cheddi Jagan International Airport (CJIA).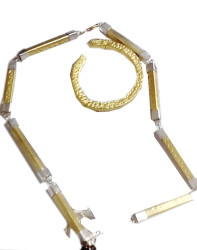 "CANU would like to state that the officers who identified themselves as CANU officers, are not members (of) the unit, nor were they ever members of the unit. Furthermore, no CANU Officer was involved in that operation at any time," the statement said.
It went on to explain that CANU officers on duty are uniformed and display their issued identification card with their names.
A source close to the case explained that from the inception, Ramjit was made aware that it was police ranks who were questioning him. Stabroek News was told that a police rank explained the US$10, 000 and over declaration requirement to Ramjit. The source said too that at no time prior to questioning did Ramjit attempt to declare his jewellery and he had not listed them as being about US$10,000 on his customs form.
The matter was later handed over to the Special Organised Crime Unit (SOCU), the source said.
Stabroek News has since learnt that the jewellery in question is in the custody of SOCU, which is currently conducting investigations with a view to laying charges.
Given that Ramjit has now launched a lawsuit, it would mean that any criminal proceedings initiated against him could be delayed as the High Court takes precedence over the Magistrate's Court.
The lawsuit was filed by attorney Anil Nandlall and the Attorney General is listed as the respondent.
Ramjit, in the affidavit in support of his motion, explained that as he was checking in at the airline counter, a person in civilian clothes who identified himself as a CANU rank indicated that he wanted to search his suitcase and ask certain questions. The document said that Ramjit was escorted to a room, where there was another man in plain clothes who refused to divulge his name.
During questioning about his jewellery, Ramjit said he told the rank that he had made it himself five years ago and since then has worn the items when travelling abroad without incident.
Ramjit said the officer accused him of smuggling gold and he denied. He further alleged that an attempt was made by the officer to "settle the matter" in exchange for not seizing the jewellery. He said he refused the offer and was then permitted to leave but while heading to the Departure Lounge he was stopped by a Customs Officer, who asked to see his jewellery.
He was then allowed to proceed but moments later the same officer requested that he (Ramjit) follow him to his office, where he was again accused of smuggling gold.
He was then escorted to the tarmac, where his suitcase was searched by a sniffer dog but nothing was found. Ramjit said he was then escorted to the Customs Office, where he was further questioned and informed that it was unlawful to have jewellery which exceeds the value of US$10,000 without making a declaration.
The jewellery was then seized and he was instructed to visit the SOCU office the following day. By then he had spent four hours with the customs officer and his flight had already left.
Ramjit is asking for, among other things, his jewellery to be returned to him and $10M in damages.
Around the Web