To pick out Nicholas Narine as one the men who carried out the violent robbery on her and her family, Land Court Judge Nicola Pierre had asked that he say the word "solid" during the identification (ID) parade, a police officer testified yesterday.
Narine, Premnauth Samaroo, Daymeion Millington, Warren McKenzie and Anthony David are on trial before Magistrate Zamilla Ally-Seepaul at the Sparendaam Magistrate's Court, where Detective Lance Corporal Moonilall Persaud, who also assisted in the investigations, took the stand.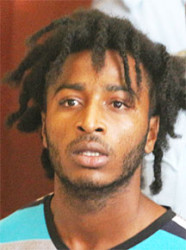 Persaud told the court that on the day when ID parade was set up for Justice Pierre via Skype, he along with Assistant Superintendent Simeon Reid and a Sergeant Jonas were present when she identified Narine as one of the men who carried out the July 9, 2015 attack.
According to Persaud, before Justice Pierre picked out the accused, she asked ASP Reid if she could get Narine to say a word, which Reid permitted. "'Solid' was the word Justice Pierre asked Narine to repeat during the ID parade," Persaud told the court.
The judge had previously testified that one of the men had told her she was "solid" during the attack.
Like Reid had earlier testified, Persaud said when Narine was told that he had been identified, he [Narine] began to cry.
Persaud also told the court that he was present for the third ID parade that was conducted via Skype, where Millington was identified by the judge's husband, Mohammed Chan. Persaud said when Reid told Millington that he was identified as one of the persons who robbed Chan and his wife, he was cautioned and Millington then told them that "…Is the wrong person he [Chan] ID…." At the fourth ID parade, Narine was also identified by Chan, Persaud said.
Under cross-examination by attorney Adrian Thompson, who is representing Samaroo and Narine, Persaud told the court that two suspects—Narine and Keon Clarke—were in the identification parade. At the last ID parade, only Narine was identified by Chan, Persaud said, while adding that he was certain that one person was identified.
Millington, who is representing himself, questioned Persaud about the other person who was in the parade with him. Millington said that he was never number seven in the ID parades. Persaud said that he couldn't recall who was the other person in the identification parade but noted that Millington was number seven in the parade.
The trial is continuing today.
The five accused are charged with robbing the judge and her husband of cash and articles amounting to over $3.6 million, as well as shooting at security guard Ron Peters on July 9, 2015.
Around the Web