At the age of three, Gulliver's godfather bought her a pink lunch-kit. She remembers there being a girl in long-boots and the words "Pretty Merry Girl" emblazoned upon it.
"…I loved that lunch-kit," Gulliver recalls, with a smile peeling back across her face.
But, three months after she got it, Gulliver's mother returned from the interior and she was not happy with what she found. "Is who buy this pink lunch-kit for my son?" Gulliver recalls her mother asking.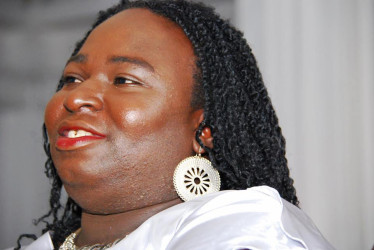 Her response was not surprising, especially given that Gulliver was not yet Gulliver. She was still Quincy then; "she" was still a "he."
Her mother went out and bought a blue "Superman" lunch-kit, which made Gulliver unhappy. But she was determined to have that pink lunch-kit back. So, during the next two weeks, "Superman" went "click-clack" across lantern posts as Gulliver walked home from school and soon the kit was in pieces.
However, her mother was undeterred and bought her a lunch bag. Gulliver "lost" the bag. Her mother then bought her another "Superman" lunch-kit, which Gulliver once again destroyed. And that was the cycle throughout her childhood, Gulliver says.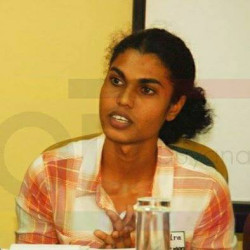 Her mother never let her have the pink lunch-kit, and instead, Gulliver would longingly stare at it as it sat on a cabinet.
Later, at 11-years-old, she dressed herself in female clothing for the first time. It was her mother's silver dress and though it was too big, the moment proved to be a defining one.
"At an early age I recognised that my role was different than the other males and I was not matching the male gender but the feminine (sic) gender," Gulliver says.
It was not until her late twenties that she was able to research and identify as a transgender person.
A transgender person is someone who does not identify with his or her biological gender. Despite popular belief,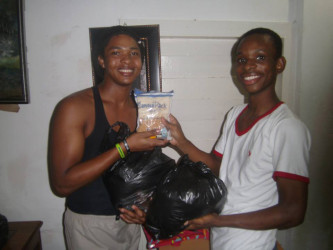 being transgender does not automatically mean someone is homosexual. Rather, transgenderism speaks more to one's identification rather than their sexual desires. Thus, a transgender person can be straight, gay, bisexual or even asexual.
Joel Simpson, the Managing Director of the Society against Sexual Orientation Discrimination (SASOD), says transgender children face many challenges. According to him, families are not educated enough to deal with gender nonconformity. Thus, when children start to express their atypical gender identities, they are usually discriminated against and abused by family members. Simpson added that some transgender persons might even be put out of their homes.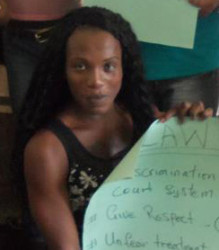 With homelessness, he further said, a host of other complications arise: there is abuse, violence, diseases, and mental health issues; many transgender persons are prone to depression and thoughts of suicide, he said.
At a recent forum on Mental Health Challenges facing Lesbian, Gay, Bisexual, and Transgender (LGBT) Guyanese, hosted by SASOD in partnership with USAID's Advancing Partners and Communities (APC) Project, Cuso International's Mental Health Researcher Abdel Fudadin noted that global research shows that members of the LGBT community are two to three times more likely to commit suicide than heterosexual persons.
At the same time, there is a growing recognition of the need for greater support, particularly in the form of counselling and mental healthcare, for LGBT persons.
According to a SASOD report on Fudadin's presentation at the forum held earlier this month, Fudadin said reports have shown effeminate boys and teenagers who identify themselves as homosexuals are shunned by their parents and even kicked out of their homes due to their parents' lack of knowledge, understanding and general ignorance to sexuality; these youngsters suffer from neglect, abandonment – finding themselves in sex-work rings, crime, narcotic-drug circles, often leading to other risky behaviours, HIV and other sexually-transmitted infections, which all contribute to their mental health deterioration.
"It is a stark reality that happens every day in Guyana," Fudadin was quoted as saying, while adding that more social support and education is needed on sexuality and understanding LGBT issues. "Health, education and advocacy needs to be strengthened. It is what we need to do, to work together; not let religious homophobes and conservatives cloud our progress as a society," he said.
Self-discovery 
Like Gulliver, other transgender persons say they knew from an early age that they were different.
Gabriella Rowe, another transgender woman, says she had struggled to get her mother to accept her but the only person in her family that did was her grandmother, who proved to be her champion. Gabriella was 16 when her grandmother passed and she says she sunk into a depression afterward. She adds that it got better for her when she finally embraced herself as a transgender woman and began to walk the streets of Albouystown.
It was surprising to the community but because her family had a reputation no one interfered with her, Gabriella says. She adds that she lost a lot of friends but also gained a lot more. She says she still suffers from weeks of depression but never allows it to go on for months. She says she now enjoys her job as a commercial sex worker, which is an outlet through which she can embrace her identity.
For Berbician Alessandra Hereman, another biological boy who now identifies as a woman, female toys were always the preference when she was a child. She recalls being labelled "feminine" by older male cousins and peers in school.
For transgender children, school can prove to be another challenge area. In schools, teachers and school administrators are not educated to deal with gender nonconformity. Transgen-der persons, therefore, often become the subjects of bullying and violence. In turn, many choose to drop out of school and fail to reach their full academic potentials. This problem, Simpson noted, is not being addressed.
Noting that our society is a "paper qualifying world," Simpson opined that it is hard for transgender persons to get jobs and, as a result, many develop a skill, such as hairdressing, catering or, most commonly, commercial sex work.
According to Renuka Anandjit, Programmes Director of the Guyana Responsible Parenthood Association (GRPA), the organisation is offering more services for LGBT youths.
She also says the GRPA is working with other partners to push for Health and Family Life Education and Comprehensive Sexuality Education in schools. She says the programmes aim to teach children about sexuality.
In Guyana's society, transgender persons are viewed as abominations and not as persons, Anandjit says, while noting that if children are taught tolerance and respect in schools, the life of a transgender person would be easier. "You have to see them as a person first, before anything can be done," she stresses, while noting that the GRPA is currently doing a lot of youth advocacy work to empower youths and teach them tolerance.
Enlightenment 
For Alessandra, enlightenment came in her late teens. She says it was in Form Six when she started to research sexuality. "With the help of a lecturer, who had a medical background, I was [enlightened] that I was a transgender person," she explains.
Barbra Streisand's enlightenment came much younger. Barbra remembers that looking at her mother applying make-up was one of her deepest joys in her youth. So, one night when her mother left home, she decided to put on makeup herself.
Barbra, then only 12, admired herself but quickly washed off the make-up before her mother's return. However, a touch of pink lipstick remained on her lips. Curious, her mother called her over, eyeing the pigment on her lips.
Whack! The slap came quick, snapping Barbra's head to the side. However, the sharp blow was quickly followed by a gentle apology. That night, Barbra's mother opened her eyes by explaining all about gender identities and sexual orientations.
Later, when she became more confident, Barbra wore girl's clothing proudly in front of her mother, who smiled at the transition. For Barbra, this is one of her happiest memories and one which offered her much needed enlightenment.
However, when other persons began to notice Barbra was different from other boys, they were not so accepting and they let their displeasure be known. Stones in the form of words came from relatives, friends and the wider society.
"If you know you gon turn out to be gay, or you gon turn out to be a antiman, don't come 'round hay, cah we gah boy chirren and we ain't want you influencing them," Barbra recalls a relative telling her.
Us against the world
For Gulliver, Barbra, and Alessandra the stories are different but there is one recurring theme: revealing their true identities often means confrontation, largely due to them not conforming to society's expectations of them.
Gulliver recalls that, when she got her first paycheck, she went to a seamstress and got her to sew female attire. Getting her to sew the clothing took persuasion and soon enough Gulliver was brave enough to walk the street as a transgender woman. But this did not last long after a group of young men mistook her for a biological woman after calling her out on the streets. Many of them were embarrassed that they could not tell the difference. Gulliver recalls the boys dashing behind her as she sprinted ahead to escape a beating.
Now, Gulliver says she waits until nightfall to leave her home village of Buxton to go to the neighbouring village, Annandale, which she has always found to be more tolerant of her desire to be a woman.
"Living in Guyana and being a transgender person is like a glass of water: you can just drink it and let it out in the toilet," Gabriella says.
"I would usually ignore people, but if I am not in the right frame of mind, I would answer back if they troubled me," Barbra says, while noting that her reaction would annoy some persons and they might want to get physical and in most cases she responds in kind.
Over the years, she says she has filed several police reports for assault. Many of the men bribed the police because they don't want the file to reach court, where they would be seen as outcasts, she adds.
Gulliver says she uses her grandmother's words, "you cannot stop the river from flowing," and reminds herself to turn negative thoughts into positive ones.
She notes that at an early age her grandmother recognised that she was different and she was warned that her lifestyle would bring dire consequences and she must therefore be able to cope.
"If am going down the road and someone shout out, "batty boy!" I pay them no mind because all boys have batty," Gulliver says. "If they say "antiman," this makes no sense, because we don't hate men, we love men."
She adds that while people's discriminatory words never hurt her, she usually gets concerned when transphobic or homophobic statements are uttered by high ranking officials, due to their positions of power.
No justice for us?
SASOD recently urged President David Granger and the APNU+AFC administration to honour campaign promises to ensure the protection of people from being marginalised because of their sexual orientation. The call came in wake of President Granger, during one of his weekly media interviews, expressing his support for the rights of Lesbian, Gay, Bisexual and Transgender (LGBT) persons. SASOD welcomed Granger's comments but noted action is needed to the commitments the coalition made in its manifesto to put measures in place "to ensure that all vulnerable groups… and those marginalised because of sexual orientation are protected and not discriminated against."
The selective prosecution of transgender women for the crime of cross-dressing led to four of them challenging the law as unconstitutional. Although the court upheld the law, it also found that there is nothing to prohibit "a person wearing an 'attire' for the purpose of expressing or accentuating his or her personal sexual orientation in public." An appeal is still to be determined.
However, the judicial sector is not the only public sphere where transgender persons experience difficulties. Anandjit also notes that she feels it is discriminatory that the healthcare system does not offer hormonal treatment for transgender persons. She said this forces transgender persons to get hormone treatment from Suriname and some might self-medicate.
'Who I am'
With discrimination, prejudice and ignorance confronting them on an almost daily basis, Gulliver, Barbra and Alessandra have found different ways to cope.
For Barbra, coping is helped along by unexpected support.
Her landlord had caught her in female clothing and was intrigued by her; she says ever since that day, they have formed a relationship and she has regular conversations with him and his children about her life.
This show of male support is somewhat unfamiliar to Barbra. Barbra says at 16 her mother died and her father, who was hardly around, tried to be a father but she was indifferent.
At the age of 18, she showed him a boyfriend. She says it made him upset. Barbra says her father told her that he made a man and not a woman and he expected the family name to be carried on but she told him he didn't understand her feelings.
"If you don't love me now for who I am, you will never love me and it means you have never loved me and you were just putting up this face that you loved me," she says, sadly.
While her relationship with her father is still strained, Barbra has found a father figure in her landlord.
Barbra is now a counsellor and a human rights activist. She also has an adopted son whom she looks after.
Alessandra is androgynous and identifies as a transgender person although she does not cross-dress because she feels a mixture of both genders.
She says at first she did not know how to cope with society's discrimination and she'd go home and cry. "Sitting in front of my mirror for hours blaming myself for their actions, thinking I must be really mad to transition from male to female, but at the same time I was also trying to make sense of their actions," she recalls.
However, she found solace in study after a friend decided to introduce her to sociology.
"As time passed, I realised the impact sociology had on my life," she says, while noting that she began to understand human behaviour, discrimination and inequality. Sociology helped her to cope with a male-dominated, cisgender society and she was motivated to join a Non-Governmental Organisa-tion, which she uses as a platform to voice the issues of marginalised groups. And through her advocacy work for social change, she has found that she has been able to cope with discrimination.
Gulliver, Barbra and Gabriella are also members of a Non-Governmental Organisation, Guyana Trans United, which seeks to better the lives of transgender individuals by educating the public on transgender issues and needs. It has been particularly active following the murder of transgender youths in recent years.
However, even with years of self-discovery, there are still moments of doubt, fuelled largely by backlash from society.
Barbra explained that there were times when she would begin wearing male clothing and allow her facial hair to grow.
"People would ask me why I stop wear dress and how I feel with this new look, but honestly speaking with all that is going on in Guyana, I wouldn't transition very often," she explains.
She says that she did the new look for her; she wanted to see how long she could've coped with society. "But to be honest, it ain't working out too well," she adds, while noting that she expected to be transitioning again "because that's who I am."
Honestly, I don't care what people think; I want to please myself and nobody else," Gabriella points out.