A Potaro labourer was placed on $100,000 bail yesterday after he appeared before a city court facing allegations that he stole close to $1,000,000 in cash.
Michael Jackson, 21, of Three Miles, Potaro, was read a charge stating that on February 27th, at Third Avenue, Bartica, he stole from the dwelling house of Narconie DaSilva, $200,000, which was the property of Neliana Somza.
It was also alleged that Jackson, on February 27th, at Third Avenue Bartica, stole $720,000, property of Gilbert Rodrigues.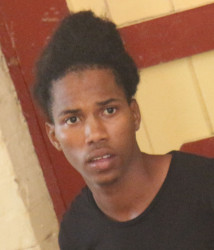 Jackson sat through the majority of the proceedings, except for when the charges were read by Chief Magistrate Ann McLennan as his attorney told the court he was suffering from a severe case of malaria. He pleaded not guilty to the allegations.
Peter Hugh, who appeared for Jackson, told the court that the accused had taken up work for the owner of the house, DaSilva. On the day in question, he said Jackson had been occupying one of the rooms in the house, which are usually rented. He was said to have been asleep when the police woke him and took him into custody. Hugh said that Jackson never admitted to committing any offence.
Prosecutor Deniro Jones asked that bail be granted in a substantial amount. As a result, bail was set at $100,000 by the Chief Magistrate, who transferred the matters to the Bartica Magistrate's Court, where they will be heard on March 16th.
Around the Web