Rayon Paddy is among 16  prisoners who died today from burns sustained in fresh unrest at the Camp Street jail  after a ruckus started last night. The other dead inmates have not yet been identified.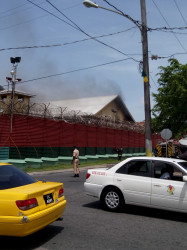 The death toll was announced this afternoon by Minister of Public Security Khemraj Ramjattan at an emergency press conference at the Ministry of the Presidency. He said the names of those dead are known   but won't be released until their families are notified.
A number of other prisoners sustained burns from a fire that been set within the prison and were rushed to the Georgetown Public Hospital. Paddy succumbed to his injuries.
Ramjattan told the press conference that the renewed unrest began at 9.23 today. The deadly blaze started in the Capital A block where remanded and committed prisoners – mainly those for murder – are kept.
Kevin Pilgrim, Officer in Charge of the prisons told the press conference that a total of nine fires were set. He said mainly mattresses were set afire by the prisoners who made many demands including the return of 19 cell phones and narcotices which had been seized from them.
Pilgrim said that this morning prison wardens and others returned to effect repairs to the beds that were damaged last night and it was at this point fresh unrest erupted. Some of the prisoners refused to leave the cells.
Carl Graham, the Prison Director said that everything possible was done to save prisoners including dealing with the heat and the missiles  that were being thrown at the prison wardens. There are 984 prisoners at the jail.
Ramjattan said that there was a National Security Commission meeting this morning and a three-person team will investigate this incident.  He said that all members are adamant that this damning fire be investigated. He spoke of upping the establishment strength and having criminal matters more speedily heard. This has been one of the main complaints of prisoners.
He said that overcrowding has been caused by persons being unable to pay their bail and that it is something that will be looked at.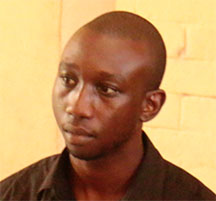 Last night, prisoners burnt a mattress and tried to force out protective grills.
The prisons, police and fire services are at Camp Street trying to quell the unrest.
President David Granger met with the heads of the security services to discuss the situation.
Around the Web