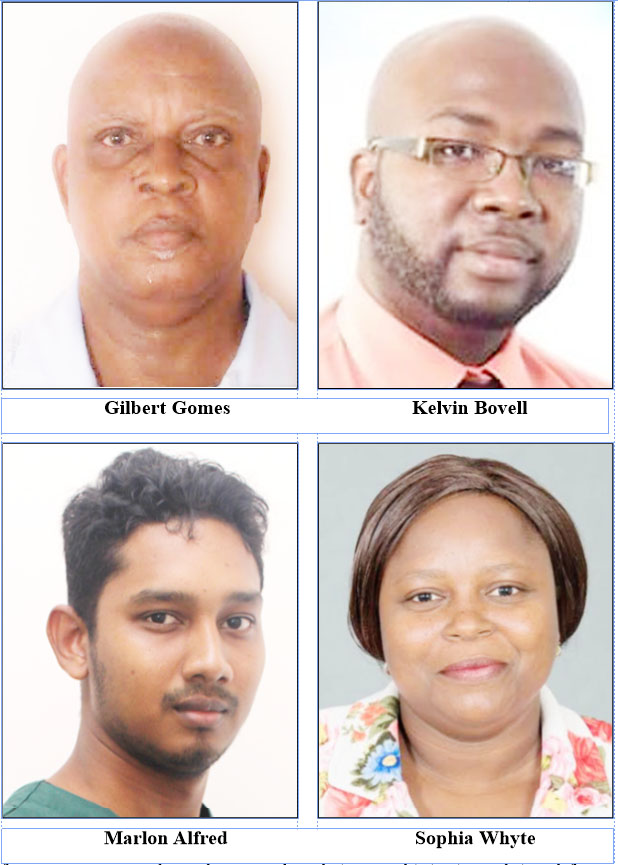 Candidates for the First-Past-The-Post election on Friday in East La Penitence-Riverview have underlined drainage as a key issue in their flood-prone areas.
Battling for Constituency 11 in Georgetown are independent candidate Gilbert Gomes, an insurance salesman; Kelvin Bovell, a teller, representing Team Legacy; Marlon Alfred, medical technician representing Benschop for Mayor; Sophia Whyte an information officer for the governing APNU+AFC and Michael Bhagwandeen for the opposition PPP/C.
All of the candidates spoke with Stabroek News except Bhagwandeen who was not available as has been the case with a number of other PPP/C candidates.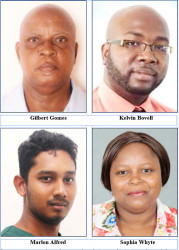 Alfred said he got involved in local government because he has realised that the service provided by the Mayor and City Council is not acceptable. He said that he would like to see his constituency equipped with high-power surveillance cameras and street lights to aid in crime fighting.
He added that he would also push to have regular maintenance of drains and alleys. He noted that recently weeds were chopped and cleared from the alleys and drains but a high quantity of slush remains. He noted that the drains need to be desilted to prevent flooding.
Alfred also pledges to work with youths and be an advocate for unity among the residents. He said that he would work to have youths meet up at the community centre and engage in peer counselling.
He believes that his plans for the constituency can be executed because he would look for funding from residents by the pooling of resources and submitting proposals for funding from the government and city hall. He has been campaigning door-to-door.
Resurrection
Gomes told Stabroek News, that he has been a team player for a number of years in humanitarian work and has worked with the Guyana Relief Council.
He said that after living in the community for a number of years he has seen the changes it has gone through. He said that he remembers the days when drains were cleaned and the water flowed but now it is the opposite. He said that his eagerness to get the constituency back to the standard of a clean community has driven him to contest in the local government elections.
The independent candidate said that he would work to have community participation in projects and development for the community. "I hope that after the elections there would be a complete resurrection of plans to have community involvement…" he said, while adding that a councillor might not be aware of all the problems in the constituency and it is necessary to have a community where information is easily passed down.
Gomes said that he is focused on having good drainage in the constituency to help fight the breeding of mosquitoes and diseases. "If drains are cleared and clean we would be able to stop the spread of mosquito-borne diseases," he said. The aspiring councillor said that he would seek to address issues such as school dropouts. He said that too many youths are out of school for one reason or another and are not taking up their responsibility in society. He also contended that with responsible and educated youth the social ills would be reduced.
He added that he would also like to see the creation of daycare centres in order to allow children, who are usually kept home by parents to look after smaller siblings, to gain an education.
When questioned about funding for these projects, he said, "We don't know what the resources available" are but he would seek to ensure that the simple issues in the constituency are addressed.
He added that he is promising the constituency effective management, leadership and respect. "Those aspects would help to deal with the issues," he stated.
Gomes said that he has been engaged in one-on-one campaigning and despite it being a challenge for him he has been meeting residents and listening to their concerns.
Outfalls
For Whyte, a resident of Walker Terrace, getting involved in local government elections means she has an opportunity to work to develop her community.
The university graduate said that if elected she would push for her community to have organised garbage disposal, collaborate with agencies responsible for drainage and irrigation and river defences and have the community's outfalls dredged. She added that she would also work to have streets upgraded and rehabilitated and work with the ministry of communities and the land and surveys commission to have regularisation of squatting lands.
Whyte said as councillor she would also work for after-school care centres which would aid children with homework and skills training. She also floated plans to create a recreation centre to house a gym and kiddies' sport corner.
Whyte said she comes from a family that has always advocated for community development. She said her family and other members of the community have been instrumental in building up roads and helping school children with educational materials for school.
Whyte said she would seek to fund projects by approaching the ministers to make pledges towards community development. She also said that she would look for financial support from central government and city hall as well as fundraising to generate funds.
She added that she would also approach the Board of Industrial Training to offer its services to the community and host skills training programmes.
Whyte who is also a teacher by profession said that she would look towards voluntary support form community members. She explained that during her campaign she has been able to gather pledges from persons to assist in helping the children and youths with extra classes and to assist with extracurricular activities.
Whyte said she has been engaged in a robust campaign to reach every house in her community.
Negative light
Bovell, a resident of Middle Road, La Penitence said that his reason for running is because he can be an intercessor for those communities that are so often viewed in a negative light.
The Ministry of Public Security employee related that he took up the challenge after recognizing it is an opportunity for him to do more within the surrounding areas.
"These communities located in East La Penitence and North East La Penitence are plagued with social issues, have limited access to social services and no clear channels to address these shortcomings," he said.
Speaking on his plans should he be elected, Bovell, who is a member of Team Legacy, explained that his plans for the communities are all intertwined in the group's five pillars which are outlined in its manifesto. These pillars are community investments, youth transformation, security, environment and health and improved development and delivery of services.
Bovell outlined plans for the community, which include working with the Chairman from Habitat for Humanity to assist single mothers procure housing, especially those living along the Riverview Dam. He said he would also push for improved drainage in communities such as Alexander Village, which experiences major flooding seasonally and the constructing of community centres for sports in East La Penitence and North East La Penitence.
He also said he would like to see the installation of street lights and the construction of better roads, especially on Sideline Dam where he stated they have never had a proper road.
If elected, he also plans to address garbage issues being faced by the Ruimveldt community and to work to have job creation.
"Our plans are enshrined in our pillars. Each community would have different needs so we will meet those needs as we go. What Alexander Village needs, North East may not need," Bovell stated.
When asked how he will go about financing these plans, Bovell noted that City Hall is provided with a budget of $2 billion which is supposed to cover all costs. He noted too, the group's plans to partner with non-governmental organisations and private entities for project funding.
Bovell explained that being just a group, unlike the political parties contesting, they do not have a large amount of finances at their disposal. Their campaigning strategy, therefore, has largely involved "hitting the road" and going house-to-house. They have also employed the "whistle stop" method, where the group goes into the communities with trucks equipped with loud speakers to spread their message.
Around the Web