While acknowledging that lesbian, gay, bisexual and transgender (LGBT) people are not accorded equal rights in the work environment, Social Protection Minister Volda Lawrence last week called for their inclusion in the promotion of gender equality.
"Yes, if we intend to promote gender equality, we cannot pretend that this group is non-existent. In our workplaces, in our institutions, we have to embrace these individuals and use their potential and skills for the benefit of economic, social and political progress. We must accord them the same process of inclusion, recognition and upward mobility irrespective of their sexual orientation and gender identity," Lawrence said last Tuesday at a Women's Empower-ment Cocktail and Reception, at the British High Commissioner's Residence in Georgetown.
The event was organised to celebrate marginalised women and was hosted by the British High Commission, Georgetown, in collaboration with Red Thread, Guyanese Women Roundtable (GWR), Guyana Trans United (GTU) and the Society Against Sexual Orientation Discrimination (SASOD) to mark International Women's Day.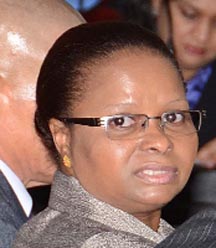 In her remarks on behalf of the Government of Guyana, Lawrence was reported in a SASOD press statement as saying that gender inequality manifests in different forms. "…we have women who are discriminated against in terms of accessing employment and equal remuneration, we have groups such as [LGBT] people which are stigmatised and ostracised, because of their sexual orientation and gender identity, whose rights to acceptance in work environments and accessing educational pursuits are denied," she was quoted as saying.
However, Lawrence added that "in this era of global progress, we can ill-afford to remain caught in the traps of traditional mind-sets, shunning and deeming LGBT persons as outcasts in our society. We have to wake up to the realisation that these are human beings whose human, political and social rights are being violated when we deny them access to the opportunities that we enjoy, when we categorically say no to every initiative of theirs to be involved or we pressure them in the work environment when we learn that their sexual orientation or gender identity is different from ours. Admittedly, we would have failed as a society, as a nation if we do not take the necessary steps and make the shift towards acceptance of these individuals."
Lawrence said finding "sustainable solutions" to the social issues that plague the country is crucial, while emphasising the need to change perceptions.
Towards this end, she noted the need to spread awareness in working environments. "From the top of the organisational chart right through to the auxiliary staff, we have to rally for a change in attitude. We must spread the message of tolerance, and remove the gender bias with respect to this group [LGBT people]."
She also emphasised the importance of transforming thoughts and words into positive actions and reiterated the Ministry of Social Protection's commitment to prioritising gender equality and women's empowerment, and supporting all organisations that are involved in the struggle for gender parity.
At the start of the year, SASOD had called on government to take actions towards fulfilling its May, 2015 elections manifesto commitments to "putting in place measures to ensure that all vulnerable groups… and those marginalised because of sexual orientation are protected and not discriminated against."
SASOD said last week's event was organised to create an empowering space for lesbian, bisexual and transgender (LBT) women and allies; to celebrate the strength and perseverance of these women; and to stimulate networking and strengthening of relationships among LBT women and allies.
Acting British High Commissioner Ron Rimmer, during remarks at the function, urged those present to do their bit to ensure that the rights of girls and women are realised. "Each of us can assist within our own spheres of influence and commit to take pragmatic action to accelerate gender equality, pledge to take concrete steps to help achieve gender equality more quickly, take action to collectively help women advance equal to their numbers and realize the limitless potential they can offer. This can be done by helping women and girls achieve their ambitions, calling for gender-balanced leadership, respecting and valuing difference, developing more inclusive and flexible cultures and rooting out workplace bias," Rimmer was quoted as saying.
In addition, keynote speaker Patricia Bacchus, who is Chief Executive Office of Caribbean Containers Inc, chronicled her experience as a young woman working in the male-dominated corporate sphere and the many occurrences of gender bias she has had to face. She said these were manifested through curious glances, unwarranted comments about her appearance and the belittling of her intelligence. "Oddly, the preconceptions on gender roles were also manifested by women – many of whom would ask me when I would take a break or slow things down to find a good husband and make some babies," she said.
Bacchus, the statement said, indicated that initially she ignored these situations but that times are changing and she believes that she must take the opportunity to correct them and inspire some attitudinal changes. As a result, she outlined specific initiatives for focus as the country works towards gender equality: ensuring equal opportunity employment policies in both the private and public sectors; adhering to policies regarding equal pay for equal work; revisiting the industry opportunities for women and ensuring access to opportunities outside of the conventional realms of teaching, nursing, security services, garment assembly and domestic work; and ensuring written policies by both private and public sector employers, regarding equal opportunity, non-discrimination, as well as written and enforceable policies against workplace abuse and violence.
Around the Web