Residents of the Rupununi in Region Nine continue to pray for rain as wells and other sources of water continue to disappear during what some have described as being the second worse drought to hit the region.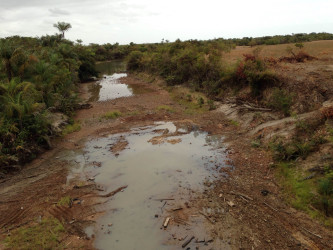 Starting late last year, the dry weather is due to the current El Nino weather pattern and is expected to last until the end of May.
Driving through the Georgetown to Lethem trail during a recent visit, Stabroek News encountered several areas leading to the Kurupukari Crossing, where there were ongoing forest fires. Several drivers who ply the route had even expressed their reluctance at traversing the route of fear that their fuel tanks, which are often secured on top of the vehicles, could combust as a result of heat that is given off by the fires.
Additionally, the pontoon that transports vehicles from one side to the other side of the Kurupukari Crossing now takes longer than usual as it tasked with manoeuvring around sandbanks that have become obstacles as the level of the Essequibo has since dropped.
In the savannahs, cattle was observed grazing in barren fields, while lakes and other large bodies of water had been replaced with dry and cracked earth. Even the lush, green vegetation on the mountains now appear withered and brown, while the vegetation on the lower land appeared brittle and showed signs of browning.
For residents in areas like Lethem, in Central Rupununi, they are more fortunate than others as they have experienced small amounts of rainfall and are also receiving a supply of water from the Guyana Water Incorporated (GWI), which assists in light of the hand dug wells in the area going dry. This is in comparison to other areas where GWI does not have active pipelines and would have experienced almost no rainfall.
One such village is Moco Moco, which is located on the outskirts of Lethem, Central Rupununi. residents in this part of the Rupununi are now forced to conserve their well water strictly for drinking as the water levels continue to drop.
Alfreda Charles, a resident of Moco Moco, told Stabroek News that each household in the village has a well but with the current weather conditions, the majority of the wells have dried up, forcing them to dig deeper wells in hopes of accessing potable water.
"Our wells are drying, each household has a well but with the weather now, the water in the well is very low; some people are digging it deeper but water isn't coming up," she explained.
Because of this, she said the villagers are now forced to utilise water from nearby creeks for bathing and washing, while the already limited well water is kept solely for cooking and drinking purposes.
"I don't know if our wells are to dry up where we will get drinking water from. If they all dry up, we will have to start digging wells in the forest. Everybody is scared now; everybody is thinking about where they will get water now. Before, people could've have bathe right by their wells but now we have to save that just for us to drink. We have to be careful with our water …this is the coming close to being the second worse drought that we have experienced," Charles said.
Similar sentiments were shared by Shulinab resident David Robeiro, who stated that the prolonged dry spell is taking its toll his village, which is located a few hours' drive from Lethem.
He explained that with all the hand dug wells in the village having run dry, the community now depends on a solar powered pump to generate water. However, with a population of more than 50, the man noted that the pump is not sufficient to supply water to everyone in the village.
Roderick George, of Lethem, spoke of scorched fruit trees and dying animals as he reflected on how the ongoing drought is effecting the region.
"The drought is very sadly affecting each and every one of us in this region; our fruit trees are more or less scorched and are dying. We are really suffering, not only are our plants suffering but we are also suffering with our want of potable water. Our wells are running dry, animals are dying; cows, horses and sheep," George said.
He noted that some farmers are worried about their crops since there is nothing that they can do to save them. "Speaking with one and two of our farmers who would come around to sell their farine and cassava bread and so on, they say they are really, really worried because there is nothing that they can do to plant because if they do now all will get scorched," George shared.
He went on to say that the last time the region experienced such a prolonged dry spell, assistance was received from  farmers in Brazil, who supplied cassava stems to the Rupununi farmers.
Charles had also expressed concern over the future of her cassava farm, explaining that any attempts to cut and save the cassava sticks until the drought is over will be pointless since they cannot last that long.
"Our cassava sticks are drying as well. Right now, it's hard to harvest the cassava because if we take out the cassava sticks now during the dry season, where do you think we will get sticks to plant later?" she questioned. "We are just hoping that the Lord provides us with rain very soon," Charles added.
William Ramsarran, Deputy Toshao of Moco Moco Village, told Stabroek News that while the community also farms crops such as peanuts, rice and provisions, they cannot be planted right now as they depend heavily on the rainfall.
Robeiro also noted that the majority of residents in Shulinab are farmers, all of whom are being affected by the lack of water for their crops.
"Very soon we will start running out of food because you can't plant in the dry season; you can't water your plants if there is no water," he said.
Meanwhile, some admitted that fires are occasionally lit in the savannahs in an attempt to scare away rattle snakes that may be ready to attack unsuspecting villagers who traverse the dry savannahs.
"Right now, some people are lighting small sections of the savannahs because we are afraid of snakes, especially the labara and rattle snakes," one person said.
Regional Chairman Bryan Allicock told Stabroek News that while North and Central Rupununi would have experienced some rainfall on Monday, it does not change the current water situation.
Allicock highlighted villages like Marakanata as being areas that are now completely out of water, leaving the Regional Executive Officer to solicit funds for fuel to get assistance to the residents there.
He noted that two black tanks and a solar pump were previously given to the village, however, they are now useless since the water source has dried up.
Allicock went on to say that the residents in that village are now forced to travel a distance of 10 km to fetch water.
He went on to say that with the wells having gone dry in Central Rupununi, the Regional Democratic Council (RDC) has been instructed to deliver water to affected residents. Additionally, the RDC has made a request to the Civil Defence Commission for more pumps, with the aim of distributing them to areas where the situation has worsened.
The Chairman also said that just this past week a contract was signed with a group of Brazilian engineers for the drilling of wells in eight villages, including Wowetta, Rupertee, Aranaputa, Shulinab, Potarinau and Kwaimatta.
He noted that the Brazilian engineers have already drilled three private wells for the Surama Eco lodge in Surama Village, Bina Hill and the Rock View Lodge in Annai. It is also the hope of the RDC that after the first eight wells are drilled, the team of engineers will assist in digging and additional wells in areas where they are needed.
Allicock added that South-Central Rupununi is in "trouble" as the water situation in that part of the region is much worse. He explained that with the new school term scheduled to begin tomorrow, schools in the district will not have water readily available as the closest water source is a river that is located some distance away. He also stated that he has received reports of animals dying in Yakarinta Village, North Rupununi.
Around the Web