Thirteen years after being charged with killing a 22-year-old man during a row at a cricket match, Ganesh Narine was yesterday sentenced to nine years in jail after pleading guilty to the crime.
The case was called for the first time before Justice Navindra Singh but there was no trial as Narine opted to admit to the offence.
He admitted that he killed Kumar Sarjou in June, 2003. Sarjou who was umpiring a match was hit in the head with a bat on June 26. Eighteen hours later he was dead.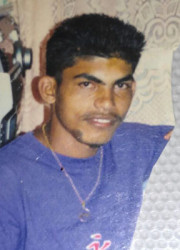 Stabroek News was told that when the matter was called Narine pleaded guilty to manslaughter. When asked if he had anything to say to the relatives of the deceased, a teary-eyed Narine expressed remorse and begged for leniency. Sarjou's relatives including his mother Champa Seenarine were in court at the time.
Sarjou is the brother of missing mother of one Babita Sarjou. Babita disappeared without a trace in November, 2010. The 28 year old woman left her Timehri home on November 4 to view the Diwali motorcade with her estranged husband and four-year-old son. She has not been heard from since. Prior to all this, their father in 2002 was left badly injured following a hit and run accident.
Seenarine told Stabroek News yesterday that she is relieved that she has gotten some justice. Though not fully satisfied with the sentence she said that it is a start. The woman stated that she is not happy that Narine was charged with manslaughter; she believes the charge should have been one of murder.
She thanked the Director of Public Prosecutions (DPP) for moving swiftly to ensure that the case was called up during this session of the criminal assizes which began earlier this week. She said gratitude is also owed to Dianne Madray and the CADVA Foundation for their role in ensuring that after so many strokes of bad luck that she gets some justice. She also thanked the media for highlighting the various tragedies that have befallen her family.
"I am hoping to get justice for Babita too", she said adding that she had no tears to shed yesterday.
The facts are that Kumar was the umpire at a cricket game at Timehri red ground when he called a no ball. As a result of this there was an argument during which Sarjou was hit on the head by a batsman.
The suspect was later arrested and arraigned before the court several days later. He was granted $175, 000 bail at the Providence Magistrate's Court by then Magistrate Adrian Thompson.
Several years ago Seenarine had complained about the length of time that the matter was taking to go to trial. She had said that the accused had stopped attending court and several arrest warrants were issued. She said that she later learnt that nine warrants had been issued for him and she took it upon herself to persuade the police to go to his house in search of him. She said that the ranks found him in his home and he was again placed before the court. This time he was placed on $250,000 bail by the then Acting Chief Magistrate Priya Sewnarine Beharry. The matter was heard and sent to the High Court.
Sometime later she said that she had heard that the case was being called in court. She said that when she inquired from the prosecutor what was happening, he told her that the case had to be tried again because the caution statement had gone missing. She said that she attended the hearing twice and on the third occasion the court was told that the caution statement had been found and it was handed over to the court. The matter was then sent to the High Court for trial.