Dhanshand Balram, the exporter who was charged last year with trying to ship almost 90 pounds of cocaine in buckets of cassareep, green seasoning and Chinese sauce through the Cheddi Jagan Airport (CJIA), was yesterday found guilty and sentenced to four years in jail.
Balram, who was charged with having 40.405 kilogrammes of cocaine (equivalent to 89.0778 pounds) in his possession on March 19, at the Cheddi Jagan International Airport, Timehri, was also fined $109,093,500, by Magistrate Judy Latchman. At the conclusion of the trial yesterday, Balram's attorney maintained his client's innocence.
However, in her ruling, Magistrate Latchman stated that she believed, from the evidence presented by the prosecution and the testimonies of its witnesses, Balram had physical control of the cocaine and collected the buckets it was in knowing that they contained the narcotic. It was also stated that the defendant expressed a desire to export the cocaine disguised as sauce.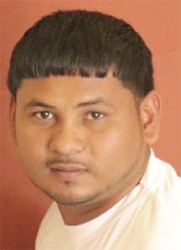 It was stated that the cocaine was hidden in the buckets by placing a bucket without a handle into a bucket with a handle and storing the cocaine in transparent plastic at the bottom between the two buckets.
The court heard that the ranks who arrested Balram had collected US$2,300 and $8,115 local currency from him, which he handed over to them in a bag. During the trial, there was some inconsistency as it related to who counted the money and as a result the magistrate stated that although it is uncertain who counted the funds, it was clear that the defendant had both US and Guyana currency.
Having found the defendant guilty of the charge of trafficking, the magistrate, before sentencing, stated that she took into consideration the year he has already spent in prison, the weight of the cocaine, the market value of the said cocaine, the manner it was being shipped out and the need to prohibit other persons from committing the offence.
The police had stated that Balram went with all the necessary documents to the cargo area of the CJIA to ship 50 buckets containing cassareep, green seasoning and Chinese sauce. However, acting on information received, ranks arrived and searched the buckets and uncovered a whitish substance suspected to be cocaine.
During the defendant's first court appearance he had stated that on the day in question he went to the airport in order to ship molasses and had no knowledge that it contained the cocaine.
Around the Web