A Goedverwating man was yesterday charged and remanded over a gun-point robbery, while the man to whom he allegedly sold the stolen items was also charged and released on bail.
A city court heard that on April 2, in Georgetown, Jevon Gillis, 20, of Lot 18 Goedverwating, East Coast Demerara, allegedly armed with a gun, robbed Diane Payne of a television, a Samsung tablet and two cell phones, and other articles totaling $591,000 in value. Gillis pleaded not guilty to the charge after it was read to him by Magistrate Annette Singh.
Gillis was represented by attorney Paul Fung-A-Fat, who said the charge was due to a case of mistaken identity.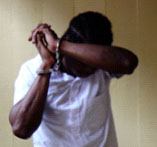 Fung-A-Fat sought bail for him while noting that he has no prior convictions. He also asked for bail to be a reasonable amount since he said Gillis' family cannot afford more than $50,000.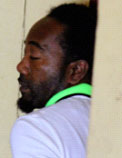 However, while Fung-A-Fat claimed that the charge was due to mistaken identity, Police Prosecutor Adunni Inniss pointed out that some of the stolen articles were recovered because Gillis directed them to where they were. Bail was subsequently refused by the magistrate and Gillis was remanded to prison.
Meanwhile, Javid Nurse, 36, of Lot 24 Howes Street, Charlestown, who was allegedly found with some of the stolen articles, was also charged. The charge read that between April 2 and April 7, at Georgetown, he received a television, worth $300,000, and a Samsung tablet, worth $50,000, from Gillis, knowing same to have been feloniously stolen and obtained from Payne.
Nurse also pleaded not guilty to the charge and was granted his release on $50,000 bail.
Both Gillis and Nurse were ordered to return to court on May 3 for statements.
Around the Web