A traffic policeman is now unable to walk after being struck down while helping children across the Eccles, East Bank Demerara Public Road on Monday.
Kelvin LaFleur, 25, told Stabroek News that he has sustained injuries to both his legs as well as lacerations about his body.
Speaking in the Accident and Emergency area of the Georgetown Public Hospital, LaFleur stated that on the day of the accident he was directing traffic near the stop light at Eccles and had stopped traffic to allow children to cross the road. He recalled holding one of the children's hands when he suddenly felt an impact and fell to the ground as he was immediately knocked unconscious.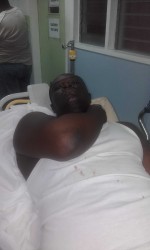 LaFleur stated that he has no recollection of who hit him or what happened after he was hit but remembers waking up at the Georgetown Public Hospital with the injuries that have left him unable to walk.
Stabroek News was told that the police have held the driver of the vehicle that hit LaFleur.
LaFleur, who has been a traffic police for about seven years, was being discharged from the hospital yesterday.
Around the Web