Two days after being discharged from the Georgetown Public Hospital (GPH), Traffic policeman Kelvin LaFleur, who was struck down while helping children across the Eccles, East Bank Demerara Public Road on Monday, succumbed.
LaFleur died at the GPH, where he had initially received treatment for the injuries he sustained in the accident.
LaFleur had told Stabroek News on Tuesday that he had broken a few bones in his legs and one of his arms although they were not placed in casts at the time. It was moments before LaFleur's discharge, according to his uncle, that the injured parts were cast.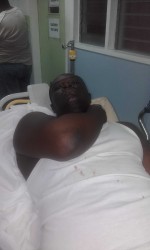 LaFleur's uncle stated that his nephew was taken home and was in high spirits. He said he last spoke with him on Wednesday night, when he learned that police were to pick him up yesterday and take him to the scene of the accident for their investigation. He added that the family requested that he be taken to the GPH after visiting the scene so that he could be examined once more.
He said he called his nephew yesterday after four but was unable to reach him. As a result, he decided to visit his home and shortly after received a phone call from someone who told him to go to the GPH to see his nephew. It was at the hospital that he saw his sister, Claudette, LaFleur's mother, sitting in a wheelchair, crying. "Oh God! He gone," he recalled her saying.
LaFleur's uncle stated that his nephew's body was very swollen, while noting that it was not in that state on Wednesday.
When asked about the time of death and LaFleur's cause of death, his grief-stricken mother was unable to give a specific time and noted that the GPH was yet to give them his cause of death.
His uncle alleged that while at the hospital nurses refused to empty his nephew's bedpan, telling the family that they were without gloves. This resulted in LaFleur's uncle having to empty the bedpan himself. He also said that while LaFleur's fractured limbs were placed in casts, he was forced to purchase crutches along with other medical supplies for his nephew to use.
Stabroek News was told that the police have held the driver of the vehicle that hit LaFleur, however the family stated that they are yet to receive an update as to who exactly hit him and if the individual would be charged.
Around the Web