An autopsy has found that traffic policeman Kelvin LaFleur, who succumbed just two days after being released from the Georgetown Public Hospital (GPH) where he was treated for injuries after being hit by a car, suffered internal bleeding, a fractured skull and a knee injury.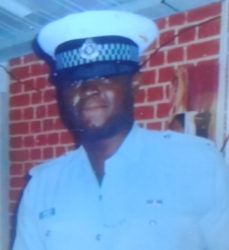 As a result of the findings, LaFleur's family is questioning why he was discharged from the GPH .
LaFleur was struck down while helping children across the Eccles, East Bank Demerara Public Road on Monday.
His mother, Claudette, yesterday told Stabroek News that the hospital is still to give answers on why he her son was discharged so soon.
The family was also yet to receive information on when or if the driver of the vehicle that hit LaFleur will be charged and what will likely be the offence.
LaFleur had told Stabroek News on Tuesday that he had broken a few bones in his legs and one of his arms although they were not placed in casts at the time. It was moments before LaFleur's discharge, according to his uncle, that the injured parts were cast.
LaFleur's uncle stated that his nephew was taken home and was in high spirits. His condition, however, worsened on Thursday and he succumbed at the GPH, where he was taken for treatment.