Kevin Rankin, the man accused of sodomising and murdering his two-year old niece, was yesterday acquitted of the charge after a 12-member jury found him not guilty.
After deliberating for more than two hours at the High Court in Georgetown, the jury return and delivered a unanimous verdict of not guilty. Upon hearing this, a visibly-relieved Rankin threw his hands up in celebration, which was compounded by cries of joy expressed by his relatives who sat through the entire trial.
A commotion subsequently erupted outside of the courtroom as the mother of the dead child became verbally abusive to Rankin and other relatives.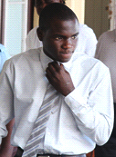 The prosecution's case was that on October 21, 2013, at South Haslington, East Coast Demerara, Rankin, called 'Lil Man,' who was 15 years old at the time, murdered Kimani Phillips.
Several witnesses were called during the course of the trial, including Kiana Primo, a cousin to both Rankin and Phillips. The young woman had told the court that she had supplied investigators with two versions of the incident because she didn't want to see her cousin locked up. However, after suffering from a guilty conscience, she decided to come clean.
Also called to explain the results of the post-mortem examination conducted on the child was state Pathologist Dr. Nehaul Singh, who gave the cause of death as haemorrhage and shock due to multiple abdominal injuries. He further explained that apart from the haemorrhage and shock, Phillips' body indicated that she had been subjected to anal penetration, which left behind fresh samples of blood.
Dr. Singh noted that Phillips also suffered abdominal trauma as a result of anal penetration as well as massive internal injuries to her spleen, liver and anus. It was also his contention that the injuries to the anus and abdomen were caused at the same time.
Additionally, Dr. Singh said that the child suffered injuries on her head and neck and blunt trauma consistent with having been hit, compression or a fall.
He further stated that Phillips could have been pressed down, thus restricting the flow of blood and preventing her from breathing.
Meanwhile, the mother of the child, Venice Phillips testified that though some had speculated that her daughter had been suffering from constipation, this was not the case as her daughter was healthy.
She further stated that on the day of the child's death, she had left Kimani and her eight-month-old sister at home in the care of their grandmother, Diane Graham.
She explained that the next time she saw her daughter was at the Georgetown Hospital, where she lay motionless on a hospital bed.
Having heard the closing arguments of both prosecution and defence on Monday, the matter was yesterday summed up and the jury was sent to deliberate.
The state's case was led by prosecutors Narissa Leander and Tuanna Hardy, while Rankin was represented by attorney Sandil Kissoon.
Around the Web