The sister of Daymeion Millington, one of the five men on trial for the robbery of Justice Nicola Pierre, yesterday testified that her brother was at home on the night of the attack but she never informed police because she did not like the "environment" at the police station.
Vanessa Millington took the stand at the Better Hope Community Centre, where Sparendaam Magistrate's Court matters are temporarily being heard, to serve as a witness for her brother, who is leading his defence.
The accused, who is unrepresented, led his defence yesterday by giving unsworn testimony, during which he told the court that he was at home on both July 8 and July 9.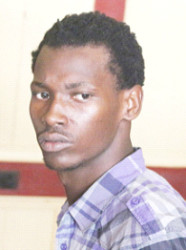 Millington said he did not leave his home in Agricola until July 13, when he went to attend a party at a friend's place in Craig, on the East Bank of Demerara. It was on the day after, he said, that he was picked up by the police and taken to the Diamond lock-ups.
He told the court that up until the time he was arraigned for the charge of robbery, he was questioned by the police and was brutalised by them into confessing. He told the court that he received medical treatment and was placed on an identification parade at Eve Leary, where he was not pointed out by anyone.
Millington then called upon his sister to testify to his whereabouts on the night of the attack. She corroborated his testimony, telling the court that she remembered that her brother was at home on both dates.
According to Vanessa, on the night of July 8, both she and her brother along with other family members were at home. She said that after she retired to bed around ten that night, she reawakened to use the washroom around 1 am in the morning and saw her brother asleep in a chair.
She added that she learned of his subsequent arrest through a cousin, who called to inform the family, after Millington did not return home from the party at Craig.
Vanessa, under cross-examination by Special Prosecutor Nigel Hughes, said she did not go to the police station to make a statement on her brother's whereabouts on the night of July 8 because she did not like the police environment.
Hughes pointed out that she was prepared to watch her brother get charged for something he allegedly did not do because she did not like the police environment.
He continued questioning her on not telling anyone where her brother was on the night of the attack and she said she wanted to go to the media with the information but her mother was afraid that she might lose her job since she was working at a police station for years.
Millington, Nicholas Narine, Premnauth Samaroo, Warren McKenzie and Anthony David are all on trial for allegedly robbing Justice Pierre and her husband, Mohammed Chan, of cash and articles amounting to over $3.6 million, as well as shooting at security guard Ron Peters on July 9, 2015.
The trial continues today.
Around the Web