Four bandits, each armed with a gun, broke into a home at Number 43 Village, Corentyne, Berbice in the wee hours of yesterday and terrorized the family before making off with $1.1 million, US$4,000, SRD$13,000, approximately $1.5 million in jewellery, two iPhones worth $240,000, one Samsung Galaxy worth $85,000 and one laptop worth $55,000. Three persons have since been arrested.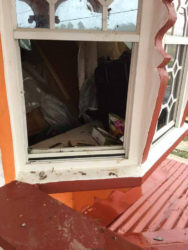 Speaking to Stabroek News, Sattie Etwaru, 37, related that the ordeal, which began at 2.02 am yesterday lasted for 25 minutes.
She said they heard when the bandits were attempting to enter the house as they were hitting one of the front windows with a piece of wood. The window broke and three men entered, she recalled, while one remained on the road. According Etwaru, the men started to hit her and she pleaded with….