The daughter of murdered Ruby businessman Habiboodean (only name) and the man she allegedly hired to kill him were both yesterday charged with the eight-year-old crime.
Bibi Nazeela Habiboodean, the daughter of the businessman, and Linden Lewis, called "Bullet," 28, of Tuschen, East Bank Essequibo (EBE), were not required to plead to the murder charge when they appeared before Magistrate Rochelle Liverpool yesterday at the Leonora Magistrate's Court.
They were remanded to prison and the matter was adjourned to June 21st.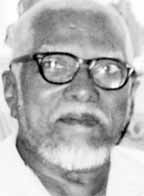 Habiboodean, 76, of Lot 111 Ruby, EBE, died at the Woodlands Hospital on February 15, 2008, one day after he was badly beaten at his home. A relative had told this newspaper at the time that nothing was taken from the home and neither was it ransacked and the attack occurred reportedly because of a family feud.
Bibi Nazeela and another individual, Terry Lewton, had been charged with the murder.
It had been alleged that Lewton murdered Habiboodean, while Bibi Nazeela counselled, procured and commanded him to

commit the crime.
Less than a year later, they were freed after then Magistrate Fazil Azeez, sitting at the Vreed-en-Hoop Magistrate's Court, had ruled that a prima facie case had not been made out against them. The duo had been remanded to prison while the Preliminary Inquiry was conducted.
Lewis was one of the five persons who had been arrested for questioning in relation to the recent murders of Good Hope rice farmers Mohamed and Jamilla Munir.
However, while the other suspects were eventually released, Lewis remained in custody and was grilled by investigators in relation to the murder of Habiboodean.
Police say he has confessed that he was the hit-man and subsequently implicated Nazeela as the plotter.
She turned herself into the police last Tuesday in company of her lawyer.
Around the Web